"You're going to Alaska? Oooh, will you see any grizzly bears!?" everyone wanted to know, when I mentioned that I was headed to Juneau in August.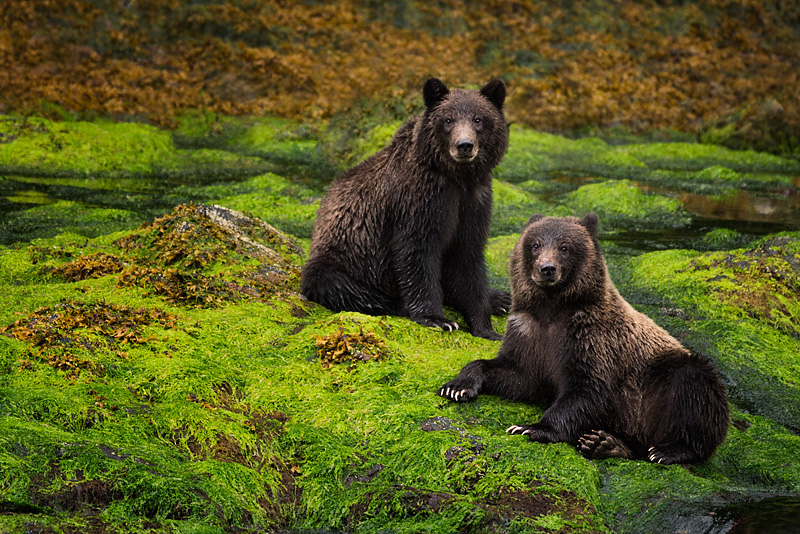 That's because a grizzly bear (or brown bear) seems to be synonymous with Alaska, that massive state so far, far away from those of us living in the lower 48. And rightfully so. In the USA, 98% of the grizzly bear population live in Alaska. An estimated 30,000 roam the wilderness from dense forests to misty coasts.
But the chance encounter of seeing a grizzly in the wild is rare for a typical tourist. Even 400 lb grizzlies can be surprisingly quiet as they silently slide through sedge grass or mosey over mossy logs, fleeing to avoid human interaction long before you even spot them. You have to know where they live and seek them out. Safely. In the presence of an experienced naturalist guide.
There are a handful of places where tourists can join guided group tours to see brown bears in Alaska: Lake Clark National Park, Katmai National Park, McNeill River Sanctuary, Kodiak Island and Admiralty Island. These locations allow extended and safe bear viewing, as the bears have become habituated to human presence. They're far less skittish here and have learned to ignore humans and go about their daily routine, just doin' their thing–mostly looking for food, and eating.
July and August are prime times to watch grizzly bears since that's when salmon are spawning in the rivers. So, since I was headed to Juneau in early August for 10 nights with my sister, I looked into bear viewing tours to Admiralty Island, a 20 min plane trip from the capital, which has been a popular location for Juneau tourists to observe grizzlies since the 1920's. Once guests arrive in Pack Creek they look for bears from a sand spit at the estuary before hiking a mile through an old growth forest to climb a 15 foot tower to observe bears feeding on salmon in the river below. Since Pack Creek is a protected area in the Tongass National Forest, permits are required and limited to 24 people daily in peak season. The six guide companies that are authorized to take small groups here secure necessary permits, arrange transportation by float plane, kayak or small boat, and accompany you at all times. I couldn't picture myself cradling a heavy camera in a skinny kayak or taking a cost prohibitive multi-day boat trip, so some of the operators were quickly ruled out. I quickly settled on Pack Creek Tours, rated 5 stars on TripAdvisor. And taking their float plane to the island sounded exciting!
But…then I saw that Pack Creek Tours offered a chance to see grizzlies at a "secret waterfall" on Chichagof, a remote neighboring island west of Admiralty. The tour was new just this year and only offered during salmon spawning season, between July 15-Aug 31, which happened to be during my stay. Perfect! It was limited to 5 guests….definitely off the beaten path…and a chance to watch grizzlies at eye level. Check! Check! Check! Smitten, I signed up.
Ken Leghorn, manager of Pack Creek Tours, has been guiding bear viewing trips for 30 years. As a trained biologist and experienced guide, he is a rich source of information about wildlife and the Alaskan wilderness. He typically schedules the tours to go in the afternoon, from 4-7:30 pm, to catch the evening light and bear activity. But alerted us to being somewhat flexible about our tour date and time as weather can be fickle in Juneau. Rain is to be expected in a rainforest. And flights are always cancelled in heavy rain or poor visibility (thankfully).
Rain did cancel our original booking, and Ken called to see if we could go early the next morning. He told us that our guide would be Bjorn Dihle, an Alaskan native who has been around bears since he was 4 years old, who is a knowledgeable wilderness guide and author. We awoke to clouds that were already dissipating as we neared the airport at 7am. Bjorn met us all at the airport and whisked us into a private room to outfit our small group of 5 with knee-high rubber boots, rain gear, umbrellas, trekking poles and binoculars for the trip.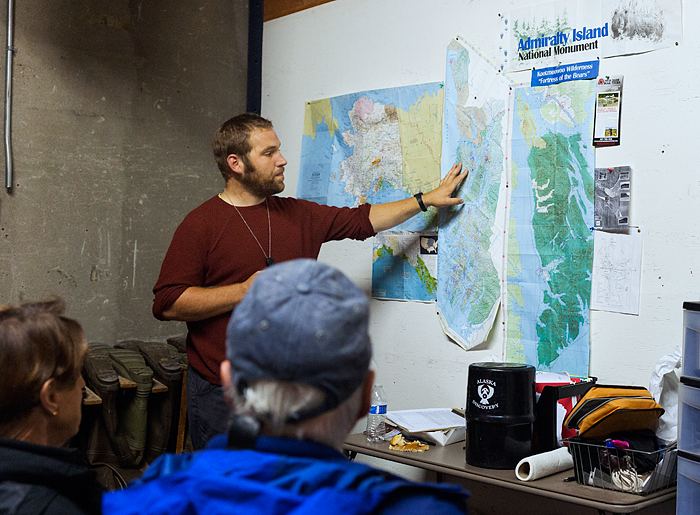 Bjorn provided an overview of the region, highlighting our expected route on a map, and briefed us about bear activity while we munched on blueberry muffins that he provided. He instructed us on proper bear etiquette, emphasizing the importance of showing respect for the bears by talking softly and moving slowly once on the island. We were to stay as a group and not wander off on our own for any reason. He also recommended that we sit either on the benches provided or on the ground as to not draw attention to ourselves, as bears are not fully habituated to human presence here as they are on Admiralty. And quietly sitting out in the open would allow the bears to see us and know we were there. They could acknowledge us, and ignore us. Most brown bear attacks are not predatory in nature, but are instead a defensive reaction when surprised at close range–such as a mother protecting her cubs or bear feeding on a fresh animal carcass.
He instructed us to empty all pockets–no gum, candy or unfinished muffins could be stashed away–as bears have an incredible sense of smell. Have you ever seen a video of a bear standing in the wild and wiggling his nose to get a better smell? That's because bears can detect scents from over a mile away! We emptied our pockets and Bjorn secured our lunch into a bear proof metal container.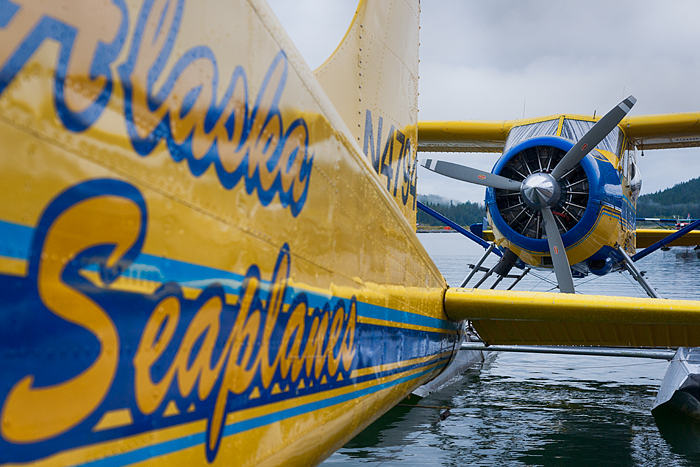 We rode in a van to the float plane waiting for us in water. The pilot was standing beside the bright yellow Alaska Seaplane, a classic Alaskan bush plane, a DeHavilland Beaver on floats. We listened to him explain how to load the aircraft and how to disembark once we landed, and then we climbed aboard.


Each of us had a window seat, and one person could ride up front next to the pilot.


It was my first experience on a float plane, and it was fun way to begin our adventure, taking off from the water like a motorboat gaining speed. The flight felt as smooth as an eagle gliding through the air. The bird's eye perspective revealed how much wilderness exists. We only saw a couple homes.


Heading west from Juneau, we flew over the forests on Douglas Island and Admiralty Island before landing on the coast of Chichagof Island in the panhandle of southeastern Alaska.




We gently descended, gliding into the water and skimming the surface until we reached the shallow waters near the shoreline. Bjorn jumped out into the water to assist each of us off the floatplane safely. He instructed us exactly where to place our left foot on the end of the float and to step into the water with our right, assisting us by hand before we made our way to the rocky shore.


Trekking poles were available to anyone who wanted a little support over the uneven terrain of barnacle-covered rocks interspersed with shells.


It was a short five minute walk, and soon we were making our way single file along a grassy quarter-mile path to the waterfall.




Bjorn pointed out salmon eggs that we found on the trail.


Bears love it as much as some humans like caviar. They specifically search out female salmon when fishing in peak season to dig out the eggs, as the roe contains the prized nutrients and fat necessary for hibernation.




At the viewing area there were a few wooden benches facing the falls, approximately 75 yards away. We had room to spread out and set up tripods or scopes. The pristine setting was tranquil and serene. Sounds of rushing water and seagulls filled the air as we waited patiently for the bears. Nature has her own time schedule. This was the wilderness, not the zoo. Even though Chichagof claims to have somewhere around 1600 grizzly bears, it is a large island (75 miles long x 50 miles wide) sparsely populated by humans so bears have lots of room to roam in this vast wilderness. The largest town, Hoonah, is home to 900 people, mostly native Tlingits, who fish the Icy Point Strait for the local cannery in the northeast corner of the island, far from the bear viewing area.
We waited 90 minutes, enjoying the scenery, before we saw any bears. Just as Bjorn handed me a book about coastal brown bears to peruse, he suddenly nodded toward the falls. I glanced up and saw a mama bear emerge from the forest and head for the base of the falls. After an invisible signal, two yearling cubs followed at her heels.


 Grizzlies!!!


"Oh, wow…" my sister, Michelle, kept whispering as we watched them fish from a massive rock. Within 10 seconds mama bear reached in and grabbed her first salmon. And four seconds later, one of her cubs caught another. They were surprisingly agile and fast!  The other cub simply looked on and waited on the rock for mama to bring her a fish.


Through my 400mm lens, I watched the bears hold down the salmon with their powerful claws and tear into the flesh with their teeth to get to the orange colored salmon eggs.


Then mama bear and the 1st cub disappeared into the safety of the forest to feed on their salmon while the 2nd cub remained standing on the rock staring into the water attempting to fish. After four minutes, success! She caught her own fish! She was a bit skittish, looking around as she stood alone on the rock before tearing into the salmon. But she became braver and fished on her own for another ten minutes.


This 2nd yearling cub appeared to be a bit of a loner. She often lagged behind and stayed somewhat isolated from her mom and sibling when they came back out to fish along the stream. Part of the time she climbed up on a log and laid down to rest while the others fished and fed on coho salmon.


Then they wandered down stream closer to us, just 50 yards away.




They splashed through the water to chase salmon flopping on the rocks as the spawning fish attempted to swim upstream. And discarded the male fish– tossing the fish aside like tainted meat, to save their appetite for the rich roe eggs.
Coastal brown bears are larger than interior brown bears due to their protein rich diet of salmon. Females typically weigh 500 lbs compared to their interior mates who weigh between 290-400 lbs. And coastal males can reach a staggering 1200 lbs! They eat 15% of their body weight in food a day. That's a lot of fish. And as it gets closer to hibernation they pile it on to gain 200 extra lbs.


An interesting fact about female bears–even though they mate in summer they delay embryo implantation until hibernation. And if they haven't gained enough weight or consumed enough fat to sustain the pregnancy, they miscarry. They give birth to twin or triplet cubs in the den between January and February, and don't emerge from the den until April or May. The mama bears then spend the next two years raising the cubs and teaching them to fish. They are fiercely protective and will proudly attack any male bear, despite their bigger size, from snagging a young one.
These cubs were 17 months old. Which meant that next summer mama bear would no longer be at their side. She probably wouldn't even acknowledge them if they happened to pass on the stream. Kinda sad to image that.


But for now they were a family. And rather entertaining to watch. At one point the bears went for a swim, their heads barely visible bobbing in the water. Another time mama bear sat on a rock, dangling her feet in the water as she watched her cubs fish in the falls. It was exciting to be relatively close to these massive creatures in the wild, watching grizzly bears just being bears. None of us ever felt threatened or afraid.
"I can't believe how comfortable and relaxed I feel," my sister, Michelle, whispered as we watched grizzlies across the stream from us. "I couldn't sleep at all last night 'cuz I was so nervous," she admitted. "And here we are out in the wild with them!"
It did feel strangely natural to be around the bears. Bjorn agreed. He's been guiding guests to Pack Creek on Admiralty Island for many years and none of his guests have ever encountered a scary or threatening situation.


"It's all about respect," Bjorn said. "Just show them respect. And give each other space."
Perhaps there's a life lesson here…
We watched the bears until Bjorn announced it was time to leave. Already? But a glance at my watch revealed we'd already been on the island for 3 hours. Our bear viewing on Chichagof Island had come to an end.


It was sadly time to go…




Photo tips: Don't wait for a sunny day. The cloud cover of a dreary day is preferred for photographing bears. The clouds provide a soft diffused light that produces richer colors, reduces harsh shadows and overexposed water at the waterfall. Equipment: I used a 24-70mm and 70-400mm f2.8 lenses on full frame camera bodies. For action shots, I set the shutter at 1/1000 to freeze the action, and slowed it to 1/8 for the dreamy waterfall pics. My f/stop was around 4-5.6 for most. If you have a longer lens, and want to haul it to Alaska, you can get tighter shots. But don't forget to zoom out and capture the environment–show where the bears roam. You're not at the zoo! Cranking up the ISO to 1000 or more will be necessary to obtain a fast shutter speed, but shouldn't be a problem on most modern cameras. Bring a tripod and rain protection–even a large ziploc works–since it can rain at any moment in the Juneau area.