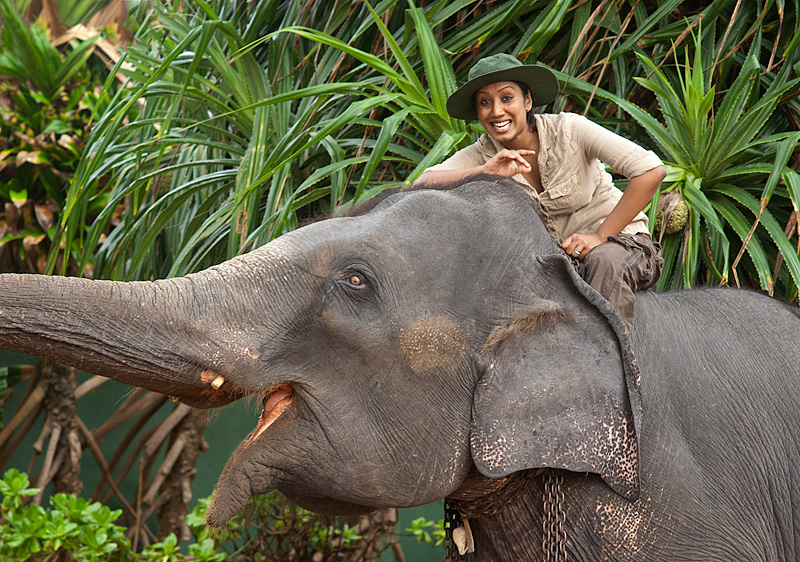 According to Lonely Planet, Sri Lanka is #1 of the top ten countries to visit in 2013. Having visited in the fall of 2011, I heartily agree! The country is on the fast track to mending and welcoming tourists back now that their 30 year civil war is over and the destruction from the 2004 tsunami has practically disappeared. So what's here? Friendly people and a great mix of scenics, ruins, lots of elephants, monkeys and other wildlife, Buddha and Hindu temples and long-lasting traditions–topped with unique places to stay, and spicy, excellent food. And good prices too. My friend Ellen and I traveled around Sri Lanka with a private driver for less than joining a group tour. That way we could customize our trip to see as much variety as possible, and sample homestays to luxury eco-retreats as we looped around the bottom half of the country. Here are a few pics from that trip…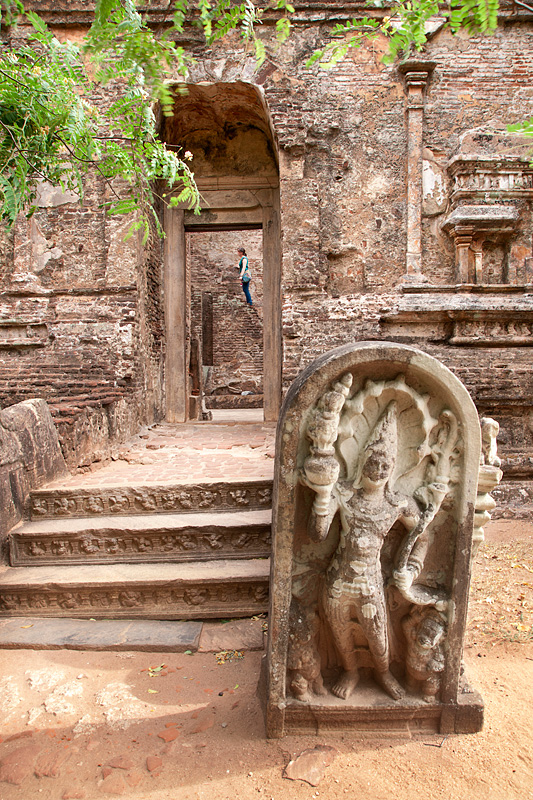 Polonnaruwa ruins, UNESCO site.  We spent the better part of a day walking around the historic structures from this 11th century capital, and saw very few people. Best explored with a car, or a bike, as most of the structures are very far apart.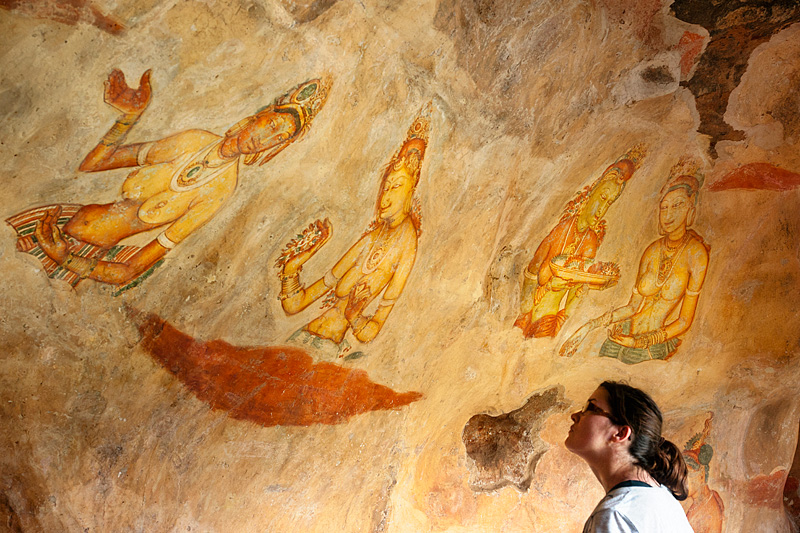 Not too far from here is another interesting place, Sigiriya Rock. This was the former fortress of  prince Kashyapa who murdered the king in 477AD, claimed the throne and built a fortress around his pleasure palace atop a giant rock. You can hire a guide on site who will explain all the history and structures as you climb to the top and explore the nooks. In one cleft is a wall of damsel frescoes that once numbered 500. But the site later became inhabited by monks who erased many of these ladies as they somehow interrupted their mediation…


This is the entrance to Sri Lanka's most famous temple, the Temple of the Sacred Tooth Relic. The temple was built to house Buddha's sacred tooth which is further protected in a jeweled gold case inside a 2 story shrine. If you time your visit right, you can stand in line and get a glimpse of the case through the doorway, Or, come in August (during the full moon) when a royal male elephant carrying the relic leads the procession of decorated elephants, fire dancers and drummers during the 10 day Esala Perahera festival held in Kandy.


From Kandy we rode a train south to the hilly tea region (where our driver met up with us a few hours later). Most of the world's tea, including Liptons, comes from here. This shot of a tea plantation was taken from the train. We chose to stay at one of Tea Trails four 19th c British tea bungalows on a working plantation that are open to tourists. Guests can spend the days walking trails through tea terraces, tour the local tea factory, relax poolside, mountain bike and of course have proper tea. Gorgeous interiors, gourmet food and your own butler to boot!


A Tamil tea plucker busy picking tea leaves. All the women I encountered were friendly, approachable, and happy to show me what they were plucking. None spoke a lick of English, but gestures and smiles go a long way! You can see Tamil women working waistdeep in the bushes Monday through Friday. (Good to know if you're visiting on the weekend so you won't be surprised to find the terraces empty.)


Galle was our next stop along the southern coast.


Enroute we came across stilt fishermen near Ahangama. As the sun was setting, the men gave up their perch and came into shore. We saw maybe 15 men walk past with small catches like herring and mackerels. The man below explained to us that the stilts and even the positions of those stilts in the sea are passed on to family members. It is a long standing tradition that is fast disappearing, as sons move to the cities and give up fishing.




This was our lovely host at the homestay inside the 17th century Dutch fortress Galle. She was an excellent cook, and allowed us to watch her prepare dinner in her kitchen (although I'm sad to say I can't imitate anything she made). This is what she served us for breakfast: an egg hopper (pancake like shell), roti, dal, string hoppers (like rice noodles), and coconut sambul. Yum…..


Staying inside the fort in Galle was convenient for wandering into stores and along the coast. We watched the fort jumpers cliff dive and browsed shops for unique souvenirs. Postcard beaches for swimming were a short drive away.


Coast near Galle.


This is the largest Buddha statue in the country. Looks like a calm, peaceful temple, right? Inside one of the buildings, it's a chamber of horrors, depicting what happens when you sin. There's a long hall with comic strip styled paintings depicting people commiting a sin and the subsequent punishment. Another room shows what happens in hell. Wewurukannala was a bit off the tourist route as we headed north from Galle, but worth the diversion.




For a more peaceful environment, you can't beat visiting Geoffrey Bawa's estate, Lunuganga, located on the southwest coast halfway between Galle and Colombo.


Geoffrey Bawa is considered Sri Lanka's greatest 20th Century architect. At the age of 38 he began designing homes, hotels and government buildings and became famous for incorporating nature into his designs in what became known as "tropical modernism." At Lunuganga you can spend the day wandering around his private complex, or choose to spend the night.  I would've loved to stay here! No matter which room you choose to rest your head, each blends into nature effortlessly.


Looping back up to the north, Dambulla Cave Temple is a Buddhist temple in the Cultural Triangle. Monkeys scamper around the entrance and try to grab your belongings–so beware! It is popular with tourists, and the only time I was conned by a craftsman peddling his wares. (My advice: don't try to buy something before you get a grasp of the money. I ended up paying 10x the asking price for a carved wooden elephant with a secret door for storing jewelry. But I never did see another souvenir like it. And surely it should bring good karma as I'm sure I fed his family for an entire week!)
To wind down, we stayed at the wonderfully relaxing boutique retreat, Ayurveda Pavilions, in Negombo, near the international airport, and steps away from the ocean.  Swaying palms, a limited number of adult-only guests, and a quiet staff that takes their ayerveda program very seriously, ensured that the overall atmosphere was calm, quiet and peaceful indeed. Their purification programs last 3 days to 3 weeks, but they are open to overnight guests. In addition to treatments, they offer yoga and serve delicious healthy food at all meals. Each of the 12 spacious bungalows has its own treatment area open to the courtyard. The doctor and masseuse come to you! We splurged on 3 hour treatments that included a full body massage, milk bath, and facial (costing roughly $100). Pure bliss!




But humans aren't the only ones who enjoy a good bath.  Twice daily elephants from the local orphanage head through the village to reach the river for their bath…here a trio meanders past souvenir shops down main street!


Pinnawela elephant orphange is a 24 acre playground for approx 60 elephants, located halfway between Colombo airport and east to Kandy. Tourists can milk baby elephants in the morning, and follow them down to the river at 10am and 2pm daily. Elsewhere we took a jeep safari to see Asian elephants in Minneriya National Park, timing our visit with their great migration. But to be honest, the safari was a big disappointment (long bumpy journey to reach the park, and jeeps are required to stay on the lone track that loops through the park, and there were no binoculars provided to see the animals). But, in contrast, if you visit the Pinnawela orphanage you can see the ele's ridiculously close!