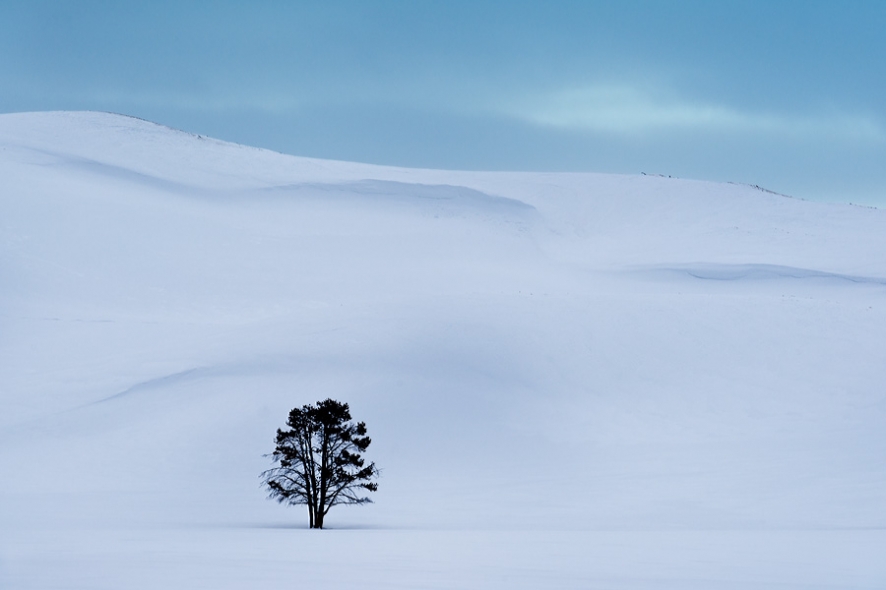 Just a lone tree in Yellowstone's remote Hayden Valley. Travelled quite a distance by snowmobile from Old Faithful to reach this famed valley, hoping to see some wolves. Did see one little guy waaaaaaay up on a hill curled up in a ball, trying to keep warm I'd guess, as the temps dipped 10 below zero that afternoon. Not much else to photograph besides this little tree, and not sure I'd brave the freezing cold wind again on that long journey just for this shot.
The only way to get around this national park in winter is by snowmobile, or to take a snowcoach tour from West Yellowstone, Jackson Hole, or the Snow Lodge at Old Faithful. It's kinda a hassle going by snowmobile. All photography gear has to be bungee corded to the snowmobile very securely to counter the many bumps along the way–which obviously translates into considerable time and effort with bulky gloves to pack and unpack cameras and tripods at each stop. And that biting wind! Fogging sunglasses. Cramping fingers. Close encounters with roaming bison.
But, really, what an adventure! And it's such a beautiful place in the winter. I think snowy Yellowstone has to be one of my favorite places for photography.