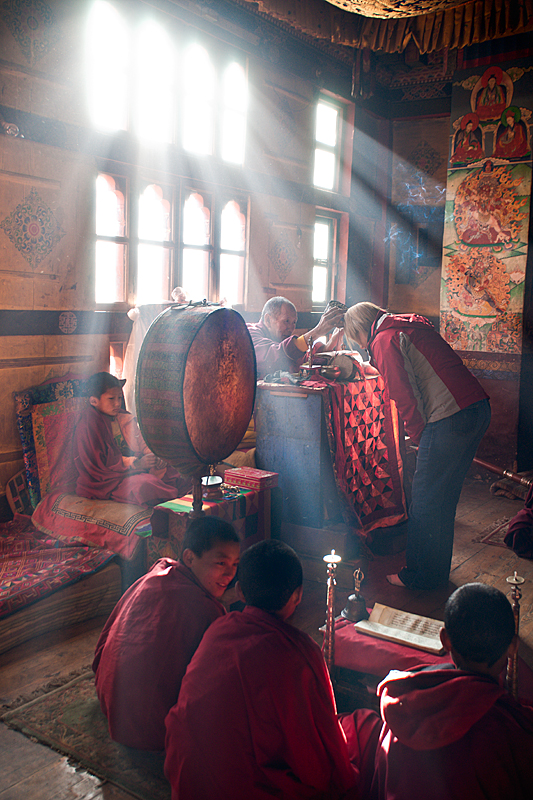 In tiny Ura village, located in the cultural heartland of Bumthang, a Lama bestows a protective blessing on Bev.
Hidden high in the Himalayas, between northern India and Tibet, is Bhutan, a peaceful, idyllic country whose mantra is national happiness. Cliffside monasteries, medieval fortresses, lavish temples and Swiss Tudor farmhouses dot rural landscapes of terraced rice fields, mossy forests and snowy peaks. Isolated from the world by choice, Bhutan curbs modernization and mass tourism to protect its sacred heritage and preserve its culture. Only approved groups are permitted in this intriguing land where red-robed monks and villagers alike embrace ancient traditions, mythology, astrology and Buddism in their daily lives.
During our recent visit, we requested a private meeting with the Lama of Ura village. When we arrived, we learned that the lama had suffered an automobile accident and was paralyzed. We were ushered into his bedroom where he spoke to us about his Buddhist beliefs, physical challenges and faith. His father-in-law, a retired Lama in his early 70s, has resumed the spiritual responsibilities for the village, and it was he who performed a special blessing for each of us the next morning in a private temple.
Sitting on the floor against the wall, our small group drank tea in the temple watching the Lama and his young monks perform the hour long ceremony. Their faces were barely discernable in the dark. A large Buddha sat on a vivid altar opposite the Lama, enveloped by beautiful tapestries, carved butter cakes and lit candles. As the sun rose, rays of sunlight streamed through the dusty windows. The Lama and the young monks chanted from ancient texts, pounded a goat-skinned drum and blew deep resonating notes from a conch shell, thigh bone, and long metal horns. At the end of the ceremony, we were motioned forward one by one to advance the lama where he bestowed our blessing—a protection from misfortune. A special experience indeed!
The scene was a joy to photograph, and the light rays were a terrific surprise. Photographically, the contrasting light made exposure challenging. My Raw images appeared flat and washed out due to the flood of light, making it necessary to increase the contrast 25% in Camera Raw and adding another 7% selectively in PhotoShop. ISO 400, f5.6, 1/25 SS, 35mm.