I traveled to Juneau specifically for this trip. The opportunity to spend extended time trekking across an icy glacier with dramatic crevasses and ice caves has intrigued me for many years–ever since Dave and I spent an afternoon hiking icy Fox Glacier in New Zealand. There are many tour companies that offer overnight glacier trips, but most were ruled out as I didn't have "extensive experience backpacking in icy conditions." Nor did I really want to haul a 50 lb pack of divided gear, leaving no room for my SLR camera.
So, after much deliberation, I chose ABAK out of Juneau, Alaska. They offered a small group guided experience that included everything from helicopter transportation to the food and camping gear. All I had to bring was appropriate clothing, boots and a sense of adventure! Plus, since my sister was traveling with me and was on a tighter travel schedule, I liked that Juneau had an international airport, making the trip origin much easier to access than other locations (sorry Wrangell-St. Elias National Park, hopefully someday!)
The only remaining concern was the weather. If visibility was poor due to wind and rain–which happens more often than not in Juneau–the trip would be cancelled. And apparently that happens a lot. So we booked the trip during the driest time, early August, booked our flights, and planned other activities for later in the week in case this tour had to be postponed a few days later if it rained really hard. Then crossed our fingers.
On the appointed day, we awoke to sunshine! At the airport, we met the rest of our small group: a retired couple from Ohio, and a newly engaged couple from California. Our two guides were Samuel, who took the lead with his many years of glacier experience, and Jacob, a Juneau native with wilderness experience that ranged from glaciers to bears. Both were laid back and instantly likeable, and exuded confidence, knowledge and experience about our exciting adventure ahead.
Our young helicopter pilot gave us safety instructions, (OMG, he looked 16), and away we went. Two helicopters brought our group and gear up to the top of Lemon Glacier on the Juneau Icefield in 7 minutes flat.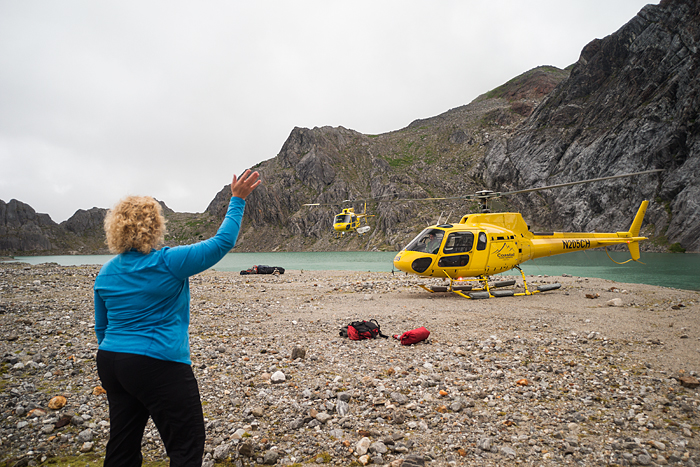 We unloaded the gear and set up our base camp in a rocky valley near a green lake with a giant waterfall.


Guides set up the tents, inviting us to help or to explore as we wished. We were kind of surprised that we weren't actually camping on the ice itself (as shown in pics on their website) but it was still a sweet spot. And sleeping would be much warmer.


In no time at all, we assembled for an introduction to our gear then put on the backpacks that held an ice axe, helmet, harness, crampons, and snacks.


Then we began the 20 minute walk over rocks toward the glacier. A stream crossing was required, but guides were great about helping us all across without getting wet.


The rocks were all sizes, having tumbled from the glacier, and some were tricky to traverse.
At the glacier terminus, we pulled harnesses on over our rain pants, put on helmets, and secured crampons on our boots. The last time I wore crampons was last winter, exploring ice formations on frozen Lake Superior (see blog posts: Minnesota's Incredible Ice formations & Wisconsin ice caves).


But even for those who'd never worn them, the crampons felt natural within minutes of stepping on the ice.


The steel spikes dug right in and held us in place, despite standing at weird slanted angles as we ascended the icy cliff.
We spent the next 5.5 hours exploring the glacier, following our guides and discovering different formations together.


Glacial conditions change readily. An ice cave here today could be gone in a week. There were no guarantees. The guides were just as excited to see what we'd find, as neither guide had spent extended time here, as all overnight trips had been cancelled so far this season due to weather. Lucky us!!


The scenery blew me away. It wasn't just a flat surface. Rocky mountains loomed in the background. The icy surface beneath our feet was interspersed with interesting moulins–pools of blue water that had melted into interesting shapes, scary crevasses–that could be ten or a hundred feet deep, and various textures from bumpy moguls to shallow riverlets of melting glacial water.


Other parts of the glacier had streaks of dirt that created patterns on the snowy ice, like powdered cocoa sifted over white cake, the result of rocks and dirt moraine being dragged by a moving river of ice. The glacier looked like one gigantic canvas artistically designed.
Intrigue lurked in every cranny. When we came across a gaping hole, we all wanted a better glimpse of whatever was down there. So did the guides. Time after time they brought us closer, snapping safety clips into our harnesses so that we could lean waaay over the edge to get a better look.


During our first break, Sam took out a Snickers bar to demonstrate the way a glacier works. The caramel represented the moving ice that slid over the rocks (nuts) as it traveled down from the ice field to ground level (nougat).


Course that made us hungry. So we pulled out our canvas snack bags (provided by ABAK) to find our own assortment of candy bars, cheese sticks, nuts, trailmix, hummus and carrots. Yum.
At one point Sam left Jacob in charge and disappeared to explore on his own. We continued trekking over the ice, pausing to investigate whatever formations fascinated us most. And of course take full advantage to play in that wonderful landscape–what fun to leap over little streams of water or tiny crevasses and land securely on our crampons.




When Sam returned, he had a smile on his face. "What? What did you find?" we wanted to know. But he wouldn't tell us.
"You wanna see?" he teased. Of course we did!!
So we followed him to an area that didn't really look any different than what we'd seen so far. Except that the glacial ice terminated at the base of a granite mountain. The snowy ice stopped where it met boulders strewn in the rocky moraine. "Hear that?" he asked as we approached the mountain. Straining, we listened. The faint sound of water trickled somewhere.
"The sound of water is what you want to hear," he said, explaining that melt water creates the most interesting formations in a glacier. He told us to follow him carefully in a single file path, and remove our crampons when we hit the moraine.
And there, under the layer of snowy ice that we just walked over, was an ice cave!


We stared at the hole and its gradient turquoise-blue shades that darkened with depth.


How deep was it? Were we going in?! Sam had been busy screwing a metal ring into the ice while we unfastened our crampons. Jacob descended into the cave first, after demonstrating how to rappel–where to put our hands (on the harness ring) and feet (just walk down).


"Off belay!" Jacob called, signaling Sam to send someone else down. We heard Jacob Whoo-hooing as we patiently waited for our turn. One by one, Sam clipped a rope into our harness and guided us down.


Rappelling down into the cave wasn't hard. Or scary. Just wet. Melting ice rained on us the entire way.


At the bottom, Jacob unclipped us. We stood on a narrow rock ledge surrounded by brilliant blue. Oooooooh. The ice felt so polished and smooth.
How strange to be so close to a wall of ice, and underneath a glacier! No telling how deep that hole continued past the ledge, in that narrow space between the granite and the ice.
How thrilling it felt to be there–entering an eerie world of icy blue. It instantly brought back memories–and that feeling of utter awe–when I stepped into my first ice cave with Dave and my 70 year old Dad when we skiied to Nigardsbreen Glacier and discovered a cathedral sized ice cave in Norway.
In this cave, there was limited room to walk around the ledge. So after a short visit, in pairs, we ascended, using our hands to climb over wet rocks and let Sam, via the rope, assist us up.
After we all rappelled into the cave and refueled with glacier water and snacks, we fastened our crampons and continued trekking. The landscape suddenly had more meaning. Now we knew what was lying beneath that icy surface.


We hiked along narrow ridges that fell steeply to both sides. By this point we were all confident on the ice and didn't hesitate to jump across narrow crevasses that the guides deemed safe.


Of course they were always ready to lend a hand.
As it approached 8pm, low lying clouds mixed with the setting sun lit up curves in the granite mountains and highlighted textures in the icy surface, creating an otherworldly place. Beyond the rocky cliffs we could see velvety green mountains from the temperate rainforest in Tongass National Park.


None of us were ready to stop, and couldn't believe the time. We'd been hiking pretty much nonstop since we started. And who was hungry when they prepared so many snacks in our daypacks? But we needed to descend before it got dark. Sam reminded us to do the "cowboy slouch" which meant leaning back on our heels in a slumped body position to prevent falling on the icy cliff at the end. Then he took off ahead of us to get a head start on our gourmet dinner.




Jacob led the way down the ice to the moraine. We all assumed the "cowboy slouch" position as we slowly descended the trickiest part of the glacier. Or at least it felt that way, after a full day of working core muscles–the equivalent doing of a thousand squats and lunges as we carefully made our way up, down and across that beautiful ice. We were physically exhausted by the time we reached our base camp, but exhilarated. And we still had another day!


We met up around 9apm for dinner in the orange domed dining tent, complete with chairs. Jacob poured wine while Samuel served us dinner.


Sam's stirfry with salmon and veggies was delicious, and customized for each of us (some wanted chicken or tofu instead). Red or white wine was served to everyone but my sister, who preferred a margarita on the rocks–er, glacier ice, that is! There was a wide range of ages between members of our small group, but you'd never know it. We were like-minded in spirit, united by a zest for adventure. Conversation flowed freely around travel, as people shared stories and impressions about destinations or asked input about places not yet been.
The guides handed us pillows (real ones) and inflatable padding for our sleeping bags as we headed to our respective tents. My sister and I got the giggles late into the night. I stayed up to photograph the Milky Way that should've been arcing over the giant waterfall at 1am, according to calculations indicated on PhotoPills, but clouds intercepted the stars that had a brief appearance around midnight.


Aurora activity was also predicted to be moderately high in this zone tonight, so I set up my tripod and 14mm Rokinon lens and faced north to capture a few long exposure shots. Nothing was visible with the naked eye. But a long exposure of 3 minutes shows a little color in the sky…northern lights? distant glow of Juneau?? (which is located southwest from here). Anybody know?


This image is a combination 2 shots taken one after the other around 1am, and merged in PhotoShop: the long 3 minute exposure of the sky (f6.7, 3200 ISO) and a .07 exposure (f6.7, 3200 ISO) of my sister in the tent with her headlamp turned on to illuminate the interior.
Keeping my camera on my tripod, I woke up to peek outside my tent throughout the night looking for those elusive Auroras. Even though they were "active" in this zone, thick clouds prevented any spectacular light shows in Juneau. Oh well, it was worth a try. If clouds intercepted visibility of the night sky, who cared?
I was just ecstatic that clouds hadn't hampered our helicopter journey to get us here!