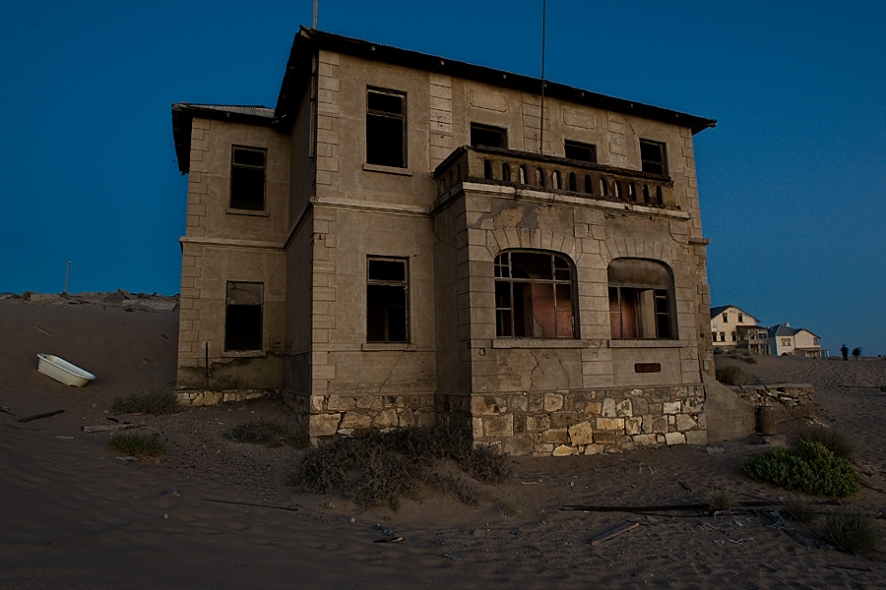 Slowly but steadily, great gusts of wind and shifting dunes are changing the landscape and swallowing the once thriving diamond mining town of Kolmanskop.  It is one of my favorite places to wander in Namibia. You never know what you'll see inside! Sand fills and shapes each structure differently, creating distinct personalities among the homes which are further transformed in the changing light. Pastel colors of early morning…dramatic light patterns at high noon…to warm tones in the late afternoon. There are former mansions, simple homes and assorted shops to explore. All empty now, mere shells in a place quite forlorn.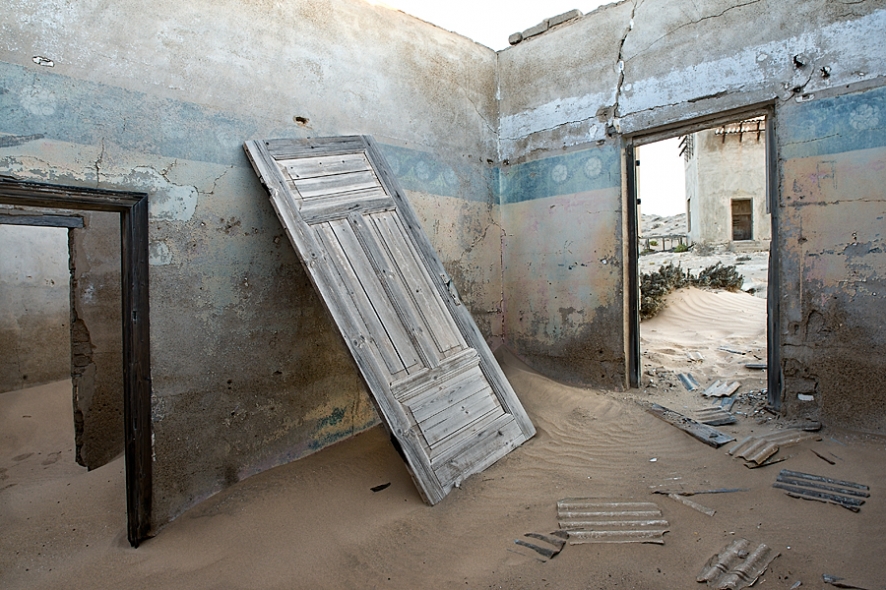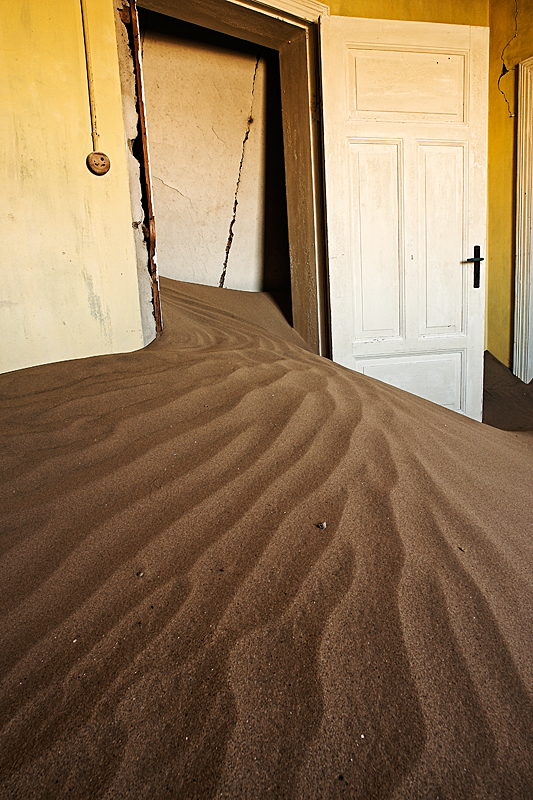 Some of the homes and buildings, like the recreation center, have been restored and reinforced to protected from the winds, but most have been left to the elements. Such as the accountant's home here. Sand has drifted in and filled the first floor. If you climb through the window, there's just enough space to crawl over to the staircase to explore the upper floor.


Scene from the next level…Wonder how long it will be before the drifting sands fill the first floor completely?






The history… Back in April 1908, a railroad worker, Zacharias Lewala, spotted a sparkling stone in the sand. Mindful of his boss' instruction to "pick up pretty stones" he handed the diamond to August Stauch, a German colonist who was supervising the construction of the railroad across southern Namibia. Within 6 weeks, Stauch pegged 30 claims to the land and began mining by employing men to simply snatch up diamonds in the sand. Miners crawled across the desert on their hands and knees. Within months, diamonds up to 2.5 carats were being snagged and a large number of fortune seekers had descended on this desolate land. Diamonds were abundant, averaging 500 carats production per day.
Within 2 years, the simple prefab buildings at this desert outpost were replaced with stylish homes. The elite had homes fit for high society–grand staircases, reception parlors and fashionable German interiors. They also built simple homes for the workers, a butchery, bakery, hospital, school, general store, recreation hall, theatre, carpentry shop, stables, smoke house and soda factory.There was also a little train that took women around the shops, saving them from long walks in high heels across the sand.
The wives of the German mining officials wore fashionable European dresses with ostrich embellished hats (which were especially challenging to wear in high winds and blowing sand). By 1920, there were 300 adults, 40 children and 800 Owambo workers. The town and mining industry continued to flourish until 1928 when bigger and better diamonds were discovered further south…and the little community was abandoned.






Forget the advice about resting your camera at midday. Sunlight cast dramatic shadows through the slats, and I had a blast photographing this home at high noon…




The entry way of one family home…the sand dune obliterates the entry to the 2 bedrooms beyond.




Hospital
A dune replaces the floor of the waiting room which has collapsed. Once a state-of-the-art facility, this hospital contained South Africa's very first x-ray machine.


Mining Manager's house

It's not easy to get here, but certainly worth the effort. It is situated 10 km from Luderitz in the Sperrgebiet Forbidden Zone in the far reaches of southwestern Namibia. By car it takes 2 days journey from the capitol of Windhoek. Permits are required to enter and can be obtained in Luderitz in person from Safaris & Tours. There is a public tour every morning at 9:30am.
This place is so special that we devote an entire day here on our upcoming Namibian Overland photo tour. I can't wait to return and explore areas I missed and revisit some of my favorites to see how they've changed in the course of 2 years…
————————————————————————————————–
A bit more from Dave.
I found the Ghost Town to be a treasure trove of HDR opportunities.
Now I realize that not all people like the HDR look, but I do and I thought I'd put a few pics up for others who may as well.






If you're looking to play with HDR, this place is awesome.  Lighting and textures as well as the nature of the town make it a natural for HDR photography.