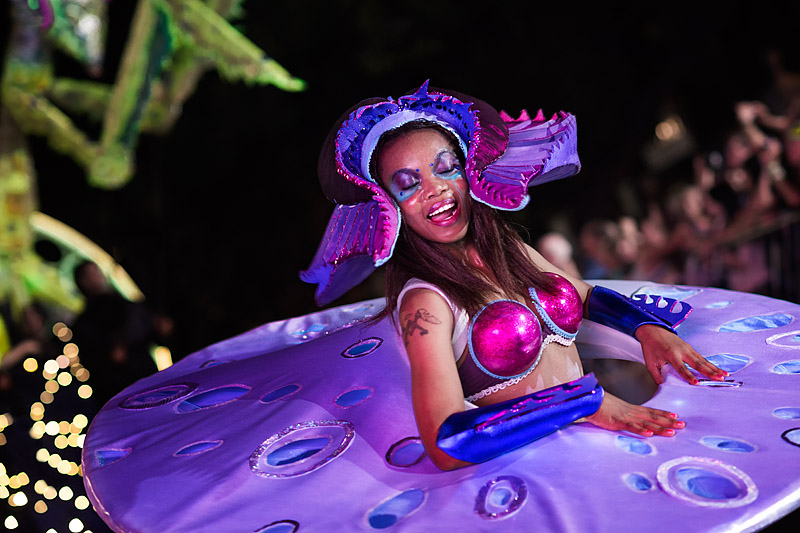 South Africa is more than a melting pot of different cultures. Talk to any South African and they'll tell you that they don't just tolerate each other. They embrace their differences. And celebrate their diversities–whether it's culture, language, color, gender or race. In 2010, according to their Cape Town Carnival website, a South African group decided to organize their first carnival parade to showcase a "glamorous celebration of African identity, diverse communities and cultures, and the transformative power of creativity."
After seeing pictures of past parades, I knew that I wanted to include the parade on my itinerary when I traveled around South Africa last March. Colorful costumes, creative papier mache floats, dancers and musicians…how could I pass that up?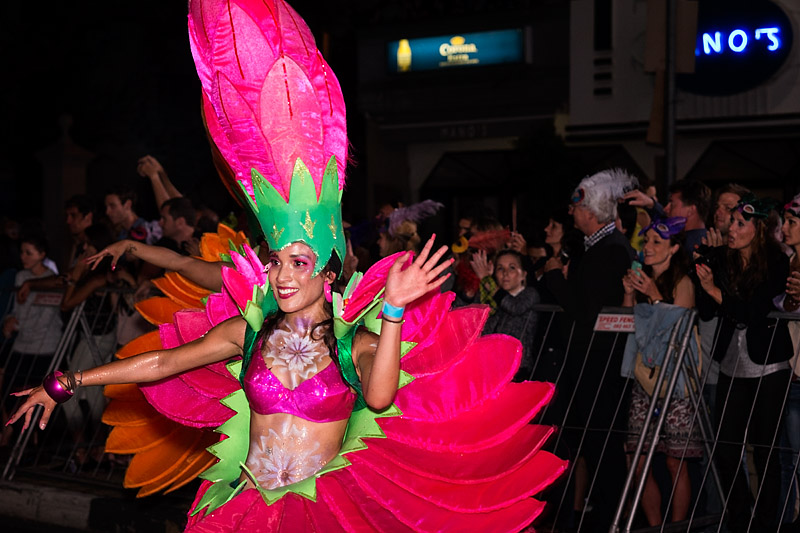 Checking out details on their website I saw that the parade takes place on the Fanwalk (Somerset road) a few blocks from the V & A Waterfront. It's an expensive neighborhood where hotel rooms run around $300 a night. I didn't want to pay big bucks but neither did I want to deal with the inevitable chaos that tends to congregate at the end of big events and try to hail a taxi and fight traffic getting back to a hotel in the city. So, I checked out hostels in the neighborhood and found an excellent solution–the Atlantic Point hostel. They were just two blocks away from the parade. And they had private ensuite rooms, yea!
It was so convenient to walk from the hostel down the hill to the parade. Most of the people that drove ended up parking far away and walking much further than me. I left about 45 minutes before the 7:30pm start of the parade to scout out a good spot. I found a place where barriers angled into the street, allowing a surprisingly great view of the dancers as they came down the street. (Little did I know that the barriers jutting out into the street were there for a television crew who showed up right as the parade started.) Upbeat music blasted from speakers nearby.
I was impressed watching people around me as we waited for the parade to begin. There was certainly diversity in the crowd but everyone seemed, well, gracious, even polite. I saw people squish together to make room for others to watch. Or invite others to step in front of them. Nobody was elbowing or shoving people out of their token space. And I didn't hear one terse word. Everyone seemed to get along. Even the film crew was tolerant of me standing on the opposite side of the barrier, inching toward them in the street. They gestured me to step out farther from the sidelines, nearer them!
At last the vibrant dancers approached…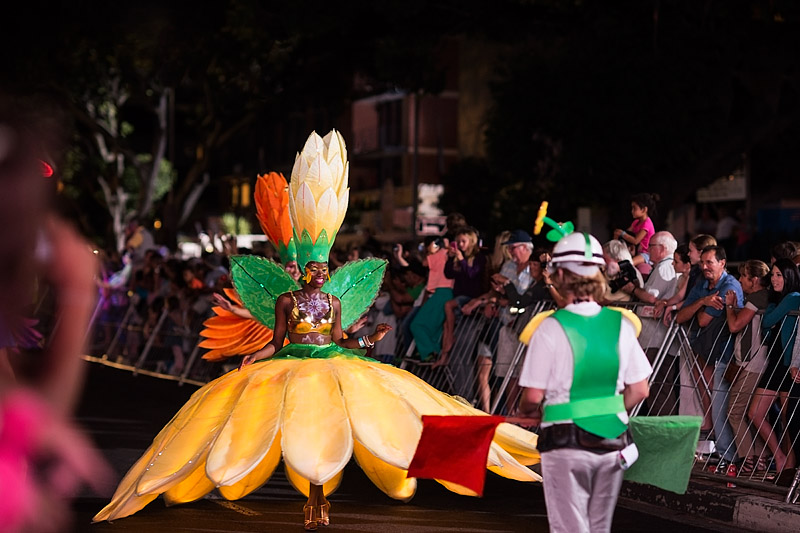 Was I ready? What equipment was I using? I had decided to go with one camera: my full frame Sony A99 with a Zeiss 85mm f/1.4 lens. Using a fixed lens would restrict me from zooming in on details or capturing the full scene from a wide angle perspective, but I didn't want the hassle of changing lenses or banging around a second camera at a crowded parade. In spot meter mode, I determined the correct exposure for the dancers in the dim light, and began shooting at f/4.5, 1/125 SS and 1000 ISO. Yes, noise would be introduced at the high ISO, but could be minimized later in processing. As the night darkened, I increased the ISO to 1250, decreased the f/stop to 2.4, but kept the SS 1/125 to freeze the motion of the dancers. On a few frames I dropped the SS to 1/60 or increased the ISO to 1600.
Shooting motion, at night, in a crowded setting is obviously challenging. Focus alone is trying! The autofocus hunts a bit, then locks on to your moving subject… but in the nanosecond that the shutter clicks your dancer keeps moving forward and right out of focus. Which is why I couldn't shoot wide open.


With my 85mm, I was still able to focus in on individual dancers when they were at a distance. And captured elements of the masses in closer proximity.




The most difficult thing to photograph was the floats. When they were at the correct distance–pretty far away–there were groups of dancers or musicians in front of them, obstructing the view. And there were some amazing floats! Acrobatic dancers hanging from bars inside giant green spheres. A ghost ship with skeleton dancers in atmospheric smoke. Neon chameleons that were changing colors. Giant papier mache elephants.


Most of the time I could only fit parts of the float in my frame.




Rare luck here to fit most of it in!














A family next to me had young children, including an adorable little 7 year old that took a liking to me. She was all smiles, and easily talked to me about the parade. At one point I was out in the street (having stepped over the barrier to shoot from behind the film crew). Peering through my camera, I felt someone tap my leg. I cringed thinking an official was gonna force me off the street! Nope. It was the little girl smiling up at me, holding out a cup, eager to share her orange drink with me. I put the camera aside and enjoyed a drink with this thoughtful sweetie (pic below).


It was easy to get caught up in the excitement and fun. Even alone, I felt part of Carnival in the company of strangers.


But my still shots of the parade thus far weren't capturing the fun.
So I decided to slow down the shutter speed to show the movement of the parade–the grooving of the dancers, drummers, and groups of costumed participants moving to the beat. I dialed down the SS, dropping from 1/125 to 1/4 sec and increased the f/stop to 13. (Don't ask me why f13. Had I not been so caught up in the moment I should've decreased the ISO (to lower noise) and dialed down the f/stop to 5.6 or 8.) I shot the rest of the parade this way, moving with the rhythm, letting my camera tilt and move as I followed the dancers and pressed the shutter.






Shooting in preset manual focus, with a constant f/13 and SS1/4 sec, the only thing I attempted to think about was the composition. I tried to frame compositions that had at least one person's face, or repeated patterns, in the viewfinder. Other than that I let the resulting image happen on its own.






I didn't know what I was capturing until I looked at them back at the hostel. Certainly experimental, and not all hits–weird eyes appearing in strange places or street signs popping out of someone's head in a colorful clouded blur. But I almost prefer the blurry motion shots to the stills. They certainly convey a sense of fun those people were having at Carnival!


March 15th, 2014 is the date of this year's carnival parade. New this year is the opportunity for professional and amateur photographers to apply for media permits allowing special platforms for photographing the event. Hurry! Deadline for applying is March 7th. Click here.