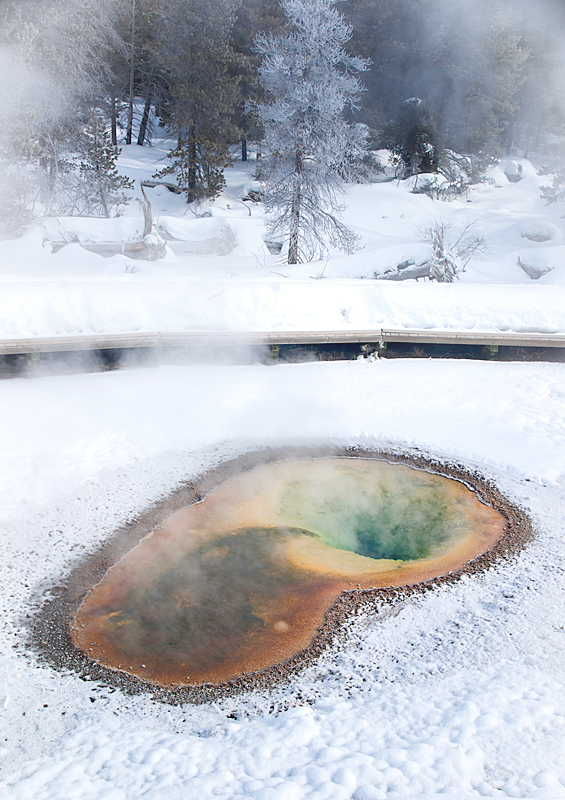 Maybe it's my Minnesota upbringing, but I like snow. And winter. David on the other hand prefers warmer climes and had no interest joining me in Yellowstone in early February. But it was precisely the season I wished to visit, to photograph Yellowstone's virtual wonderland when billowing steam and snow provided atmospheric backdrops for hotsprings, geysers, waterfalls, and frosty meadows. Independent travel through Yellowstone in the winter however is very limited. Roads are closed except to snowcoaches and snowmobiles. So I joined a group that stayed in West Yellowstone and snowmobiled into the park. But to reach West Yellowstone from Jackson firt required a bus shuttle through the Tetons, 2 halfday snowcoach excursions, and an overnight stay at the Snow Lodge. A diversion that proved highly satisfying! I had an entire morning to freely wander around the Upper Geyser Basin, most famously known for its resident geyser, Old Faithful.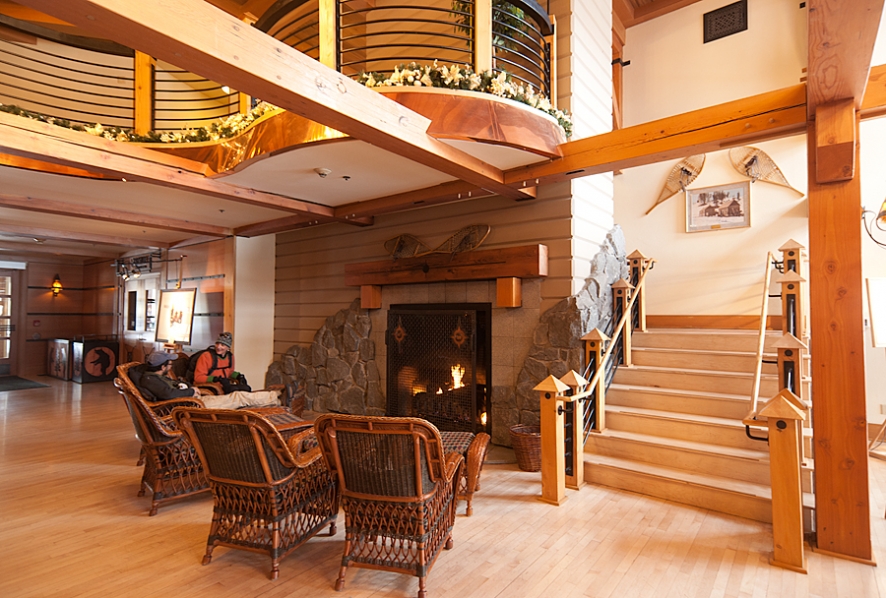 Eager to see the famed geyser basin, I bundled up (it was -24 below zero F) before dawn and headed out to find the boardwalk that wove through a vast hotspot of 24 active geysers. As I walked around the Visitor Center and stepped onto the snow-covered boardwalk the skies were still dim, but I could make out the distinctive white cloud emiting from Old Faithful. And also the dark form of a lone bison alarmingly close to the trail, its head buried in the snow. Recalling the desk attendent's instructions to "stay on the boardwalk and keep 200 yards away from the bison" I surveyed my options. Continuing on the boardwalk was out. But I could walk through the snow in a giant arc around him and rejoin the boardwalk around the bend.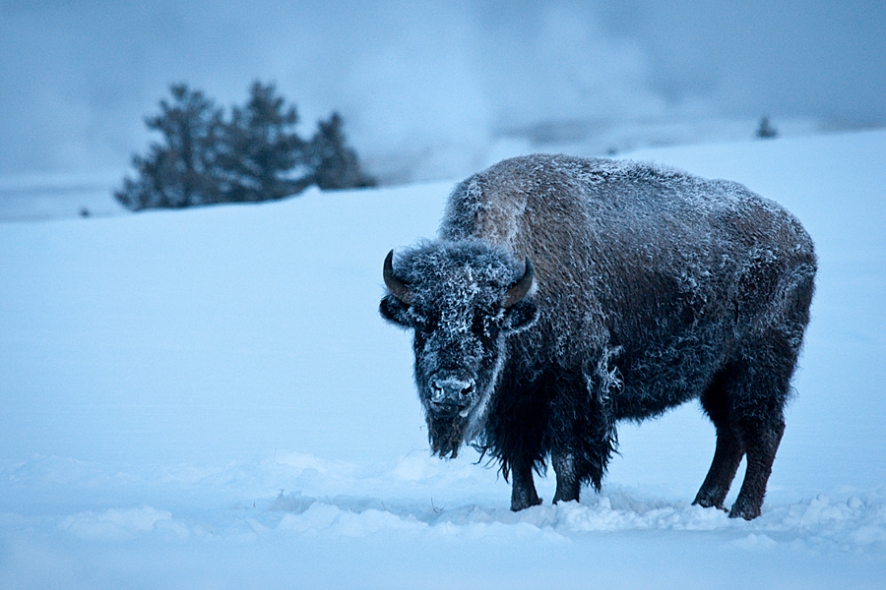 400mm (cropped sensor), f6.3, 1/200, 640 ISO
So I traipsed through the snow near the historic Old Faithful Lodge, keeping a wider distance between us than I needed to–just to be safe. From there I took a few shots of him. Made me nervous when he looked right at me!  I didn't linger. As I rounded the bend, preparing to step on the boardwalk now that the lone bison was out of sight, I stopped in my tracks. Here was an entire herd of bison slowly rousing themselves from sleep. I later learned that it's their favorite nightspot. Old Faithful's steam warms the earth and creates a cozy bed for them. So here they were, some standing, some lying, just steps away from the boardwalk. I had no choice but to backtrack. (I tried another giant arc heading toward the river through the forest, but turned back when I sank into deep drifts.) For a good 20 minutes I was stranded between the unmoving bison, waiting on the perimeter in a snow bank. In complete ignorance, I hadn't even considered possible bison encounters on my morning quest to see the geysers. 


22mm (full frame sensor), f11, 1/30, 200 ISO


Zoomed in on the herd above. 400mm (cropped sensor), f/6.3, 1/500, 500 ISO
But they did make interesting subjects to photograph. And certainly added an element of excitement along the trail! Despite their large size, they moved with surprising stealth. Several times they spooked me, popping out from behind a snow bank and stepping in my path. I'd freeze when our gazes locked. Then instinctively back up a few paces…would this giant creature continue toward me or merely cross?  There were plenty of hoove prints on the boardwalk. But thankfully each time the bison would eventually cross, and I was free to continue. What made it alarming was my unfamiliarity with the situation–who hikes among bison?–and my vulnerability–an easy target with no where to run–unless you foolishly (and illegally) take your chances sinking through the hot crust of the geothermal field.  My only encounters with bison up to that point was viewing them from the safety of a snowcoach. Certainly not wandering on foot, by myself, in a vast land where the buffalo roam.


But as photographers, don't we all long for new experiences and new sights when we go out to shoot? Perhaps it was partly the adrenalin, but that 4 hour hike was my favorite experience in all of Yellowstone, and my favorite images of the trip. The snowy landscapes around sprouting geysers, bubbling hotsprings, and vivid mineral pools were fascinating to explore.


Detail of one of the many colorful hotsprings. 35mm, f/22, 1/20, 200 ISO


Dead lodgepole pine trees. 30mm, f/22, 1/30, 200 ISO


Lone hiker above a mineral encrusted waterfall. 105mm, f/13, 1/400, 500 ISO


Bison at the Firehole River at Upper Geyser Basin. 300mm, f/13, 1/400, 320 ISO


Snowshoers on the trail mid-morning. 85mm, f/9, 1/640, 320 ISO


Boardwalk over hotspots. Imagine if a bison charged you here?! 35mm, f/16, 1/30, 200 ISO


A family joins the trail. 135mm, f/11, 1/320, 200 ISO


Seems fitting that my parting shot was a bison. Was he blocking my return to the lodge or simply warming himself in the steam coming from Castle Geyser? 200mm, f/11, 1/320, 200 ISO