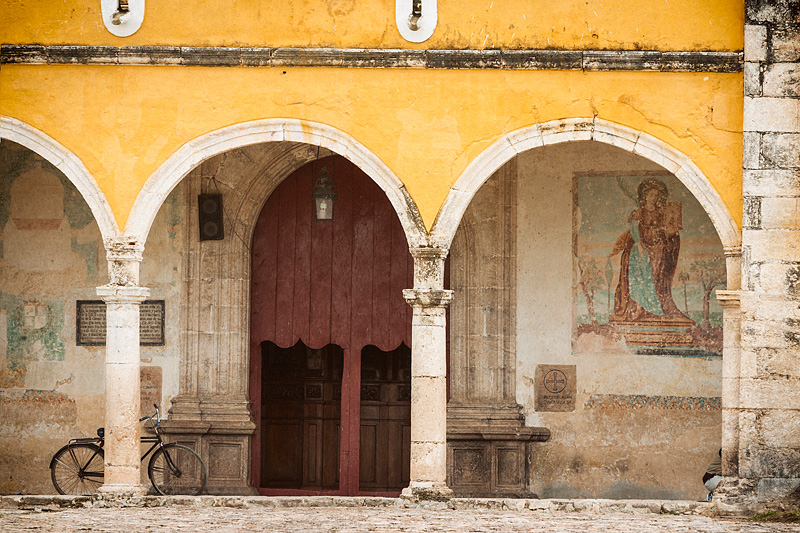 Whenever Día de los Muertos rolls around, the Mexican Day of the Dead celebrated from October 31-Nov 2nd, I think about the Yucatan, my favorite part of Mexico. Hoctun, about 15 minutes from Izamal, is likely the most colorful cemetery in the Yucatan. It's worth the short drive to walk through a cemetery this time of year when families take great care in repainting grave sites, and visit as families in their finest clothes as they honoring their loved ones. We watched families assemble around graves for picnics, light candles, bring special offerings, and sing haunting melodies to the accompaniment of a guitar.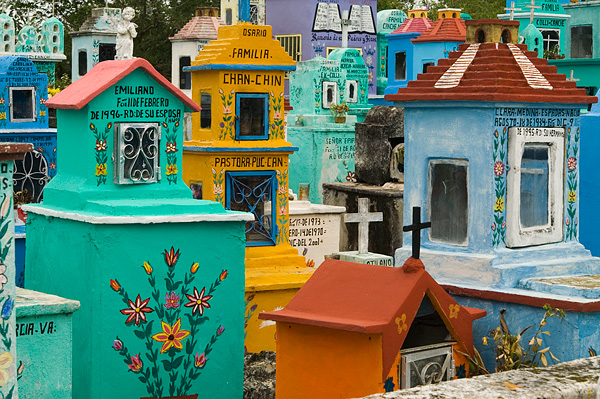 Twice we chose to time our visit over Día de los Muertos. Once we were invited to spend an entire day with a Mayan family and observe their rituals and food preparations in a tiny town of Elena, in a remote area near Uxmal, where Martha Stewart also visited a year later and filmed a similar experience. But since I've already written a post on that experience, (All Soul's Day) today my thoughts drift to Izamal, a charming little Colonial town that just oozes character!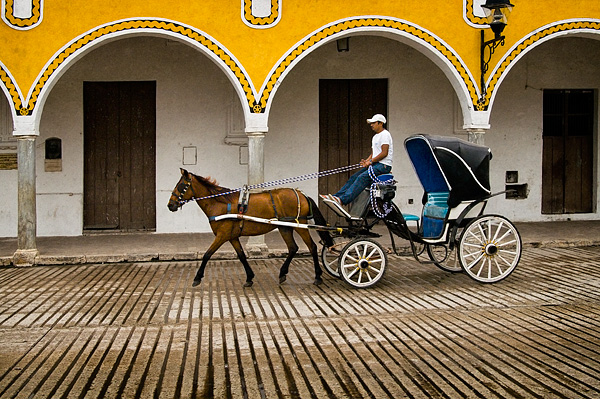 Apparently, tourism authorities think so too. Izamal, along with Valladolid, is considered one of two magical towns in the Yucatan. This special status is reserved for places with rich historical traditions and good paved roads for easy accessibility. For starters, the entire town of Izamal is painted the same dark shade of yellow. There is a blend of old ruins and modern structures, Mayan culture and Western culture, and rustic transportation to the latest technology. The community has a sense of pride about its rich history and important patron saint revered by the rest of the Yucatan. People are very friendly and welcoming. It's my favorite town to explore, and I love staying here.


It's a perfect place for waking up early and taking long languid strolls around town, watching the streets slowly come to life.


Lovely architectural details are everywhere…


The bustling centerpiece of the town is a dark yellow Franciscan convent and church, called San Antonio de Padua. Built in 1561, the atrium has 75 arches that line the next largest esplanade after the Vatican in Rome.


Inside, you can roam around the chandelier lit gold-leaf interior during the day or attend a laser light show in the atrium at 8:30pm Monday-Saturday night to learn about the Mayan and Catholic history.


Outside the convent walls, horse and carriages line the cobblestone street waiting to take tourists or lovers for rides. People ride their bikes here to the center of town to gather in the plaza to socialize, eat, or play music. Vendors set up booths to sell food and trinkets. During Día de los Muertos, they sell carnations and sugar skull candy for decorating altars to honor the dead, and set up amusement park rides for kids.






–from seniors sitting on stone steps to young people flirting.


It's a great place for people watching!


The reason for its popularity stems from its religious history. Many people make a pilgrimage to this convent specifically to see the Virgin statue, Our Lady of Izamal, including Pope John Paul in 1993 who presented her with a silver crown.
Back in the 16th century, when Spaniards conquered Izamal, Yucatan's oldest town, the monks built a church and convent over one of the Mayan pyramids. Eager to stop the Indians from worshipping idols, monks sent Friar Landa to Guatemala to bring back a statue of a Virgin to place in the new church.


Miracles began happening in her presence even as early as her transport to the Yucatan. This Virgin, Our Lady of Izamal, became associated with wiping out plagues and epidemics, to healing individual ailments. Today, people flock to see her statue in the church, and plead for miracles as they light candles and place photographs at her shrine outdoors at the convent. Izamal's largest festival celebrates her for a week leading up to December 8th each year.


In addition to visiting the convent and shops, there are fragments of pyramids and archaeological remains scattered throughout the town. We spent an afternoon climbing a weathered pyramid, then followed a handcraft route to visit several artists.


Local artisans open up their homes or studio space to tourists. We saw a young girl painting papier mache butterflies, women embroidering huipiles and men carving wooden statues and hammering out metal decorations.


During both of our visits to Izamal, we stayed at the Hotel Macanche, a lovely peaceful retreat set in lush, green jungle. Air-conditioned double rooms ($58-70) are uniquely and beautifully decorated and encourage lounging in the hammocks swaying on the little patio. There is a thatched space for practicing yoga and an outdoor/indoor restaurant on the premises that serves excellent meals. I do not remember if we had internet connection or not, because I try to unplug when I go on vacation!


Izamal is ideally located in the middle of the Yucatan, and is close enough for day trips to major tourist draws–the big capital city of Merida to the west or the popular ruins, Chichen Itza, to the east. Both are a 45 minute drive from Izamal, making this a perfect base for a 3 night stay. Plus I love the town itself, from the people to the Colonial architecture and the juxtapositions that seem to pop out everywhere. Izamal intrigues me. I feel safe during my solo wanderings and feel comfortable photographing anything, unlike other parts of Mexico. I certainly understand why the Secretary of Tourism carefully selected Izamal as one of Mexico's 35 magical cities. Izamal is simply enchanting!