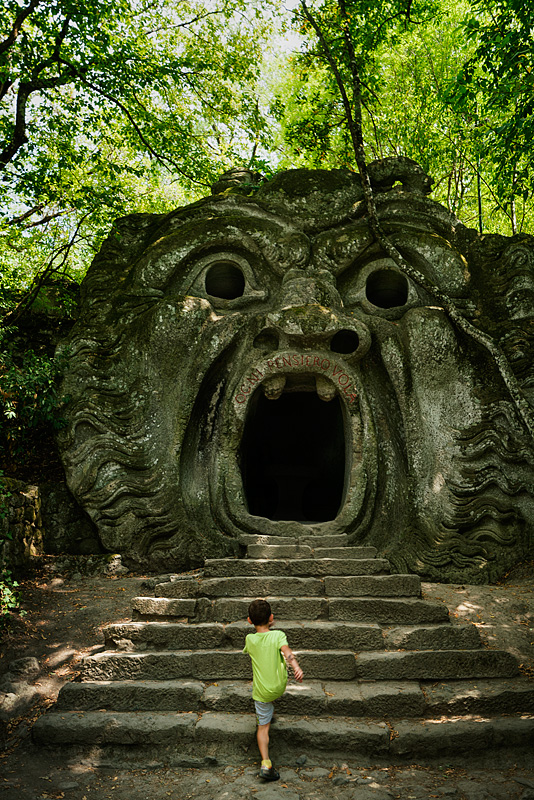 Be careful! Walk quietly into this gaping mouth inscribed with the words "All thoughts fly." Anything you may whisper in private–can be heard by those standing on the stairs.
This ogre from hell is just one of the many stone sculptures of mythical creatures, giants battling animals, dragons, and soldiers entangled in wrath that are scattered among wild greenery interspersed with marine life and maidens in this mysterious forest. These sculptures were commissioned by a prince in the 16th century to be a reflection of the grief, surprise and shock he felt after experiencing the ravages of war, being kidnapped and held ransom for years, and watching his wife die. The well-known architect he hired to create objects designed to jolt the visitor at every turn also built elaborate fountains and distorted benches in this peaceful garden, allowing people to reflect or confront their own internal monsters.
By the time Salvador Dali visited in 1948, this lavish garden had declined from centuries of neglect. Imagine how creepy the moss-covered structures would have looked half-hidden under thick vegetation under a canopy of trees! This place inspired him to create a surrealistic painting and even a short film. In turn, the current owner began restoring the park and gradually opened it up to the public in the 1970's. The fascinating mix of sculptures have inspired others to create a Frankenstein movie, horror films, paintings, novels and even an opera.
It is definitely off the beaten path (my local driver had never heard of it before), but it is within a 2 hour drive of a heavily visited capital city. Where in the world is it?