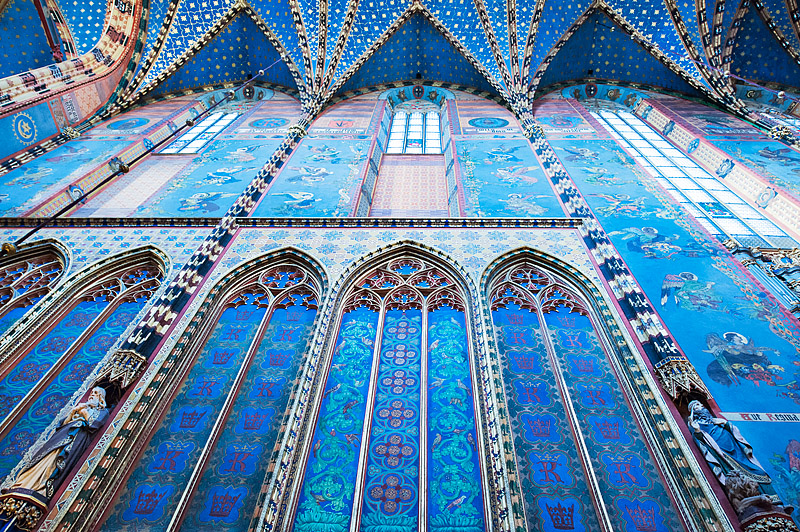 Wall leading up to the ceiling of St. Mary's Basilica
Last year I visited one of Poland's most impressive Gothic structures, St. Mary's Basilica. The interior was absolutely gorgeous! Eye candy is everywhere you look– from the painted ceilings to the oil paintings, art and sculpture that decorate the walls and side chapels.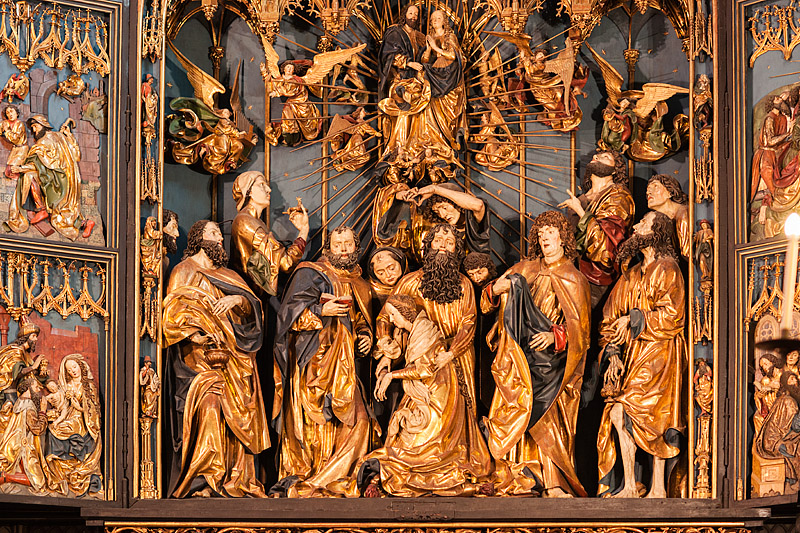 The classic masterpiece is the striking 36 ft tall altarpiece sculpted by Veit Stoss in the 15th century.

St. Mary's Basilica, Krakow, Poland
Standing under the impressive nave you can take it all in–the ornamental architectural details that cover the cross-ribbed vault, the painted ceiling and the altar masterpiece. During my visit tourists packed the rows and aisles of the sanctuary. I passed numerous groups listening to leaders talking about various art pieces and history. None in languages that I could understand.
As I wandered closer to the altar, a visiting choir assembled and began to sing. Their voices rang out beautifully in rich melodies that seemed to magnify in the vaulted space known for its acoustics. Was a special treat indeed!


Despite a constant stream of visitors to this "must see" sight, there are nooks and side chapels for private contemplation and worship.


The original church began construction in 1355 by Krakow citizens who wanted to rival Wawel's Cracow Cathedral. Completely destroyed when attacked by Tartars in the 13th century, St. Mary's Basilica was quickly rebuilt. The interior was finished 200 years later, but exterior details on the lower tower and the addition of the pentagonal-shaped Baroque porch were completed in 16th and 18th century.


Hejnal Towers. These two Gothic towers mark the impressive facade of this church which is recognized as one of Poland's grandest buildings. On the hour, if you listen and look up, you'll see a trumpeter playing in the watchtower. His song is abruptly cut off as a reminder of the medieval bugler who was shot with an arrow through his neck while sounding the alarm during the Tartar invasion.


The church is located in the heart of Krakow's Old Town, facing the large bustling pedestrian square Rynek Glowny, where tourists flock to stroll past historic buildings, sip lattes in outdoor cafes, pick up souvenirs in the 14th century Cloth Hall marketplace or pop into one of several art museums. Out of the 4 cities I stayed in over the course of this trip– Prague, Budapest, Warsaw and Krakow–this was my favorite. So easy, safe and comfortable to walk around and explore Old Town and the maze of streets that led to Wawel Castle, Kazimierz Jewish quarter, and even Podgorze (partly by tram) to visit Oskar Schindler's factory. Krakow was an excellent base, allowing me to join day tours to Nowa Huta to visit a planned Socialist community built in the 50's Communist era (a fascinating peek into the past), and to Auschwitz-Birkenau, a sobering haunting day.