Day 2 of the Transumanza, the age-old tradition of leading animals on an annual migration to higher mountain pastures in the Apennines Mountains of Abruzzo, in central Italy.
My 16 year old daughter and I had joined a group of mostly Italian people, and some Maltese, who had collectively joined a 3 day transumanza adventure offered by LaPorta farm in the tiny village of Anversa degli Abruzzi. Our role was to help guide and accompany a herd of goats, a couple horses and donkeys, and a flock of sheep up across the mountains to high-altitude grazing pastures where they would remain until Autumn. Yesterday our group had returned to the farm after a long hot day—up and down steep mountains with a herd of goats—and enjoyed a long leisurely dinner of homemade pasta and lamb before crashing asleep in comfy beds in our ensuite guestrooms.
This morning, outside our room, the staccato barking from the Maremma sheepdogs woke us up before our alarm clock. They were ready to go. But today was a leisurely start, and we didn't have to gather as a group in the dining room until 8am.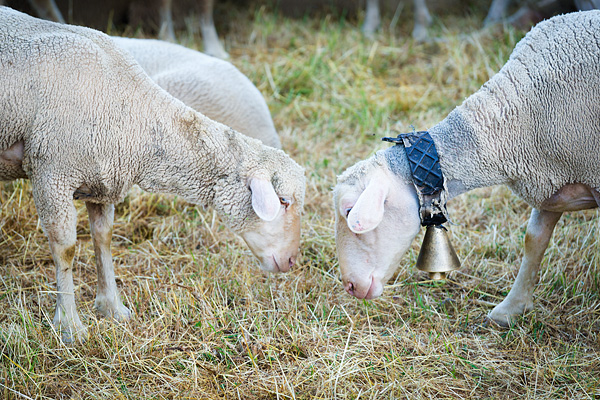 My daughter and I showered, filled our water bottles and packed our day packs. I chose 2 camera bodies (Sony) with attached lenses: 14-35mm and 70-300mm and stuffed them in my shoulder holster bag. No extra lenses or flashes to minimize gear. As we descended the stairs to breakfast, we were surprised to realize that neither of us felt sore from yesterday's strenuous 20km hike. (How was that possible?)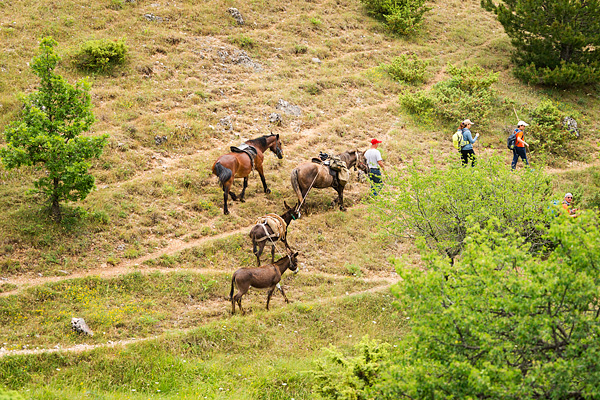 A bus brought our group of 24 trekkers, and our Sicilian guide, to Frattura Nove, near Scanno village. We began hiking where we left off yesterday. I clumsily slipped on wet grass as we ascended, and a strong kind Sicilian man swooped down to pick me up before I hit the ground. We couldn't communicate verbally, but I could feel his inquisitive stare wondering why I was there.
We quickly found ourselves following zigzagged paths across meadows higher and higher into the mountains, and caught up with the 2 shepherds, 2 horses, 2 donkeys and a flock of sheep. Yay, today we had sheep!
But where did the goats go? Nobody seemed to know. (My guess is they stayed in the pen near Frattura Nove where these sheep must've been.) The sheep were freshly shorn and more numerous than the goats. They had similar behaviors–close knit bunch crowded each other and did their best to avoid the scary humans. When spooked, they'd jump off the trail and the sheep behind them either followed or momentarily froze–trying to decide which way to go.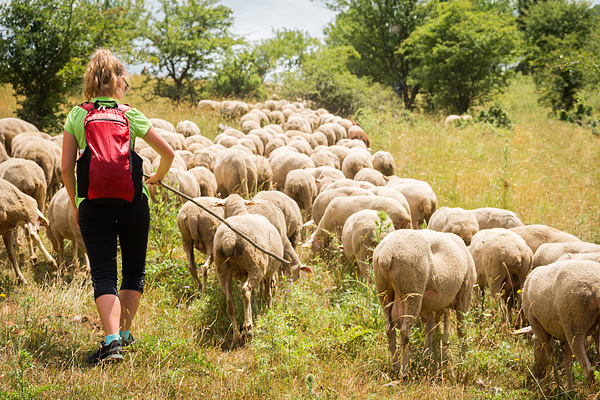 "Vi! Vi! Vi!" meant go, go, go.



The pace was comfortable. Even though there was a distinct language barrier between us and most of the others, we fell into the natural rhythm of a shared hike. Little by little we found out who we could converse with and who we could not. It felt a bit weird at times being surrounded by animated Sicilians without a clue what was being said. But it was enjoyable to meet so many different people with varied backgrounds from government to physics professors and simply hear about their life, travels or point of view.
You never knew who you would be walking next to on the trail, as the animals frequently separated us and threw us into random hiking companions as a result of their skittish behavior.  Especially on the narrow trails or in the forest. If you slowed your pace for any reason, the sheep had a tendency to skip ahead– and if one sheep bolted, the others were soon to follow. We learned to get out of their way, as the guard dogs were quick to bark at us or send us piercing warning looks. They did not want to chase after the spooked sheep that would jump completely off trail and disappear into the woods or valley. So we would step aside and sometimes have to wait for the whole flock go by.




The sunny skies quickly turned cloudy, and we dug out rain jackets or ponchos….just in case.


This was one of the frequent times that my daughter and I became separated. We were hiking with a 12 year old boy, Paul, and his father, Vince, from Malta, enjoying a good conversation, when the sheep came between us. (Yes, I probably stopped to take a picture…) I ended up waiting quite a while for the entire flock to pass on the narrow trail, and before I knew it, she was so far ahead that I didn't see her for another hour.


At one point, the Maltese guys and my daughter got a little freaked out when they suddenly heard a stampede of sheep advancing. Bells clanging, sheep bleating, hooves hitting the gravel as they ran. The hikers were in a narrow section, quickly but carefully trying to scurry downhill over loose gravel that was becoming slippery in the falling rain. They joked about how they might get trampled–by sheep.


Waiting for the flock to pass on the trail.


Most of the time the sheep just mozey along, grazing a nibble here and there. But, boy, they can move when they want to.


A pretty little spot where our group took a short rest break.


Emerging from the forest, the sheep grazed in the meadow and we found a spot for lunch. Out came tubs of fresh pasta, watermelon, red wine and bread.


After lunch the shepherd led his sheep down a different path, and we continued in the woods, crossing a creek several times until we reached our agriturismo a couple hours later.


The sheep were already penned at the farm when we arrived. And the Maremma sheep dogs were in place–evenly spaced all around their sheep– guarding against predators like wolves.






As our group gathered around the patio of the agriturismo, the Sicilian guide read out the room assignments. Warm guestrooms awaited inside with shared showers. But when our names were read, he simply pointed to the 4 tents beside the sheep pen.
We're camping? He again pointed at us, and then the tents, then left with everyone else who disappeared inside the farmhouse except us, and another father and son duo traveling together from northern Italy. The other 2 tents, we would later find out, were for Nunzio (owner transumanza organizer from Anversa farm) and the shepherds.


I didn't mind camping, I was just surprised. And unprepared. Camping was in the tour description of what we were expecting originally, but then at dinner we were told, through translation, that we'd all have guestrooms at the agriturismo both nights. Chalk it up to miscommunication from the language barrier. The only problem was that left our cold weather clothing for camping back at LaPorta farm, thinking we would have a heated guestroom again.
But hey, it would be an adventure! My daughter had never been camping before. Could be fun, right?


After a delicious dinner where we dined on numerous courses of homemade pasta, vegetables and red wine it was time to retire to our tent. Stepping outside it was cold…so frosty cold you could see your breath. My daughter bolted back inside to borrow a jacket from someone. And I slept with socks on my hands for mittens. Or rather, tried to sleep. Lying there in the pitch black darkness shivering, the cold and the magnified noises kept us awake most of the night. Bleating sheep. Clanking bells whenever a sheep moved. Dogs barking loudly. Two were positioned outside our tent by the fence, others were evenly spaced all around the flock to protect them. And any little noise or movement triggered a barking frenzy! And adding to all that, was loud snoring coming from another tent that never let up all night. Around 4am, there was even more chaos, as wolves snuck toward the pen. The dogs went crazy. Frantic barking alerted the sheep, which resulted in lots of bells clanking and just general mayhem. And eventually howling from the wolves that escaped. What a night.
Apparently, when the dogs chased the wolves away, they also ran down a random goat which they killed. We awoke to find 2 dogs chewing the head of that goat outside our tent. (You're welcome for sparing you the picture.)
Yeah, it was a pretty tough night. But what an experience. We'll certainly remember sleeping beside that sheep pen, listening to barking dogs, snoring, and wolves howling in that bitter cold…