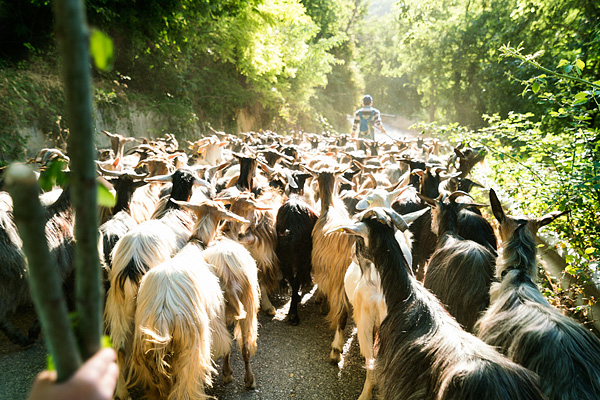 It's almost Thanksgiving…the time when we're traditionally reunited with our families. Outside my window, cool winds whip through bare trees, and temps drop low enough to snow. But my thoughts drift to the shepherd and the flock of sheep that we left high in the mountains of central Italy this past summer.
It's certainly cold there too. And time for them to go home.
Each summer in Abruzzo, hundreds of sheep journey across the land, traveling through lowland forests and valleys and up rocky mountain slopes to reach high altitude pastures, where they stay to graze all summer long. The shepherd and guardian sheep dogs stay nearby in a rustic hut, protecting the flock from wolves and other predators before tackling the multi-day trek back to their families and home in November.
This annual migration, called Transumanza, has been practiced in Italy for 3,000 years. In fact, Roman law once regulated the routes between Puglia and Abruzzo, when 3 million sheep roamed this region and produced Europe's finest wool.  Over time, synthetic materials were invented, wool production declined, people abandoned their villages, and the honored cultural tradition of leading herds across the country has nearly vanished into a distant memory.
But there are still some farmers that practice the transumanza in Abruzzo. And one that even welcomes tourists to join the herd in the multi-day migration. Nunzio Martelli, owner of the LaPorta dei Parchi sheep farm and perhaps Italy's finest cheesemaking operation, organizes 4 opportunities each summer. His cheese is exported to five-star restaurants internationally (including NYC and Chicago, USA). He firmly believes that the quality of his award-winning ricotta and pecorino sheep's cheese is a result of his flocks grazing varied vegetation at differing altitudes and is a strong supporter of celebrating rich cultural heritages and keeping the transumanza tradition alive.
I came across an article with a link to his website when I was researching ideas for our trip to Italy. Through his farm, tourists could join an authentic transumanza and help the animals reach their destination. The 3 night program included long walks in mountainous terrain, some strenuous climbs, all meals, a private ensuite room on the farm prior to the trek, a rustic hut with camping beds or tents, and "overnights at the pens in the manner of the shepherds."
Not exactly sure what that last part meant… but it sounded like an adventure! My 16 year-old daughter and I were all in.
When we arrived this past June, we were the only non-Italian speaking tourists in the group.
And every day was an adventure. Partly because we didn't really have a clue what we were going to do, as the written itinerary on the website differed from our experience. But we embraced it with open hearts, a sense of wonder, a flexible attitude and experienced the truest sense of fun, letting events and scenery unfold naturally as we made our journey across the epic, ever-changing landscape with a menagerie of animals and a group of comrades that looked at us a little strangely at first. Sure, there were a few hiccups from the language barrier. But the uncertainty added to the exhilarating freedom of simply embracing whatever came our way…we never knew what was waiting beyond the next mountain. Or the next day.
The transumanza turned out to be our favorite experience of our 3 week trip in Italy this summer. And certainly one of the most affordable, at just 230 euro per person.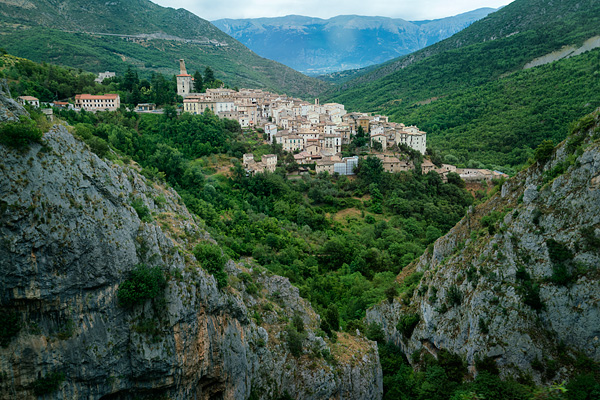 Our meeting point was the LaPorta farm which is located a short distance from the village of Anversa degli Abruzzi, which sits in a gorge about a 2 hour drive southeast of Rome.


At the designated time late that afternoon, my daughter and I waited for the "program presentation" orientation with paper and pen in hand expecting a slide show and overview of what was to happen over the next 3 days. But instead I should've had my camera, because once our group had assembled outside our rooms, a Sicilian man named Atilio, who was hired to be our group's hiking leader, led us down to the tiny village. That's when we quickly learned that our guide didn't comprehend or speak a lick of English. Oh-oh. This would be an interesting trip! We followed the group, listening politely to a string of Italian, our gaze following fingers pointing out features on the stone buildings and church with sheep embellishments on the door frame. Locals came out to wish us well on our journey, including a group of men who played accordions while people danced in the street. When the musicians followed us back up to the farm to join us for dinner, I grabbed my camera. But clearly missed some great shots in the village.


Assembled around long wooden tables, our group feasted on an excellent assortment of pecorino sheep cheeses and cured meats freshly made at the farm, plus pasta dishes and lamb. Nunzio came out and described the cheeses (in Italian of course!) He went on to explain what would transpire over the next few days.
My daughter and I sat there wondering what was being said, while observing the others in our group. There was a father and teen son from northern Italy, a large group of Sicilians who had signed up for this adventure through the Sicilian tour guide's website, a Roman couple, and a group of 7 from Malta, some of which spoke a little English. Thanks to them we discovered that the sudden clapping was in response to hearing Nunzio announce that tomorrow night we would be returning to our room at the farm's guesthouse instead of camping. We also learned that tomorrow would be the most difficult day. Our cliff note translation informed us to expect hot weather, 20 miles of strenuous hiking and an early start at 5:30am. Take only minimal gear!
So we went back to our room and repacked our bags, switching overnight items and extra lenses for more water, snacks, and choosing a single lens, 16-35mm, for my Sony camera.


Day 1: After grabbing branches for walking sticks, and "listening" to our guide (no idea what he said) we got an early start for the transumanza…at 5:30am! We passed by Anversa village and entered a forested path along the Sagittarius river gorge.


About 30 minutes into our walk, we heard a flutter of activity in the forest and soon saw a herd of goats rush past with Nunzio running behind them.


Why we were joined by goats and not sheep today… was lost in translation. I never did understand where the sheep were. But the goats were beautiful to look with their long silky hair, and interesting to watch their skittish, somewhat humorous behavior. So timid! They froze when people got too close or when their hooves clanked on wooden bridges over bubbling creeks. When spooked, they often bolted off the trail in a haphazard zigzaggy fashion with others on their tail, making the sheep dogs work hard to keep them in line.
After two hours of hiking, we came to the base of the ancient village we saw from the farm, the medieval village of Castrovalva. We walked straight up the mountain to reach the tiny town, while the goats, two donkeys and horses went around it.




The animals took an alternate route, but years past would've gone straight thru these cobblestone streets as this was one of the traditional transumanza routes. In fact the original homes, considered extravagant, were built by wealthy residents who made their money breeding sheep. About 12 people live here now (although we saw no one). After we passed through the village we were provided with a second breakfast for a little nourishment. Out came chunks of cheese, bread, pizza and red wine. We caught our breath from the hilly climb, appreciating the same views that inspired the Dutch painter, Escher, to paint one of his early works of the village perched over the gorge.



After our break we took off, ascending a gravelly path. You can see Anversa degli Abruzzi village in the distant valley as we climb higher and higher into the mountains.


Our group became naturally separated by the goats. They could move surprisingly fast over loose gravel on the hilly trails. If you were ahead of them you either did your best to move to the side to let them pass (tricky on the narrow sections) or try sprinting ahead of the running herd kicking up dust as they blazed ahead in a tight herd.
But up in the open meadows they became calmer, and meandered around us, snacking on mint and thyme in the wild grass.


I know it is difficult to see details in the shot below, taken with my 16-35mm lens, but the little white dots are two sheep dogs that chased down wild horses. Twice. It became a game of cat and mouse. The horses retreated…then came back with renewed energy,  running closer toward the goats. The dogs went nuts, barking viciously as they charged forward fearlessly, and chased them off for good. What mighty guardians!




There were 20 sheep dogs in our transumanza. Most were the white Maremmano breed, a 80-100 pound dog, indigenous to this part of Italy, that have been used to guard sheep from wolves for centuries. Each had a specific role and position. Some stayed in the front or back of the herd, or searched the sidelines for wandering animals, while a border collie never strayed far from the shepherd.


Shepherd and his goats…and sheep dogs of course!
By mid-day we were hiking higher and higher in open sun and getting rather hot. Two horses provided temporary relief for anyone who asked to ride. Facing another steep gravelly section, I chose to ride the 15 minute stretch to the top of a saddle. What I didn't expect was the annoying sweat bees that swarmed around and stung my ankles.
The horses were a bit hit with the two boys in tour group who often rode, their father's beside them holding the reins. My daughter had never ridden a horse (at the preference of Dad) but it seemed safe–a gentle meander up and down the hills under the guidance of a 2nd shepherd. So when she asked to ride, I obliged. She grinned ear to ear as she rode past. But at the crest of the hill her ride quickly over, having reached our rest stop destination.




Overlooking Scanno Lake with my makeshift hiking stick. The path in the distant left led to our lunch stop at an abandoned village destroyed by an earthquake in 1915.




We were soon walking through Frattura Vecchia where jumbled rocks still sit at the base of crumbled walls in this former village. When the quake hit a century ago, locals fled down the mountain to create a new village, Nove Frattura.


We had time to wander the ruins, but tall weeds and thorny bushes prevented us from stepping inside the roofless cottages as we scrambled over rocks to explore. Before long, a car magically appeared with tubs of food. Our group gathered at a large picnic table and devoured plates of risotto with olives, cheese and tomatoes and cold frittatas (which is how they were always served in Italy). And of course more red wine.


After lunch, some napped under a huge willow tree, or checked their smart phones. Even the two donkeys that were part of our group laid down and took a dust bath in a fire pit.




Even though the inhabitants were long gone, their medieval fountain stood steadfast, still producing water for both animals (trough) and humans (spouts). We filled up our water bottles and continued on our journey. We had another 90 minutes before we descended to Frattura's new village along a paved road that led to Scanno.
It felt more like a subdivision rather than a village and lacked the pastoral feel of it's former site. There were 2 little multi-purpose stores that sold espresso, liquor and gelato but little more. We grabbed an ice cream bar or espresso while waiting for the bus that would take us to Scanno for a visit before we returned to the farm. (Scanno: separate entry)
Back at the farm, showers were a welcome sight as were the comfy beds later that night. After another delicious group dinner at the farm's restaurant we were ready for bed. Sleep comes easy after a 20 mile hike through the mountains for those of us used to flat surroundings. And we could sleep in a little longer tomorrow morning!