Shhh…there's a secret place, somewhere in a remote mountainous region of Italy, where you can tuck into an ancient stone village and transport yourself back into time. Medieval time to be exact.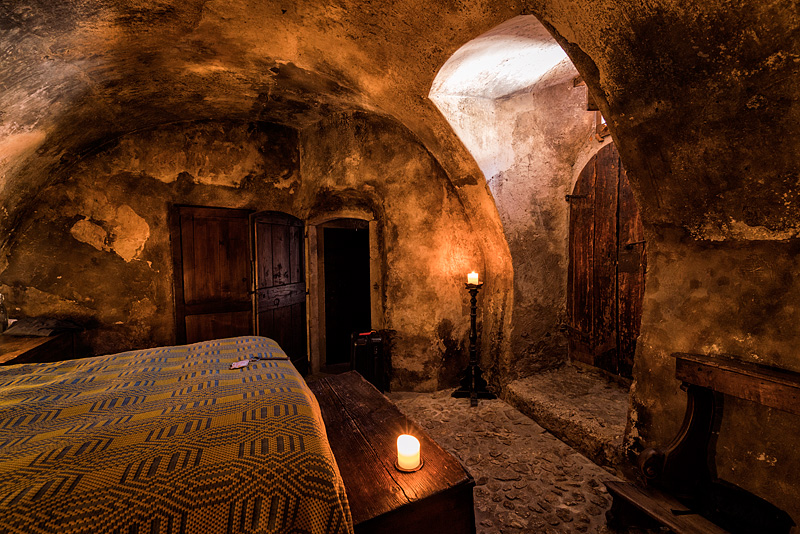 Abandoned homes scattered around a maze of narrow cobblestone streets, built centuries ago, have been turned into guest rooms for the intrepid traveler who ventures to this little-known gem of a place called Santo Stefano di Sessanio…my favorite village in Abruzzo.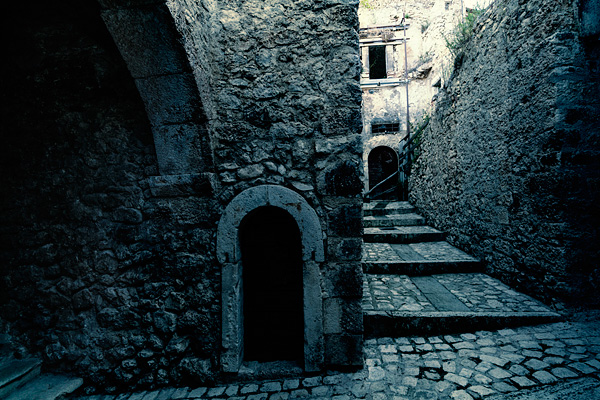 Once upon a time, under Medici rule until from 1579 to 1743, tiny Santo Stefano di Sessanio flourished from sheep breeding and became famous for the production of carfagna wool. Population grew to 3,000 by 1870 but dwindled to 900 by 1950. When the introduction of synthetics crushed the wool trade, inhabitants abandoned their homes and moved their families to New Jersey or Toronto. The ensuing poverty pushed out all but 70 residents–mostly older farmers who stayed and grew saffron and gray lentils.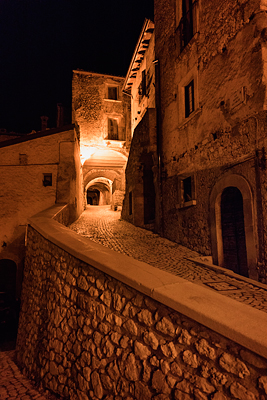 In 1999, a Swedish-Italian man by the name of Daniele Kilhgren got lost on a solo motorcycle trip in the Gran Sasso Mountains and happened across this neglected little village. Astounded that Santo Stefano di Sessanio was completely intact with no modern structures to taint the medieval charm, he immediately purchased 2 abandoned homes and went on to set up a company to purchase most of the remaining town with the intent to preserve the village by creating a diffused hotel without altering the original layout or medieval look.
His unique vision has resulted in the unusual opportunity for guests to experience a glimpse into the Middle Ages, interact with locals, and learn about traditional crafts or cooking. Stay here and you can wander the quiet maze-like lanes that wind around fortified walls, like my daughter and I did during our 3 night stay in early July.
Stepping into a former olive mill, now the reception Kilhgren's Santo Stefano di Sextantio diffused hotel, we were handed a giant metal key. Which one of the 32 rooms scattered around the village would we have? Some were originally the simple peasant homes of shepherds, oxen stalls, sheep pens or wine cellars.


We were led down cobblestones, under an arch, past fortified walls…


                                                    … and stopped in front of an ancient curved door.


We entered one massive door, and then another…     


…before we unlocked our room, La Stalla.     


 Burning candles danced in the darkness, adding mystery to the intriguing scene.


Just how old was this room? Who once lived here? Was the ceiling blackened from fires to keep warm? Or was this the kitchen? Why was there just one tiny window high above another wooden door? The bathroom had the same rough stone walls but thankfully had modern plumbing. The bed, which sat high off the ground, had a wool-stuffed mattress that felt surprisingly comfy.
But the rocky floor felt sharp on our bare feet, so we quickly dug out flip-flops to wear until bed. When we settled in, blew out the candles and turned out the two modern lights, the room was pitch black. And so silent. Prior to arriving here, we had stayed on two different agriturismo farms elsewhere in Abruzzo where our sleep was often interrupted with barking sheep dogs, flies, voices or other noises associated with a farm. But here– at least in this room, La Stalla– it was so dark and quiet it felt like a cave. My eyes adjusted a little. Faint yellowed light from streetlights in the piazza seeped in through the only window at the foot of the bed. My imagination soared, imagining what life was like way back when farmers likely slept in adjacent rooms next to flocks of bleating sheep. No wonder walls were thick.


We both slept in late the next morning. A short walk beyond the village piazza led to a yummy assortment of breakfast foods including ricotta cheese with preserves, sweet tarts and cakes, a cold frittata, pecorino cheese, salami, and cereal that was available from 8-10:30am.
We'd signed up for a cooking class at 11am. The hotel receptionist escorted us to the home of a resident who invited us into her kitchen to bake bread. What atmosphere! Aged tattered walls, rustic decor and a wood-burning oven surrounded a giant wooden table. Discovering that we were the only participants, we put on aprons and stood before bowls at our work station.


Sure there was a communication barrier, as we could not understand our instructor's Italian, but it was amazing how we could learn by just watching and doing.






The ingredients were simple: flour, water, yeast. Following gestural cues from the housewife, we first mixed and rolled the ingredients with our hands, and then a rolling pin. Wrapping the dough around the pin before rolling it was a interesting new twist, and highly effective in stretching the diameter. Then we halved the dough to bake both a loaf of bread and a pizza in the hearthside fire.


 Not hungry so soon after breakfast, we passed on consuming our finished products. But our friendly instructor bagged up our bread and pizza for us to eat later.


The afternoon was spent just wandering around the village, taking a turn when something caught our fancy. We found a tiny souvenir shop that seemed to favor owls. And a gelato shop. A couple other shops that had signs for cheese or honey were closed. There was an absence of anything resembling a crowd. A few locals sat outdoors at a taverna. The whole place seemed small and very still even during the day.




There were no flashing neon signs, billboards, or traffic lights. No sound of televisions, radios, or even the hum of air-conditioning. No noisy cars–in fact I only recall seeing one car drive past on the outer road. The entire village seemed peacefully stuck in a forgotten time just as the former residents left it.
Slowly the world will become aware of this charming place. But for now it's a quiet existence for the 108 residents who call Santo Stefano di Sessanio home.
We headed to the countryside and passed an old church (damaged from the 2009 earthquake) beside a small lake, looking for the trailhead for Rocca Calascio Castle, which we never found. The rolling green foothills of the Apennine Mountains reminded me of New Zealand, another country known for their sheep. Later that evening we went truffle hunting in a nearby forest on an excursion arranged through the hotel. We spent an hour with a local man and his two dogs who sniffed out an apronful of truffles which they dug out from under oak trees. We also visited Rocca Calascio Castle another evening (see previous blog entry).
We sampled local fare by dining at a few different places in Santo Stefano di Sessanio, including the hotel's restaurant where we had a 3 course tasting menu, and the wonderfully atmospheric Il Cantinone, a dark den where we enjoyed grey lentil soup and shared a 15 euro meat and cheese tray. But our favorite meal was upstairs inside the humble local restaurant, La Bettola di Geppetto, where we shared a delicious melt-in-your-mouth meal of lamb kebabs, saffron ricotta ravioli and brushetta for less than 20 euros.




At 10:45pm on our last night, after we'd packed our luggage for our early departure for Rome to catch our flight home, we decided to take one last stroll through Santo Stefano di Sessanio…




The streets were deserted…and silent. In hushed tones, arm in arm, we walked along the cobblestones peering up at passing homes with no visible lights to indicate that anyone was home. It felt like an empty movie set. So eerily still. We crept through narrow lanes, discovering new alleyways we hadn't yet explored. The faint sound of muffled footsteps were approaching. Rounding a corner we met the silhouette of shadowy figures romantically linked walk past us, lost in the magic of their surroundings.
Somehow we ended up at the gelato shop. The door was wide open but it looked vacant. My daughter stepped inside. A man immediately descended from an upper residence to take our order. As he had done before, he hesitated before handing my daughter her gelato, deciding which special treat to add as a crowning touch. He handed her the cup, locking eyes with his dark gaze while a single finger rose quietly to his lips. As if to say, Keep Santo Stefano special. Keep mum. Shhh…


Getting here:  Santo Stefano di Sessanio is accessible from airports in Pescara (85Km) and Rome (150 Km). Car rentals are not readily available in Abruzzo, so arrange from the airport. Plan on a 2 hour drive. Buses travel from the Tiburtina bus depot in Rome to L'Aquila where a connection is then required to reach this village. Private drivers can also be arranged from Sulmona or Rome.
Hotel tip:   Book your room directly through the hotel's official website for the best rates! They often run promo offers. We snagged this gorgeous room for only $131 per night during July 2017.