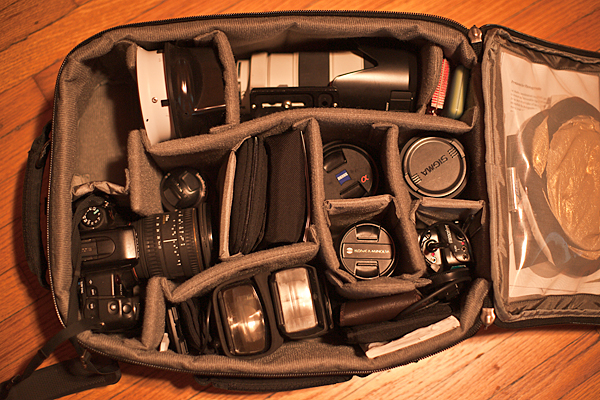 My new ThinkTank Airport Acceleration V2 holds a ton of gear!
Hauling photography gear anywhere is a pain, but especially to countries that limit you to just one carry-on bag. And they do mean one–no separate computer bag allowed, or even a purse, where you could potentially stash extra flashes or cords. Short of stuffing pockets in a camera vest with whatever lenses fit, what is a person to do? What is the one perfect camera bag that fits the size dimensions, the featherweight restrictions and has the capability to carry your camera gear, lighting equipment and laptop?
Two days ago we returned from a trip where flights into and out of Morocco faced us with this dilemma. We scampered through closets at home where we've amassed quite an assortment of camera bags…looking for that perfect travel bag. David ended up carrying his laptop in the outside stretch pocket of a small roller ThinkTank bag. I ended up purchasing another new bag that would accommodate my monster 17″ laptop, ThinkTank's Airport Acceleration V2.
Measuring 11 x 19 x 15 when fully loaded, it falls within the acceptable 45″ limit for international travel. However, some airlines restrict the width of carry on bags to 9 or 10 inches. The beauty of this bag is that the width reduces from 11″ to 8″ when you take out your computer, which stores in a separate carry-on case inside an exterior pocket of the bag. Empty, the Airport Acceleration weighs 6.5 lbs. Fully loaded, well… it's heavy. And way over the acceptable limit, especially on domestic European flights that restrict you to 11 lbs!! (But so far, fingers crossed, it's pretty rare for airlines to weigh passenger carry-on bags. So you just pretend that you're not shrinking into the floor from the weight, right?)
I really liked the design of this bag, and the roomy interior. I managed to pack 2 camera bodies, 5 lenses (14mm, 17-35mm, 28-70mm, 85mm, 70-200mm), 3 flashes, 3 pocket wizards, a bulky Interfit adapter and 2 light modifiers, assorted cords, memory card cases & a battery charger. Two large clear pockets held card readers, filters, model releases, reflectors and batteries. The exterior pocket easily fit my 17″ laptop inside a separate carrying case plus magazines and travel documents. I've never carried so much gear internationally! The downsize was the weight. The backpack felt heavy on my 5'3″ frame. Luckily, David wore it for me through the airports while I wheeled his oh-so-easy to maneuver bag ;). On the plane it fit into the overhead compartments even without removing the computer (except on small jets), but was too big to squeeze under the seat. For this trip it was the perfect solution.
It's amazing how many different camera bags are out there. But do beware. Some companies produce great innovative designs but the exterior dimensions of their bags, empty, already exceed the 45″ dimensions making them impossible to take on a plane (despite advertiser claims that their products meet airline carry-on restrictions). Always analyze the dimensions of the bag yourself and know the restrictions of the particular airline you intend to use!! (I flew on Easy Jet for the first time last week and was pleasantly surprised—roomy legroom, great service, spacious overhead compartments and NO weight restriction on your carry-on bag!!)
On extended trips where I'm restricted again to one bag, the Airport Acceleration will certainly come in handy. If I could only figure out a way to add wheels…
What about you, fellow traveler? Encountered any problems flying with camera gear?  I'd love to hear your feedback. What is your perfect bag?