One of the most difficult decisions when preparing to travel is deciding where to stay! If you're into photography you want easy access to sights, or close proximity to grand landscapes so you can roll outta bed in the wee hours to capture scenics in the best possible light…plus a great place, decent price, safe neighborhood and restaurants close by.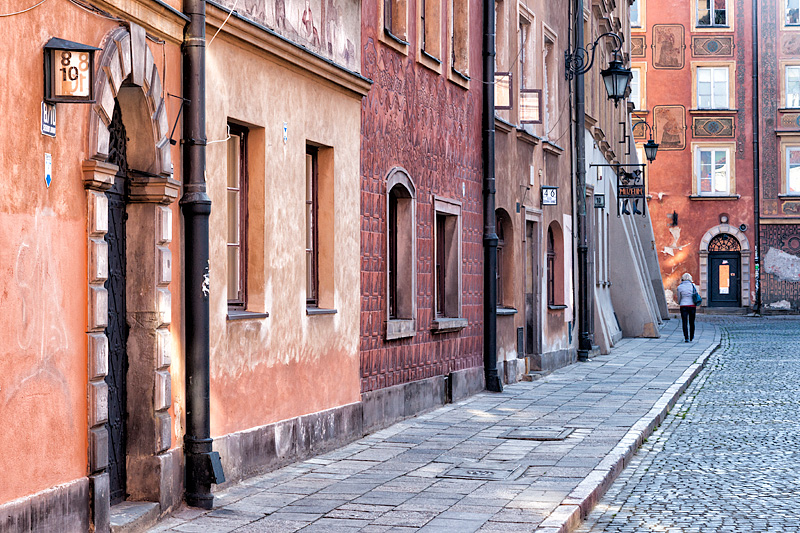 Which is exactly what I sought when planning my trip to Warsaw. Traveling solo, I wanted someplace safe and within walking distance of sights, cafes and attractions. The Old Town had it all.
And my lodging of choice, a 16th century townhouse, called the Castle Inn, sat on the cobblestoned doorstep of the Royal Castle.  Didn't like lugging my gear up the double flights of stairs to reach reception, but adored the creativity, personnel, and charm this place exuded. Guests choose from 22 rooms that have been creatively decorated by Warsaw's top designers, themed around Chopin, Escher, Sarenka, the Sahara, Jungle, Orient, Comic books, and more. My room, the Persian, overlooked Świętojańska Street, similar to the picture above. I loved throwing open the shutters and watching the action up and down the street.  To see more info see: www.castleinn.pl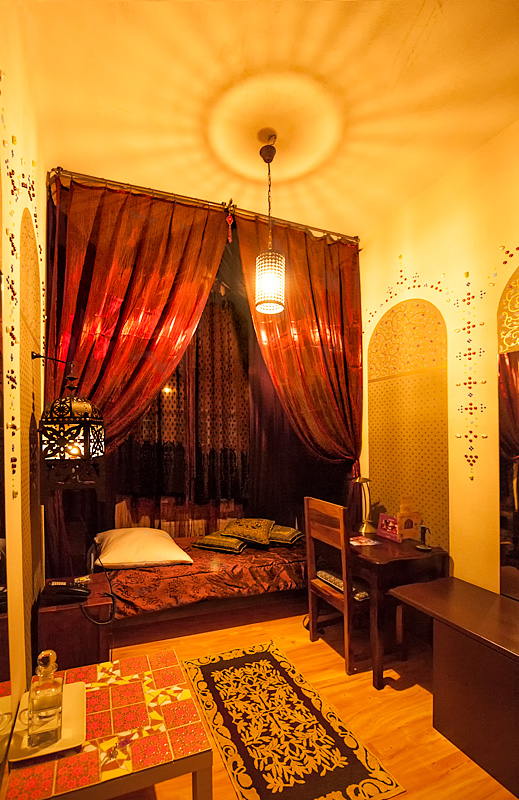 I liked wandering around the pedestrian-only district of the Old Town, which was painstakingly and completely rebuilt after it was bombed during WW2. Guided by photographs and architectual drawings, each Baroque and Renaissance structure was built brick by brick to resemble the original, creating old-world facades atop modern buildings that looked so believable that it was granted a UNSECO site in 1980. One night, I walked to the new Opera House, Teatr Wielki Opera Narodowa, to attend the opening night of the National Polish Ballet performing Sleeping Beauty. Gorgeous sets and costumes on a huge stage, inexpensive seats, and talented performers…if you get a chance, to attend anything here, GO!!!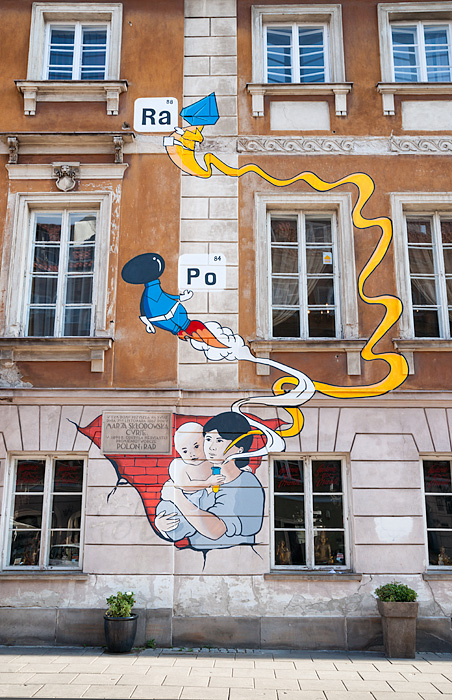 A couple blocks north of the Old Town is Madam Marie Sklodowska Curie's birthplace, now a museum, on 16 Freta Street. I didn't realize that Marie Curie was born, educated and worked in chemical laboratories in Warsaw until my visit. Awarded a Nobel prize twice for her research on radium, she created the Radium Institute of Warsaw in 1932 to determine how to best use the healing properties of raduim to protect human life. Ironically, she died two years later from leukemia, caused by prolonged exposure to the radioactive substance. Inside, there are exhibits of her work, photographs, laboratory equipment, personal momentos and clothing.
One thing to keep in mind is that sights and attractions are pretty spread out in Warsaw compared to Krakow. Expect long walks. There are buses, trams and trains to help get around, but it's best to hire a guide for the day if you want to visit the Jewish quarter and cemetery, Palace of Culture & Science, Lazienki Park, and the University unless you're really good at reading maps!