How many times have horses been photographed?  What comes after a trillion?  – Suffice it to say, it's all been done before.
During our recent workshop with The Oaxaca Wonders ( a group of amateur photographers who collectively hired us to lead a tour and workshop for them in Portugal – a great group btw!) – we saw some really nice takes on a handful of horses in the morning light.
My first instinct is to put the sun off of my left or right shoulder and show some texture on the beast.
Another alternative is to put the horse so it's backlit by the sun.  One lady, let's call her, Cindy – (because that's what we called her, and besides it's her name ), made a beautiful shot using both techniques combined.
She oriented herself so that the horse's body was backlit with the misty light of morning while the horse's face was side lit.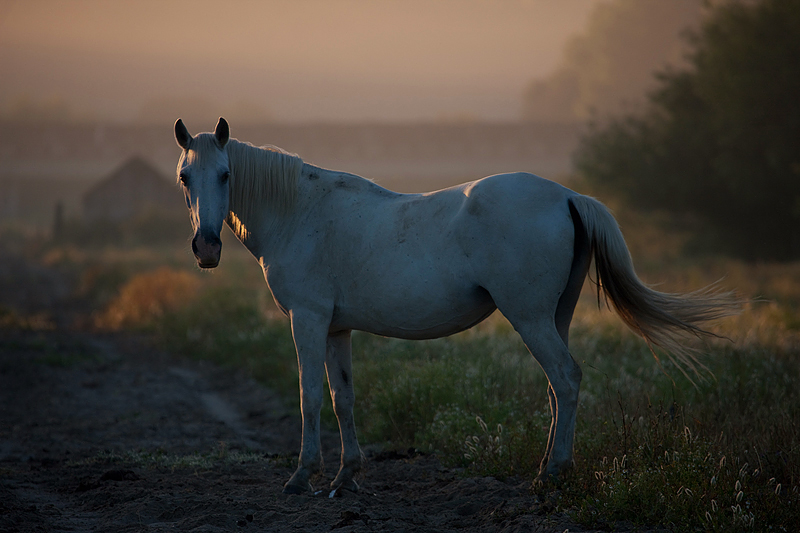 It's a beautiful image.  Well done Cindy.
Every time I see a horse I think about the joke where a horse walks into a bar and the bartender says, "Hey fella.  Why the long face."
I decided to revisit perspective and the old idea of getting close to your subject, then getting closer still.  I'm a fan of cutting off parts of things we can easily imagine.  I like this because… well, I don't know why I like it, but I do.   Go with a super shallow depth-of-field, add a bit of distortion to the horse's face with a wide-angle lens at an unusual POV and you have something like this…