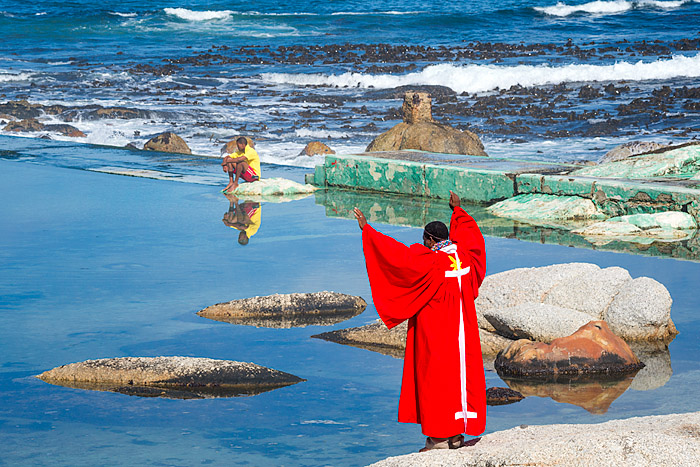 Later that same morning (see last blog entry Reflection of Lion's Head) as we were about to leave this ocean pool, we saw a group of people gathering on shore, some with drums and some wearing red religious robes. So of course we stuck around.  It soon became clear that a baptism was going to take place. We watched the pastor (priest) approach the water to perhaps assess its safety—as ocean baptisms have resulted in death. Perhaps the worst tradegy occurred up the coast in Durban when 5 men drowned during a baptism when a riptide surpised a crowd of worshippers in 2005. But more recently, just a few weeks ago on Mar 30th, another 2 men drowned during a baptism in Vals River near Johannesburg.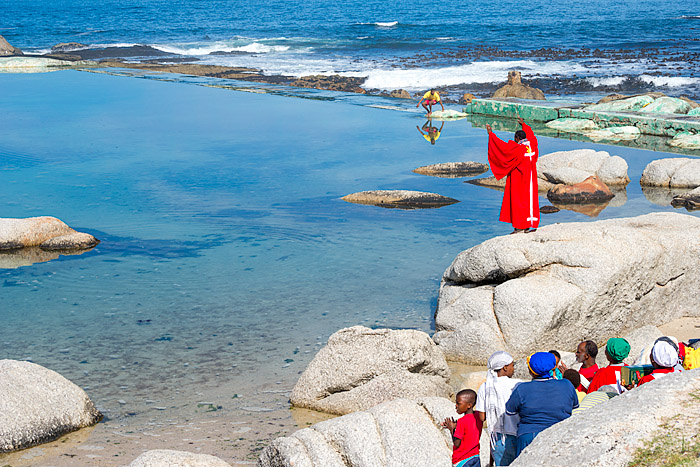 The pastor stands over the pool of sea water to bless the water and the baptism.  Here at this particular pool in Camp's Bay on the peninsula of Cape Town, the water is separated from the rest of the ocean by natural rocks and a concrete ledge at the perimeter. Many people swim here. In fact, there was a guy floating in the background during the baptism.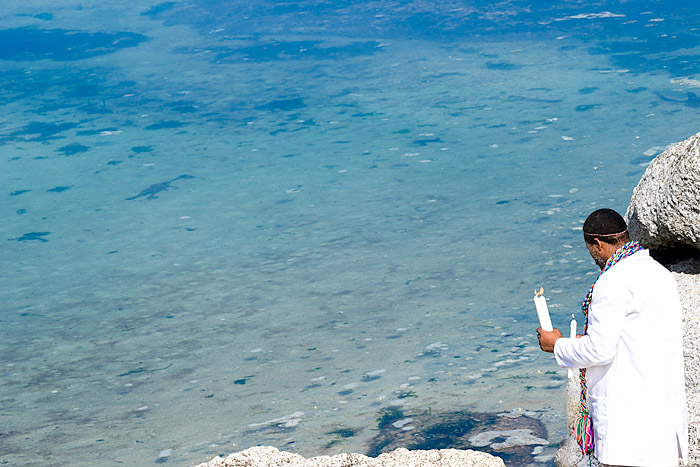 The pastor then removes his red robe, revelaing a white coat over a button down shirt and tie, and dons a colorful braided rope around his neck before placing lit candles along the path leading to the baptism site.


The pastor then wades out to the water and prays, while a group of believers wait on shore. 


A woman wearing a green turban and a similar robe as the pastor/priest–red with a large white cross–assists him in the baptism. Removing her red robe, she wades out and brings people out to him. 


Ocean Baptism


Facing inland, the mountain formation known as the Twelve Apostles is visible in the background.


Believers are singing, clapping, drumming, or shaking and rattling boxes as they watch from the rocky shore. Most of those congragated are waiting their turn to get baptised this Sunday. They tuck into rock crevices to change into dry clothes. They are clearly happy, and even welcoming of me approaching and photographing their celebration.


The pastor prays between each baptism.


Next a small child, around 8 or 10 years old, is escorted out to the water for baptism.


Each believer was submerged under the water once, standard for most Christian baptisms, but in contrast to some other baptisms performed in South Africa which repeat the process up to 45 minutes per individual.


 Parting shot of the baptism.