A room with a view…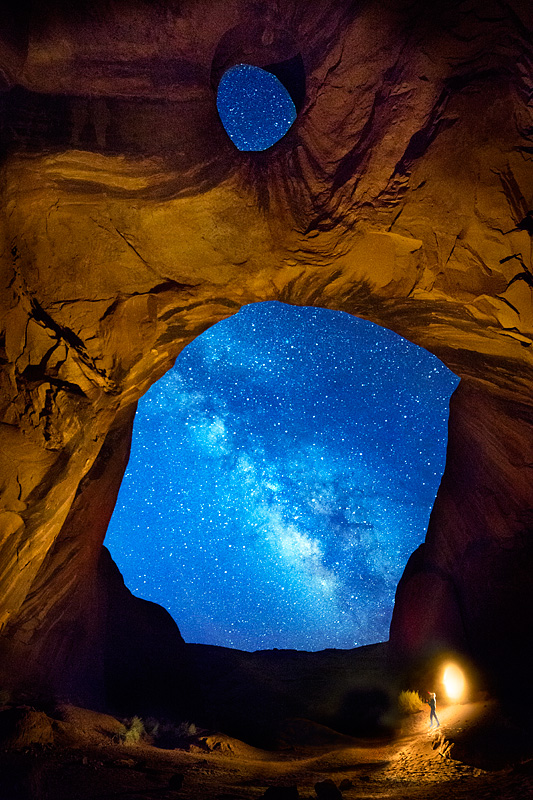 Last month my family and I traveled to northeastern Arizona over spring break, and stayed at a unique lodge at Monument Valley that certainly deserved it's name, The View. Built in 2008 on a sandy ridge, every room at this Navajo owned hotel features a balcony that faces the famous rocky formations known as Merrick Butte and the Mittens. The balconies are private, allowing guests to wander out with a coffee at sunrise in their pj's and appreciate the same views featured in so many movies from John Wayne & Clint Eastwood westerns to the Lone Ranger with Johnny Depp.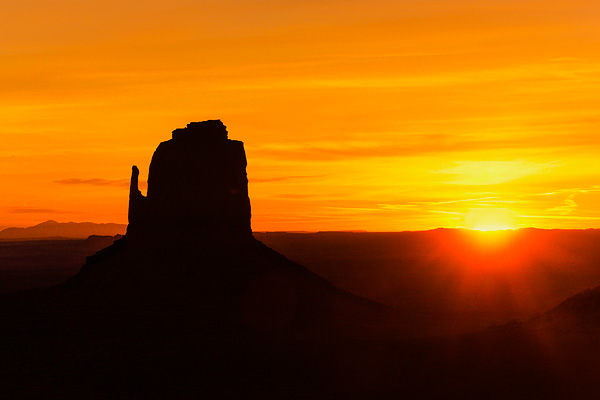 Or watch the sun set, patiently waiting and watching to see if the setting sun will ignite any of the formations for a split second. Like it did here on Merrick Butte.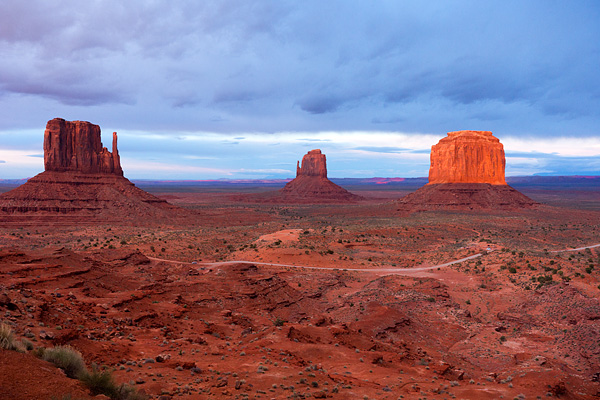 Or even sneak out half-dressed in the moonlight to stare at the silhouettes.
The skies are inky dark in most of Arizona. I couldn't wait to experiment with a little astrophotography. Shooting the monuments was incredibly convenient from our hotel room. I simply set up my tripod on the balcony, set an alarm, woke up periodically throughout the night, walked 3 steps to my camera, and clicked a few frames to capture the brilliant arc of stars above those iconic formations. Spill light from the dining room at the far left of the building cast a golden glow on the sand, illuminating the desert foreground without having to lightpaint with an LED light. We didn't shell out an extra $100 more a night to stay in one of the StarView rooms on the 3rd floor, which feature unobstructed views of night skies from the ceiling-less balcony. But our views from the 2nd floor in a room located at the far right of the hotel were stunning.
This hotel is the only lodging that has this view. And it's the only hotel that sits inside the Navajo Tribal Park at Monument Valley, where Navajos have lived for more than 500 years. This is their land, and you need a Navajo guide to explore anywhere beyond the 17 mile dirt road that circles the monuments. The lodge does not provide any tours but instead provides a list of 18 recommended Navajo led jeep or horse tour companies for guests to contact on their own.
I signed up for 3 different tours using an online reservations system for one of the operators. The first tour was for stargazing. Nobody wanted to join me so I planned to go alone. My daughter wanted to join the Monument Valley sunrise and cultural tour which left at 6am, and my husband was keen on joining the afternoon tour to Mystery Valley. My guide met me at the hotel when we arrived at 6pm. What did I want to photograph? And why 3am, he wanted to know. Well, I knew there were many arches scattered throughout Monument Valley–and I had hoped to shoot the Milky Way through one facing southwest. And the core of the Milky Way Galaxy would be visible between 3:30-5am according to the PhotoPills app on my iphone. He pondered, then nodded in agreement. Outside the sky was very cloudy. I asked about sky conditions. He shrugged his shoulders. Could change, he said simply.
He offered to call me at 2:30am and report on the sky conditions. If cloudy, we'd cancel and shoot for the next night.
It's hard to sleep when you're excited. I was awake when he called. It's good, he said. Great! Before I hung up he said, And bring your daughter. We won't have time to come back and get her for sunrise. I winced. She was sound asleep. Would she bail on the sunrise tour if she had to come now? Would the tour then be cancelled for just one participant? He must've noticed my hesitation. She can sleep in the back of the truck. Bring pillow and blanket.
Luckily my daughter was a great sport and groggily pulled on leggings and jeans, fleece layers, gloves, hat and winter jacket with barely a murmur, and away we went. Yes, it was spring. But temps were dipping into the low 30s at night in late March. Our guide handed me a coffee, and we slipped into his heated suburban and began our bumpy slow journey across the sandy rutted terrain. He provided facts about the flora and fauna as he drove in a soft low voice that lulled my daughter fast asleep in the backseat. After an hour we arrived at the first location. Clouds had disappeared and the Milky Way looked brilliant. But the arch was very far away and looked more like a tiny hole high in the rock. My guide pointed our the Morning Star perfectly aligned to  peek through the opening.


I took a few shots but it wasn't at all what I had envisioned. He drove me to 3 other possibilities–one required walking 10-15 minutes through sandy dunes in the dark–then drove to our final possibility. You decide, he said. We have time for one location.  
When he led me to the last spot, I knew instantly. This was it.
We were standing in a cavernous space with a giant arched opening and a natural sky light window carved by wind in the very top. It was the perfect setting for my wide angle lens. And the Milky Way, which was brilliantly visible beyond the arch. I was half-tempted to wake my daughter, but decided to let her sleep.
Time was fast disappearing, so I quickly set up my tripod and prepared to take some long exposures with my 14mm Rokinon lens. Wanting a person in the frame to provide scale, I hit the 10 sec timer on my camera and ran into position while my guide provided background light to illuminate my silhouette. I had time to take 5 shots.


Encounters in a sacred tribal land…
Once upon a time, Anasazi had lived here, my guide told me. He spoke of the petroglyphs, hand prints and figures, that were etched into the sandstone walls (which we later saw in daylight on our sunrise tour). I tried to imagine what life was like for the Anasazi living in this mysterious place. And sleeping here. Did they huddle together to keep warm in the snow? Were they protected from rain? Strong winds and stormy nights must've been a drag.
But imagine those warm summer nights lying underneath those dazzling stars… staring at the constellations, falling stars, or the Milky Way as you slowly drifted asleep.
They, too, had a room with a view.
photo tips:
Know your equipment so you're not wasting valuable time fumbling in the dark.
Set up your camera in advance back in the hotel room: white balance to tungsten, infinity focus, noise reduction off, ISO 6400, 20-30 sec exposure, f2.8, self-timer if desired.
Have realistic expectations: aim for 1 killer shot in a 3 hour stargazing tour (around 2 hours spent traveling in jeep). I took 10 shots total.
Apply for a photo permit FAR in advance. All images shot in Monument Valley (other than for personal use) require a Navajo photo permit. I applied 6 weeks in advance for both Monument Valley and Canyon de Chelly permits. Know that each Navajo park requires separate permits–$50 application fee PER PARK, plus whatever fee the headquarters in Window Rock specifies for the daily rate which can be $100 per day. Canyon de Chelly was $150 just to apply, plus $100 daily rate. Once you've sent in money orders and applications, prepare to keep emailing, calling, texting…Good luck!