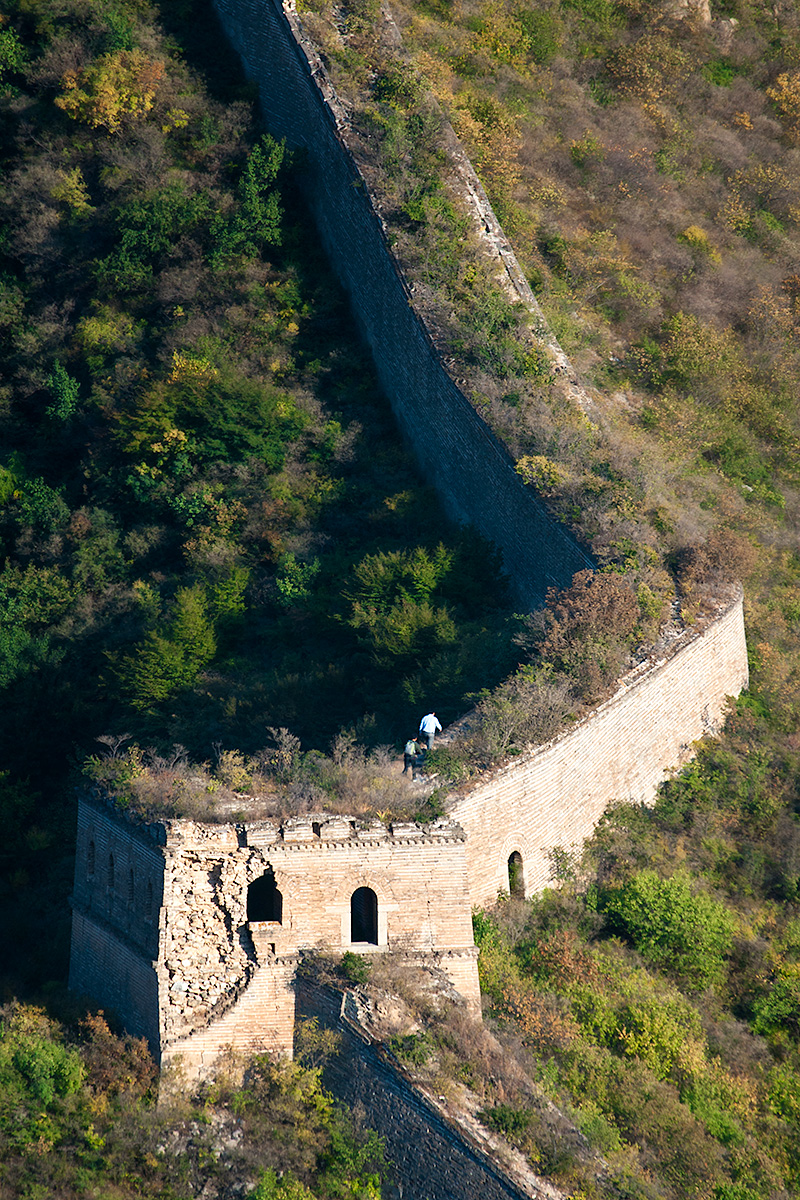 The Great Wall of China.
Just uttering those words conjures up images of that long fortified wall snaking up and over forested hills—stretching an incredible 5,000 km across the northern reaches of China's vast country.  I had wanted to see it, walk on it, experience it, for a very long time. And now I was finally here, in Beijing, within easy reach. But which section to visit? There were several to choose from.
I didn't want to go to the popular tourist magnet, Badaling, where hoards of people go. I imagined a frenzied scene–hawkers yelling, crowds elbowing, being pushed with the masses along a perfectly paved section of the Wall, so marvelously reconstructed that it wouldn't seem like the same structure that actually dates from 3rd century BC.
No, I wanted to go somewhere remote. Where tourists didn't go.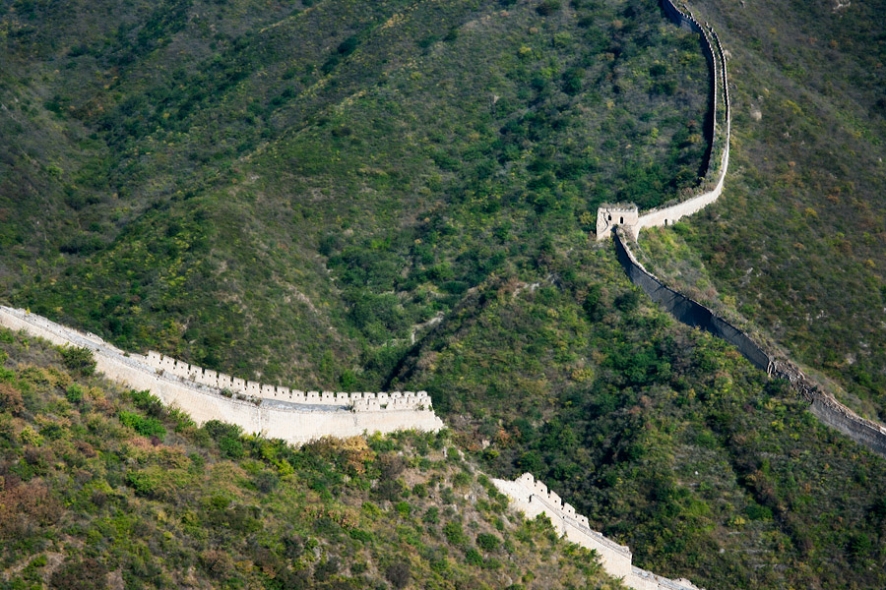 I asked my friend Ellen, who is currently living in Beijing, to take me somewhere that the locals went. She knew just the place, she said. As long I was cool with climbing a rickety ladder propped up to a window of a watch tower. We'd have to hike through a farmer's land, pay a small fee to use his ladder, and gain access to the Wall that way. And it was part of the Wild Wall, meaning it was unrestored. So I could expect rough going, steep steps, and crumbling rock. Ellen said it was also unlikely that we would see another soul hiking on that section of the Wall. And it was the only section of the Wall built on the edge of a lake.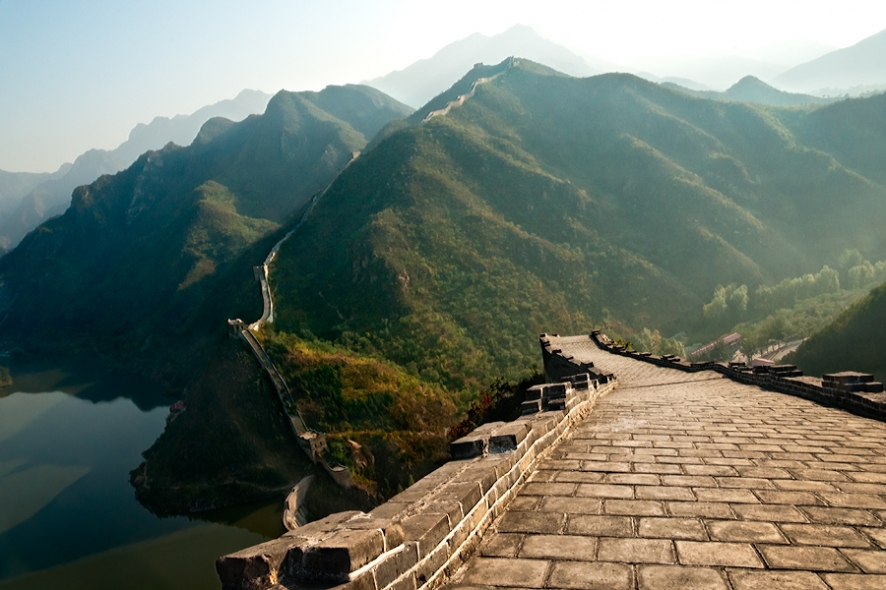 Sounded great to me. Could we spend the night there too?
On our 2 hour taxi ride from Beijing, our English speaking driver told us he knew of a guesthouse next to the Wall. And yes, it had a toilet. (I guess I really shouldn't have been so surprised to see that the toilet was just a simple ceramic lined hole in the floor.) And a bed. (Kind of. It was a kong, a rock-hard platform topped with lineoleum  and a pile of blankets that could fit a family of 10 if they were sleeping side by side like sardines.) And heat. If you were freezing in that unheated room, you could conveniently shove hot little circular bricks into a trapdoor outside that tunneled under the bed.  That was part of the adventure. And just $8 a night, what a bargain!




When Ellen and I first arrived, she pointed out the big blue sign that stated this section of the wall is closed.  But of course locals were there, in the know, to spend their holiday hiking, fishing or firing off fireworks (during the day, not night). We threw our stuff in our basic little guesthouse and hit the trail. No need to pay the farmer today, as we didn't see him. And then, there was the ladder. Merely propped up to the watchtower at the top, with its base nice and secure on a pile of rocks. Hmmm…and that wind!


Our stay happened to fall on October 1st,  a National Holiday, which meant that most Chinese people had a mandatory week off from work. So there were people here. But certainly no crowds. And no other foreign tourists. People seemed genuinely surprised to see us. They asked to take our picture, or, better yet, stand next to us grinning and holding their fingers in a now familiar symbol–a peace sign–while their friends snapped a shot. Funny. There were families picnicing on the Wall, couples strolling, friends hanging out. And a couple of energetic elderly men in jogging suits running zigzag patterns up and down steeply sloped sections of the Wall.




 watch tower on the Great Wall


The wall was steeper than I had imagined. Parts were difficult to climb as the steps were crumbly and the lack of any kind of hand rail made you feel especially vulnerable when a sudden gust of wind could push you to the edge.








After a full day on the Great Wall, we made our way back to the entry point by the lake, and watched the sunset with a handful of locals. The purple sky darkened to ink within minutes, making our departure a bit adventurous without a flashlight. We followed the voices and laughter of the few who'd lingered to enjoy the sunset.  Once at the watchtower, trying to clambor up to the window–without going over–was difficult for a clutz like me. Thankfully, two local Chinese men lagged behind to help us, and held the ladder for our descent in the dark.
That night, Ellen and I were the subject of much staring and giggling at the guesthouse restaurant. Four large lazy susan tables were crowded with Chinese families and friends, who'd been eating, smoking and drinking for awhile–judging from the looks of things. We sat at the empty remaining table, looking over the menu, trying to ignore the open stares. Their "gumbai!!" cheers and conversational noise would crescendo and echo in that small room, making it almost impossible to converse at our table. Little by little, everyone left. Except two men. They pulled up chairs to the adjacent table, and one of them proceeded to pepper us with questions in Chinese and a few words in English.
In no time, all of us were laughing at the miscommunications, gestures and charades used to attempt shared thoughts.  The older man, around 52, did most of the talking, as did Ellen, as she had a basic understanding of Chinese. When she comprehended his emphatic statement about loving Rambo, this apparently pleased him. He showered her with cups of beer and cigarettes. Then pulled her up to teach her some moves.




After awhile, despite all the laughter, he suddenly became serious. He stood in the center of the room and began singing, slowly moving his arms into shadow puppet poses, raising his legs and turning his body into martial art positions. Then later, when there was no more beer to "Gumbai!" he curtly nodded in a gentlemanly way,  and ducked out with his friend. After the chaotic conversations, the laughing, dancing and singing, the smoky room was now empty and strangely quiet.
Early the next morning, I awoke at dawn and wandered down to the lake. There was a mist rising, and part of the Wall was reflected in the calm waters. The scene was so still. No fireworks or chaotic conversations. Just a couple of men fishing from shore. How cool it was to be here! The whole experience of exploring the Great Wall surpassed my expectations…and staying in a local guesthouse gave us the opportunity to interact with the locals and see how they celebrated their holiday. A perfect perk. Gumbai!