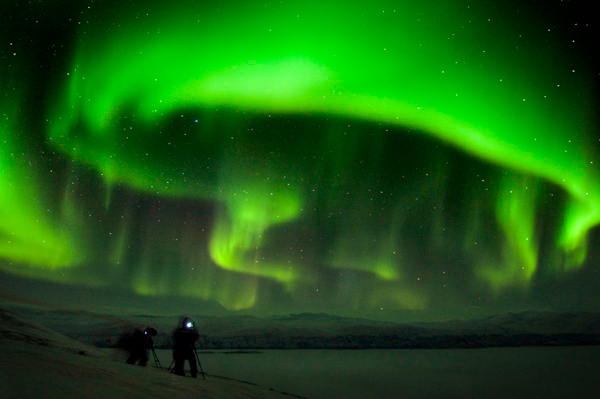 Nature's Art    30mm, f/2.8, 15 second exposure, ISO 400
Last year, on March 21, 2009 we took a chilly ride up a ski lift to the Abisko Mountain Station in Sweden's far north. Ranked as one of the top ten places in the world to see the Northern Lights, this arctic hotspot certainly lived up to its reputation. Vivid green forms danced with almost hallucinogenic pulsations from 9:30pm onwards. But photographing in the dark, on slanted ice, in the freezing cold wasn't easy. Just walking beyond the crowd of folks congregated by the warming hut was tricky, balancing body and tripod across a slippery slope with no rope. Numb fingers made it difficult to adjust exposure settings. Or even hold your equipment. One poor guy (standing beside David in the pic) lost his flash as it slid down the mountainside. (Not quite sure what he had planned to illuminate as there wasn't anything in the foreground…) And then there was the challenge of focus, proper exposure and even composition.
Long exposures revealed a lake (where did that come from?) that was tilted at awful angles. I was shooting with shutter speeds between 15-30 seconds to capture some of the red color not visible with the naked eye. Although I only managed a few keepers that night, the experience of seeing them in person was magical. Mesmerizing. We were some of the last to leave the mountain, finally forced to leave this strange and wonderful dimension.
Crunching our way through the snow to our cabin, we suddenly heard loud crackling noises. We stopped to listen, looking around for a transformer going haywire. Snap, crackle, hisssss, pop! Sounded like a magnified Star Wars video game. No transformers around. The northern lights were making all the noise! I recalled reading about how their sounds are audible when the conditions are just right, but really hadn't expected to experience that. Otherworldly, indeed.
Kim