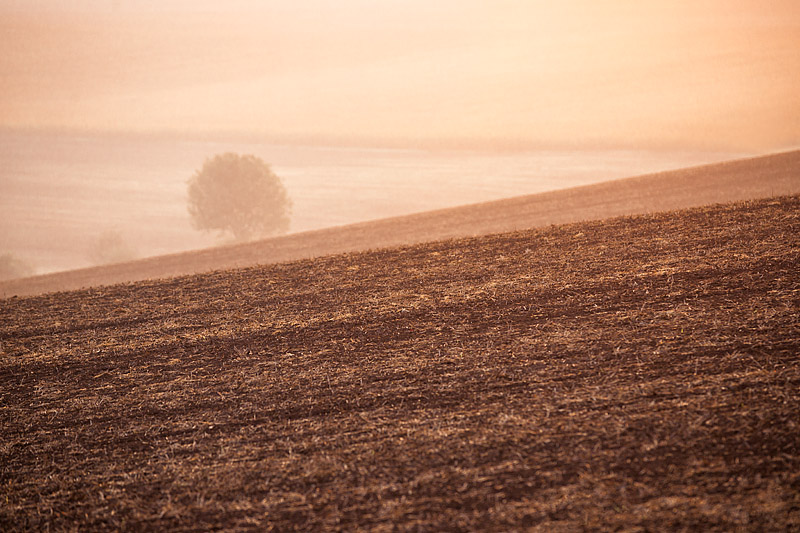 Last Autumn, I took a short side trip from Prague to explore the less frequented, rural region of southeastern Czech Republic. My guide was surprised when I asked if we could  spend one of the days searching out fields and vineyards instead of visiting more castles. museums and historic buildings scattered among the small towns. He was really taken aback when I asked if we could leave before dawn.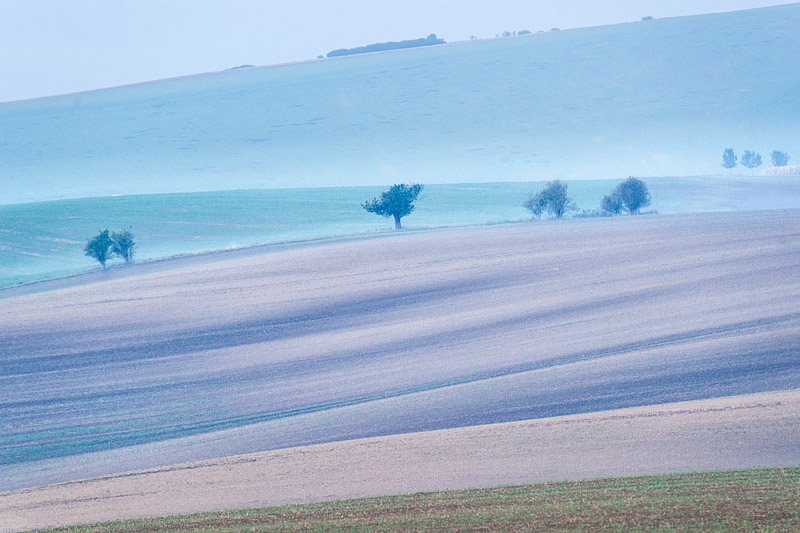 A day in the country, seriously??? Did I realize that Austria was just a 30 minute drive away? He was headed there for a music festival at the end of the week. Perhaps that would be a better choice. They had lots of culture to offer there… I shook my head. Shrugging his shoulders and commenting that the fields were nothing at all special, he nevertheless agreed to take me around.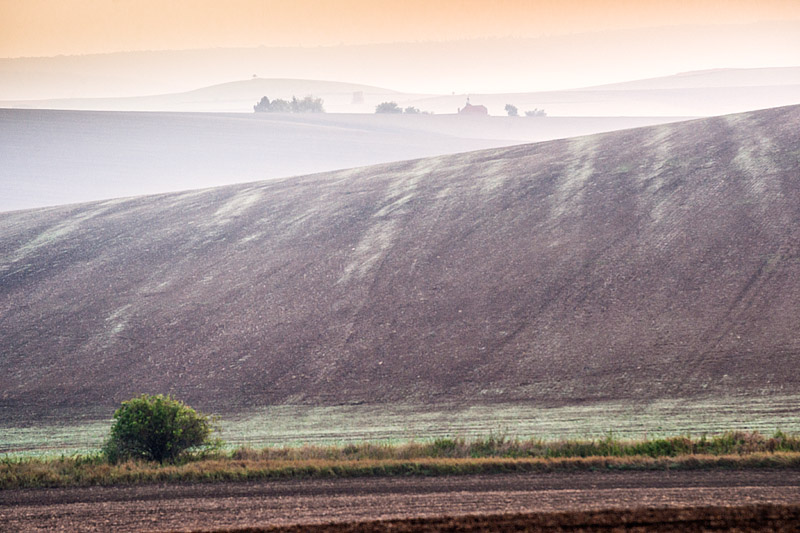 We spent quite a bit of time driving, searching, as "interesting fields" have never been on his itinerary! He further admitted he wouldn't know how to recognize what was interesting, as these fields were a common sight having grown up in a city an hour from here. So it was up to me to choose our stops as he drove around randomly.  (Secretly he was intrigued…his curiosity showed when he brought out his camera to take the same shots as me 😉


I realize that I'm probably in the minority for preferring fields over sights on the standard tourist route. But those textured hills drew me in. You just don't see fields like that in the flat plains back home. I loved the softness of the fog, and the way the light glanced off the textures and played on the subtle to vivid colors.


  I don't know what this farmer is harvesting. These fields were shot in the Nesovice area of South Moravia, where rapeseed, sugar beet, barley, wheat, maize, alfalfa and caraway are grown.


As we headed back to our home base we stopped at this vineyard near Zajeci village. Walking around, I spotted some people picking grapes and wandered over to chat before climbing a tower for this overview.  Back in the car we then passed through tiny Pavlov village, the oldest wine village in Moravia (dating from 11th century). Streets were lined with rustic miniature wine houses where families stash their annual supply in underground cellars.


It was late afternoon when we passed through Mikulov village. We saw a couple hauling grapes into their family-operated processing plant that was housed in an old cellar. They invited us inside and gave us a tour of their facility–shiny silver modern metal vats lined the brick cellar. But in the back they showed us a secret stash of old wine bottles that were uncovered from within the walls from 30 yrs ago. Guess that's to be expected really–in a place where wine has been produced almost nine centuries! And still going strong…even today 96% of Czech's wine is produced in Moravia.


  Ah, the back roads. Never know what you'll see. But thanks to a willing guide, our wandering led us to some interesting fields, some interesting locals engaged in their everyday life, some good food and wine. All in all, a perfect day!