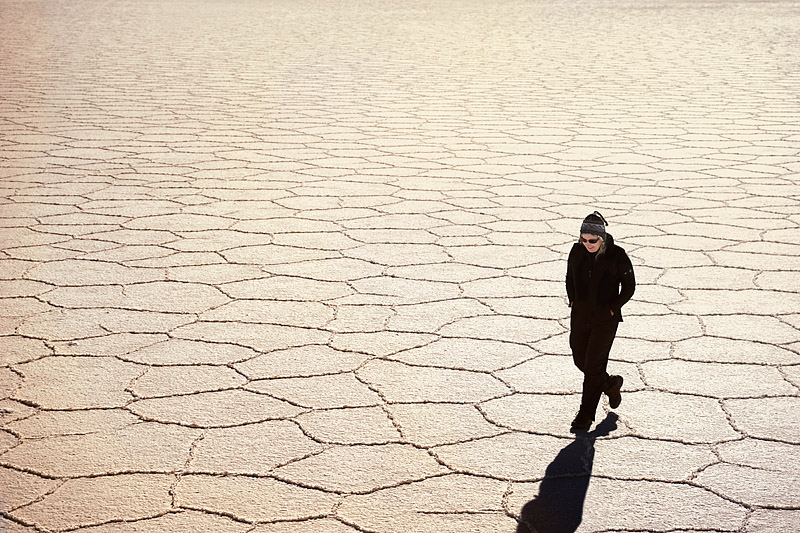 Ahhh–finally here! Me on the Salar de Uyuni–the world's largest salt flats–walking across the hexagons in the fading sun.
Bolivia's expansive salt flats have intrigued me for quite some time. So when planning a trip to visit my friend in Chile in September of last year, I coaxed her to cross the border from Atacama Desert to spend 4 days in southwestern Bolivia. There are a number of tour operators to choose from in San Pedro, Chile. Many tours attract college kids with a cheap price–but you get what you pay for–lodging in dorm room hostels with no showers (or a cold water hose outdoors).
We customized a trip through www.KnowChileTour.com and traveled with owner Erik, who was the perfect companion and guide throughout the journey–providing as much laughter as information on those long driving days.  Believe me, the personalities of your companions matter when you're traveling by jeep over 600 miles in 4 days. Erik included traditional sights that other operators include on the loop, but spent more time on the salt flats and added extra places for us to see, such as the Galaxy cave and the desert Necropolis, and was keen on helping us interact with local people, such as school children and salt miners at work. And the hotels and food he arranged were outstanding too. Highly recommend his company!!
Day one we crossed the border from Chile into Bolivia, paid $135 for a visa, met our Bolivian driver and drove past glaciers and volcanoes before reaching our lunch spot at Laguna Polques hot springs.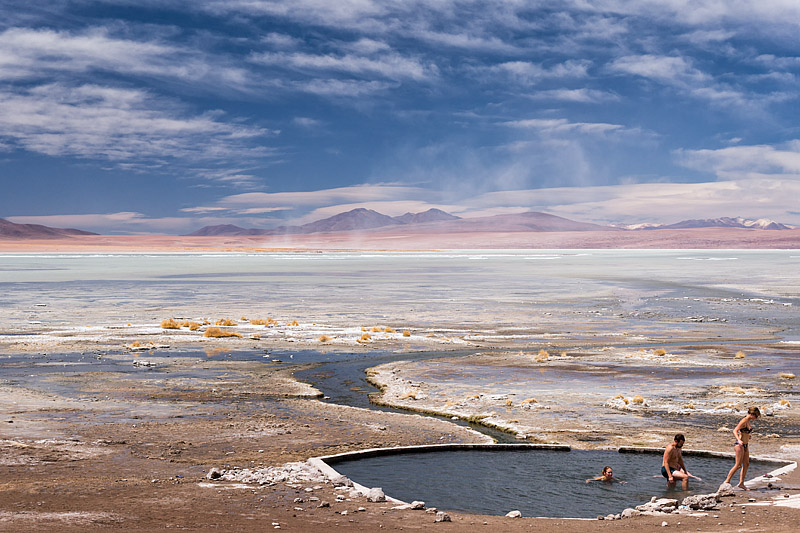 There were other people here too as most groups stop here for lunch since it's the only route in from Chile. There's time to soak in the springs while your guide gets your picnic lunch ready in the common building. (Our yummy lunch was salmon, quinoa with roasted vegetables, choice of wine (with glass goblets!) and cake for dessert. Not ramen noodles.)  The air was freezing cold and windy at this high elevation of 14,000 feet. If you do go in, the hardest part is getting out…
See how cold it is? Yes, that's snow. A little past the springs we were driving through these strange icy formations, called penitence by the locals.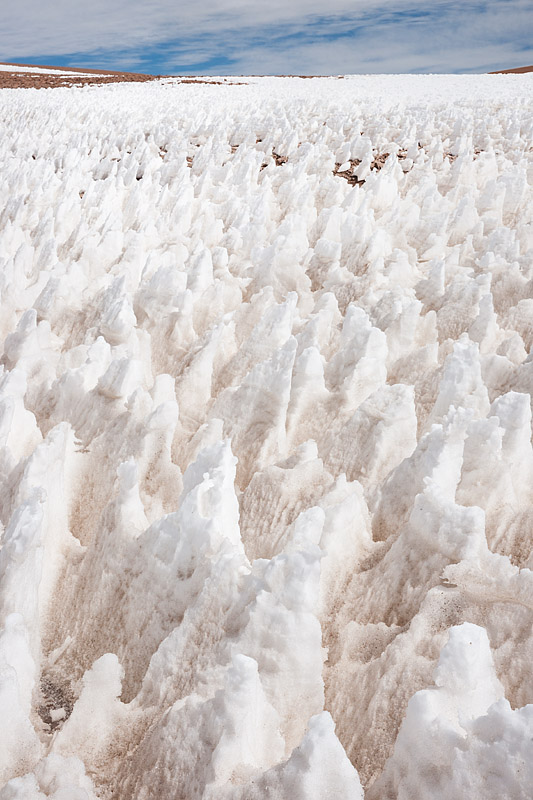 Next up was Laguna Colorada, a surreal lake with red water. The red comes from algae which attracts the rare James flamingos. As you can see, or not see, they are pretty far away! The white crusty shoreline is calcified borax.


Even with a zoom lens…the flamingos are still far away!


Day two, after visiting an old rusty train "graveyard," we reached our coveted destination, the mighty Salar de Uyuni salt flats! Here's Nannette toasting our arrival! 😉


The vast white expanse stretches for miles–4,086 sq miles to be exact–which is twice the size of Rhode Island. There are no roads. And very few landmarks. Which is why a knowledgeable, reliable driver is so important!
We drove to a salt processing area known as Colchani, and walked around the salt cones drying on the plains.


Later in the trip, we came across some salt miners who were relaxing on the bank on the edge of the flats. They were Quechua people from Potosi who worked 1 month on, and 1 week off, and camped near their job site.


Back at work, the salt miners are digging out salt from the crusty layer of the Uyuni salt flats, revealing water underneath.




When they have enough extracted, they scrape it into mounds so it can dry before it's hauled to the salt factories to pulverize it into powder and add iodine. We later visited one of the factories where an orphan girl was busy bagging salt in a dim building all by herself.


Here's a perfect little salt cube.


Our accommodations were at two different salt hotels–meaning the beds, walls and dining room furniture was made from salt.


Comfy rooms, hot water, friendly staff, and excellent food. I've come to love quinoa since my trip, which was a staple in Bolivia.


And for the record, llama is delicious. Really!


Staying so close to the flats allowed us easy access at sunrise. We spent the day exploring the vast hexagonal plain until the sun disappeared. (See an earlier post about trying to capture star trails that night overlooking the flats.) Elevation at Uyuni is high at 3,650 meters. And it's as empty as it appears. Occasionally we saw another truck or motorcycle pass by, but mostly we had the flats to ourselves.
At least as far as our eyes could see.


Don't know if it was the altitude or what…but we couldn't resist playing a bit…


Sure you've seen plenty of pics like this, and we had our fun "driving" a hiking boot and "standing" on a wine goblet or a beer bottle like shown above. You simply put the object in the foreground and have the person walk into the distance until he matches the perspective of the object. Any wide angle lens works great. Here I used 35mm at f/27 to get the foreground nice and sharp.


Just goofing around…


Leaving the Salar de Uyuni, we headed to Los Corales, Cave of the Galaxies. We put on hardhats and squeezed through limestone formations.




Erik is pointing out the fossilized algae from when it was underground.
A bit further, we came to a Necropolis where 15 funery chambers are built into volcanic rocks.


Inside those dark holes you can see the skeletal remains that exist from the Lipez lords time period, 1250-1450AD. A little museum nearby displays other artifacts and explanations.


Kinda creepy, right?


Just another unnamed volcanic rock in the landscape…


We shared a lunch spot with some adorable children on their lunch break from school who were eating soup with roasted chicken. You can see pillars of salt in the background in this room where everything, including furniture and walls, are made from salt.


Exploring boulders on a high plateau at Arbol de Piedra


Most of our journey was through remote rural regions, but we did visit a local market in the town of Uyuni. Love those braids!


Bolivia has 115 varieties of potatoes. Yeah, 115!


This lady was 100 years old. People are not very receptive to being photographed, but Erik struck up a conversation with her and asked permission for me to photograph her.


Our trip ended with a visit to Sol de Manana, a geyser field at 5,000 elevation (that I wrote about in an earlier post). But had to include it again, since this geothermal region was another favorite.


Visiting Bolivia is not very easy due to logistics, unpredictable weather, extreme fluctuations in temperatures (can go from -25C at night to 30C in day), sparse accommodations for budget travelers, constant headaches and altitude sickness…BUT it can be an absolutely wonderful adventure if you get a good guide, a reliable driver, a dependable jeep, and drink water, water, water!!!
Loved it…:)