Like distinctive architecture? Then you'll love exploring Portugal…ornate Romanesque and Gothic cathedrals… a hundred medieval castles…Roman ruins…towers and grand monasteries built in the exclusive Portuguese style of Manueline.
When we visited last June, we saw just a sampling of the outstanding architecture which included the Jerónimos Monastery & Belem Tower in Lisbon (Manueline style); Santa Justa Elevator in Lisbon; the Templar Knights castle and octagon church Convento de Cristo in Tomar; the late Portuguese Gothic abbey of Santa Maria da Vitória in Batalha; Chapel of Bones in Evora; the Moorish castle & Pena Palace in Sintra. I never tired appreciating the details–the art–that each architect put into each distinctive structure.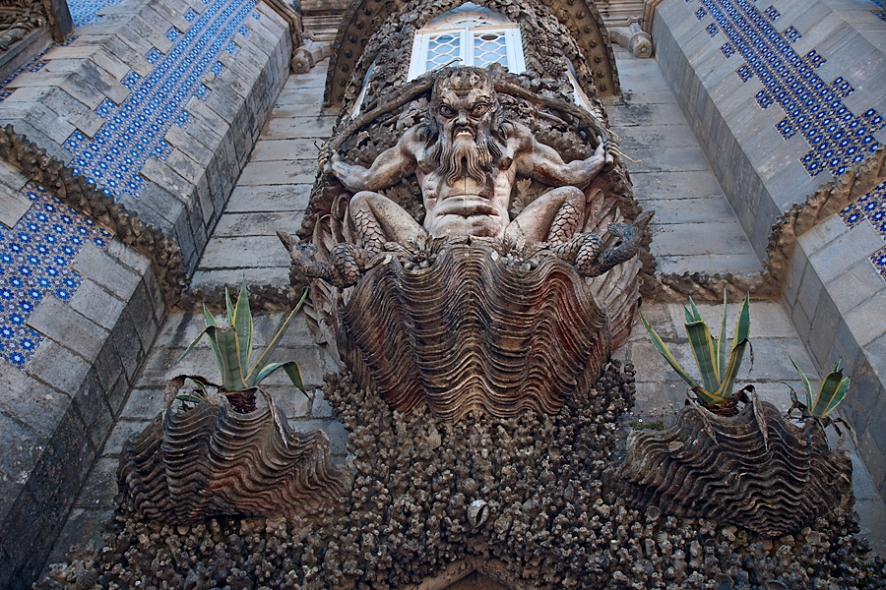 Pena Palace Entracne, Sintra, Portugal
In Sintra, just 45 minutes from Lisbon, there are many unique places to visit. Pena Palace is perhaps the best known. This fanciful, eccentric castle built in 1839 by German architect Baron Ludwig von Eschwege, combines Gothic, Manueline and Moorish styles. Bright pink and yellow walls, arches, painted tiles and sculptures such as this above the entrace gate  give it a certain flair. No photos are allowed inside, but still worth visiting to see how the royal family lived (all belongings were left behind when they fled for their lives).
Less known in Sintra, is an intriguing secretive garden of sorts. Palácio da Regaleira is a bewildering place that reflects the interests and ideologies of owner Carvalho Monteiro (1848 – 1920), a wealthy lawyer and collector who hired Italian architect Luigi Manini in 1904 to design structures around the 4-hectare estate that hid symbols related to alchemy, Masonry, and the Knights Templar.  The architecture of the estate evokes Roman, Gothic, Renaissanace and Manueline styles. The gardens contain an extensive and enigmatic system of tunnels, which have multiple accesses to grottoes, the chapel, the Waterfall Lake, and the "Leda's Cave" beneath the Regaleira Tower. Their symbolism has been interpreted as a trip between darkness and light, death and resurrection. The picture below is the Masonic Initiaion Well. It was a bit eerie to descend this spiral stone staircase which then led through a series of tunnels before ending up at an underground lake. We had flashlights, but Masons had to grope their way in the dark!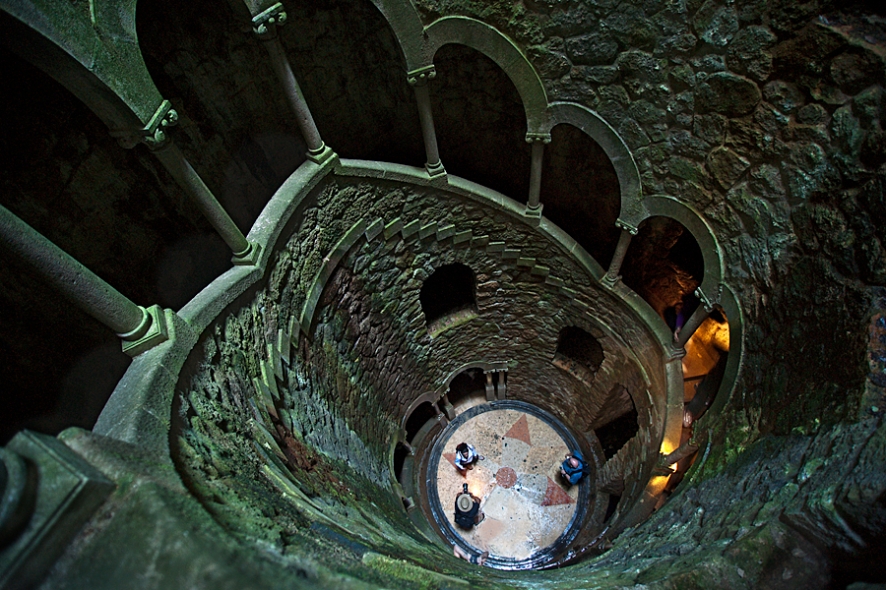 Masonic Initiation Well at Palácio da Regaleira, Sintra, Portugal 
 The Order of the Knights Templar, founded in Jerusalem in 1119, was a military force with powerful religious overtones. They became a significant force in Portugal, where they strove to free Portugal from Islamic domination. In exchange for the Knight's help, the king built a fortress castle for them in Tomar in 1160, which served as their headquarters for 900 years. This Convento de Cristo, Castle of the Knights Templar, was built in a combination of Romanesque, Gothic, Renessaince and Manueline styles. Take a look at the most spectacular part of the castle–the octagonal chapel, Charola dos Templarios or Templar's Rotunda–in the picture below. Its huge pillars, massive walls and secret passages may still guard secrets of the lost order today. Image the Templar Knights being initiated on horseback in this nave!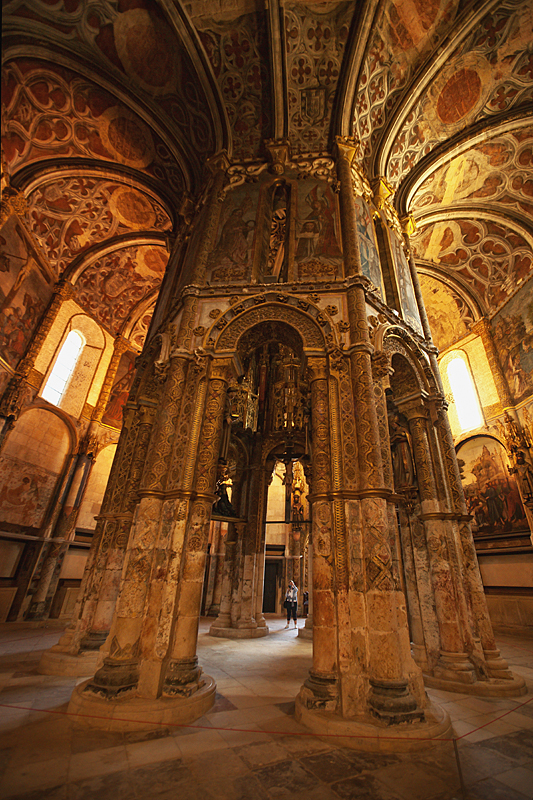 Convento de Cristo, in Tomar, Portugal
In the Late Middle Ages, a Portuguese architectural style called Manueline emerged, combining Late Gothic and Renaissance architecture, along with details borrowed from Spanish, Italian and Flemish contemporary art. Manueline buildings were often decorated with motifs typical of seafaring as this was the Age of Discovery. Both the Belem Tower and Jeronimois Monastery in the Belem District of Lisbon represent this distinctive Manueline style.


Belem Tower, Lisbon, Portugal


Jeronimos Monastery, Lisbon, Portugal
We noticed art decorating buildings everywhere. Hand-painted ceramic tiles called azulejos are found on the interior and exterior of churches, palaces, cathedrals, ordinary houses and even train stations. Tiles represent a major aspect of Portuguese architecture showing up on walls, floors and even ceilings. Blue and white are the predominant colors, but tiles can be any color such as these which cover this building in Lisbon.




Azulejo tiles decorate the wall of Porto Cathedral, Porto, Portugal


Azulejo tiles decorate the entrance to Obidos village, Portugal


                                         Blue and white azujelo tile on exterior of building in Sintra, Portugal                                                 
Lisbon's Santa Justa Elevator is another distinctive site. Built in 1902 by Eiffel's apprentice, French architect Raoul de Mesnier du Ponsard, the iron elevator is topped by a Neo-Gothic tower. Up to 25 people at a time can still travel between the lowest and highest parts of the city in this hilly capitol. This veiw looks down the 147 ft shaft.                                          


Portugal's greatest example of Gothic architecture is the great abbey at Batalha. In this picture a soldier stands in Gothic entrance of the Chapter House in the Royal Cloister.


Batalha Abbey; Batalha, Portugal
Distinctive architecture wasn't just reserved for grand cathdrals, palaces and monasteries in Portugal. Even agricultural granaries in the rural north were built in an unusual style. Espigueiros are huge communal stone structures that resemble tombs topped a cross. An outstanding collection of 50 espigueiros lie scattered on the slopes of a ancient castle in Lindoso village, and 24 in Soajo, both located in Penada Geres National Park.  These one-of-a-kind granaries are still used by the locals to store corn and grain above ground. 


Espigueiros at Peneda Geres National Park
Intereseted in photographing these espigueiros with us? On our upcoming Portugal photo tour in October 2011, we'll explore Porto and the famous Douro wine country before heading to the rural north, where we'll spend 3 nights at a country palace on the outskirts of Peneda Geres Park. We'll photograph these espigueiros at the best light of day and photograph a shepherd in a mountain valley where encounters with other villagers going about their daily chores is likely. Locals here still barter for their goods, bake bread in wood burning stoves, hang meat to dry, haul belongings by oxcart and store grain in the espiguerios. There will also be plenty of architecture and beautiful tiles to capture in Porto and other villages we encounter along the way. Check out the Portugal Tour itinerary  and a few Douro pictures. There's not another tour like it, guaranteed!