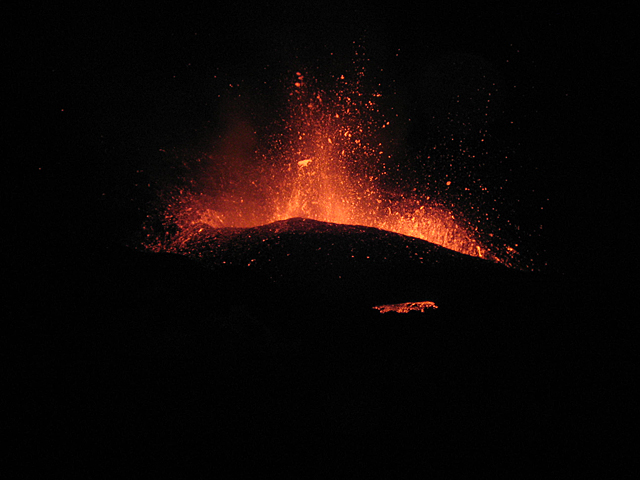 April 2010
So what's been happening since the eruption occurred in South Iceland last month? It's still going strong!
Hildur, the logistics coordinator for our upcoming Iceland Photo Tour, tells me that this eruption is considered relatively small and has not caused any danger to the surrounding people or live stock. Katla (the big volcano) might erupt in relation to this eruption. But it can take months or a year to start.
"In Iceland, we call this a Tourist Eruption, as people are able to view it up close and enjoy this spectacular show of nature! Thousands of people have already been up there walking, driving, snow scooter or flying to see this."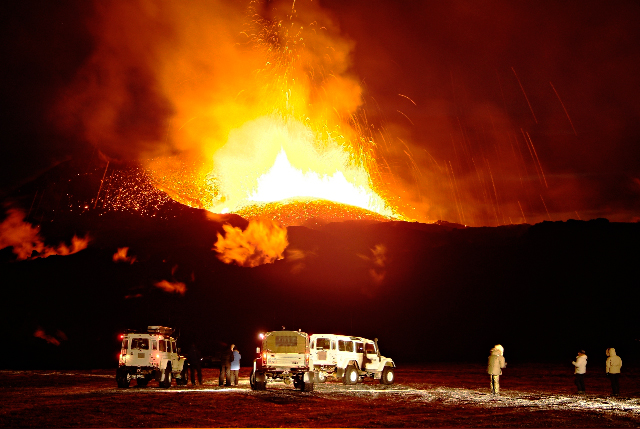 Hildur herself just returned from "a fantastic trip on our ISAK modified Landrovers. We drove across the glacier to get to the eruption and saw the starting point of it and also the lava flow flowing down to the below valleys and canyons……creating LAVA WATERFALLS ! Really amazing to see."
The pictures posted on this blog are from her recent trip. Here's Hildur with her boyfriend. Thanks for the update!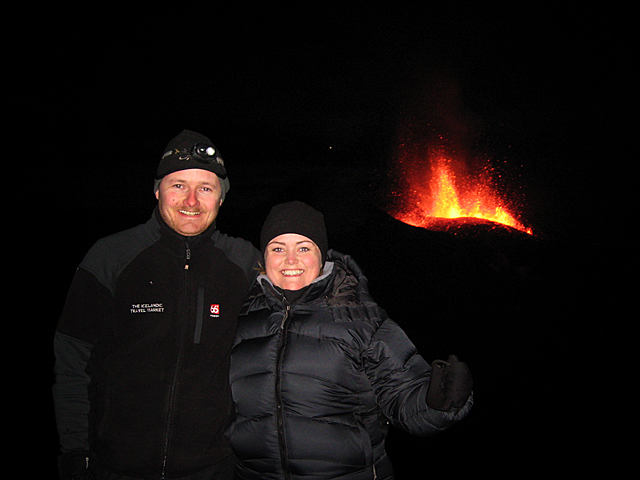 According to the divisional manager of Iceland's Civil Protection Department, Vídir Reynisson, tourists are allowed to travel to the area near the volcanic eruption zone on Fimmvörduháls so they can view the spectacle up close. The volcanic eruption could end tomorrow, but it could also last for days, weeks or even months.
And we're hoping months…four to be exact! We'll be there in August leading a photo tour with one of Iceland's top stock nature photographers as our tour driver/guide.  So you know he'll have the latest scoop on the current conditions and bring us to the best places to capture the most Impressive elements of this natural phenomenon. We will definitely modify our itinerary to take advantage of this special photographic opportunity.
Imagine… lava waterfalls!


We still have room left on our tour…so join us! Group limited to 8 pax. Click here to read the highlights or the detailed itinerary. Great price. Awesome itinerary! Chock full of special opportunities you won't find on other tours. Plus the added bonus of seeing the sights surrounding the erupting volcano that's been dormant nearly 200 years…