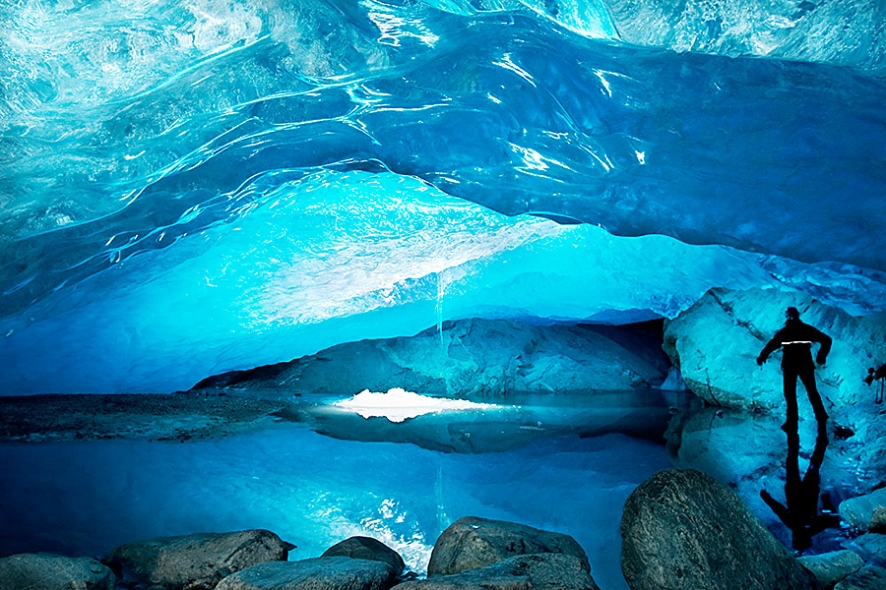 Say what?!  Snow, in MAY?? An unprecedented snowfall blanketed my home town of Rochester, Minnesota yesterday–15 inches! And it didn't stop there. According to my Dad and brother-in-law, who were up by 5am snow plowing out the parking lots of their respective businesses, the snow continued throughout the day and piled up to an incredible 24 inches. (Conjure up the Fargo accent and you can hear them say, "Ooooh, noooo, not more snooooow!") And here I sit in sunny Indiana with dogwoods in full bloom and temps in the high 80's…perfect spring days!
The picture above is an ice cave in Nigardsbreen Glacier that I took on April 4th a few years back when my family traveled through the Sognfjord region of Norway. To reach it, we had to ski through a valley as avalanches thundered and tumbled around us, then hike through thigh high snow. A long day. But a magical finish! Our guide told us that this ice cave usually disappears or becomes too unstable to visit past that date. Wonder how it's faring this year!?
Numerous places around the world are experiencing strange winter storms… Anyone out there seeing anything unusual for this time of year?