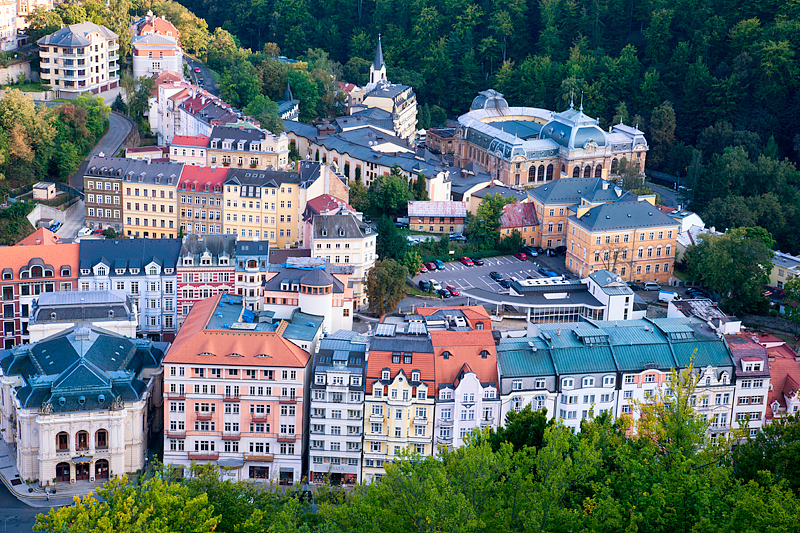 People have flocked to 14th century Karlovy Vary for centuries to "take the waters." Mozart, Freud, Beethoven, & Marx included. So I made it my first stop after I landed in the Czech Republic. My private driver sped like crazy to bring me to this alluring place in record time–1.5 hours instead of the expected two–even though I was in no hurry, as it was early morning and my room at Hotel Romance wouldn't be available until after lunch. No matter. The helpful desk attendant handed me a map, whisked my luggage into storage, and sent me on my merry way to meander the streets where tall beautiful pastel European buildings stretched to the clouds. I was traveling solo, but felt perfectly safe and at ease in these streets. There were many high end shops–featuring jewelry, designer clothes, and of course the famous crystal stemware from Moser's nearby factory where the glassblowers work their magic. I took a bus to visit Moser's fascinating plant the next morning (read my earlier blog entry about it here)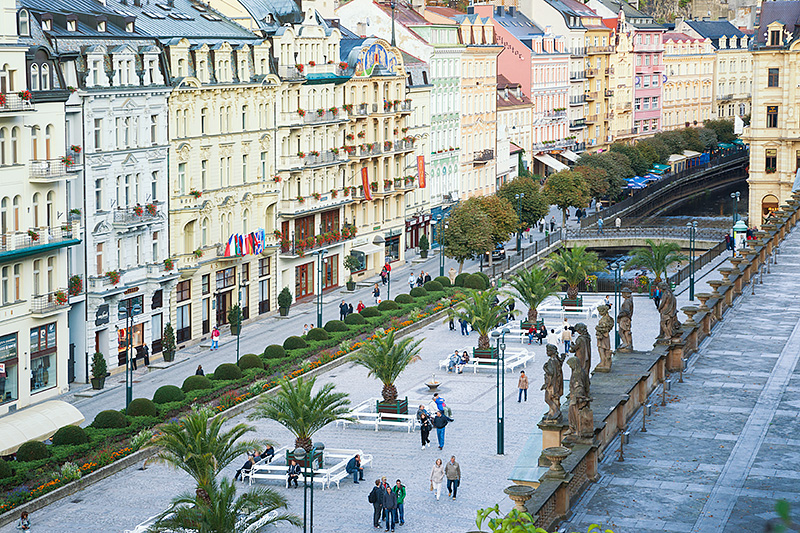 During my 2 night stay I didn't run into any English speaking tourists. Most seemed to be German visitors, which made sense as the border was so close. Some appeared to be there simply for the therapeutic benefit of the mineral waters. They walked between the five buildings that housed different mineral waters that sprouted warm from little fountains or rusted taps. After stooping to fill their porcelain cups, they'd then plod along, sipping warm water through their porcelain built-in straws as they made their way to the next spring. I bought one of the porcelain cups as a souvenir. Out of curiosity I dipped it under one of the fountains at the Market Colonnade, and took a sip. Hmmm…salty. Back in 1522, doctors prescribed 46-60 cups of mineral water a day! Nowadays, doctors prescribe 15-20. But I couldn't even down one. Instead, I enjoyed watching the people come and go.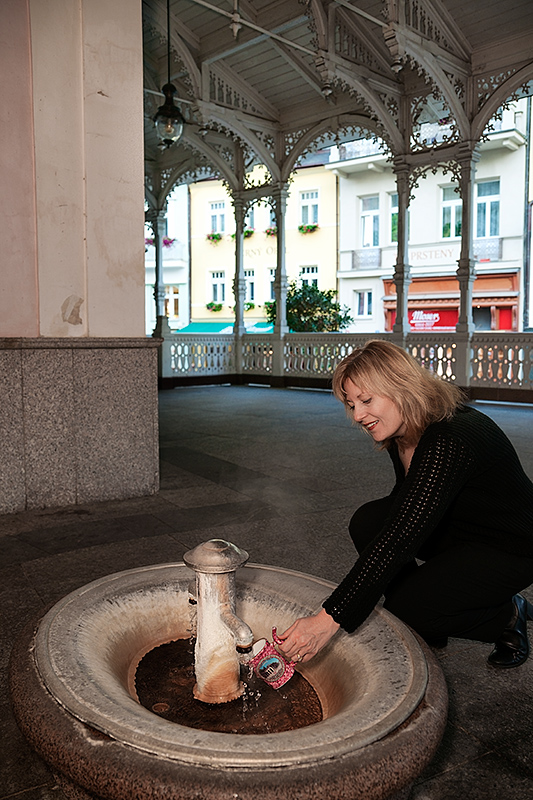 The town was made for walking, but so was the adjacent forest. Patients that came for medical treatment–ingesting the mineral waters–were instructed to walk, walk, walk. So trails were developed–180 kilometers to be exact–up into the forested hills. You can also take a funicular ride up to the Diana Observation tower for an overview of the town and walk back, which is what I decided to do. And I didn't even get lost! I also walked to a different area of the town to visit the Becherovka museum to learn about, and taste, the liqueur created by chemist Josef Becher in 1807 to aid digestion. The tour was interesting from the audiovisuals to seeing the original cellars, and the herbal samples tasted better than I expected.


My favorite hot spring was the architectural gem Mill Colonnade, which has five springs that flow among the 124 Corinthian columns here. Another popular spring is the Hot Geyser spring which shoots upward toward a modern glassed ceiling.


I loved my stay at the Hotel Romance Pushkin. My room was lovely, the service personnel friendly and helpful, and the restaurant was divine. Paying $20 extra for half board was well worth it. No need for lunch! The hotel served the most impressive selection of hot and cold foods I'd ever seen at a breakfast buffet, and the set dinner meal of three courses was delicious every night. My room had a window with wrought iron detail that looked out on the back woods, and was very comfortable. And I lucked out on the location. It was perfectly situated.


Directly across the street was Castle Spa (Zamecke Lazne) Karlovy Vary's premiere spa, and a bit further down the street were two of the springs that put this town on the map: Market Colonnade and Hot Geyser Springs. The hotel explained how to catch the bus to the Moser crystal and arranged my private transfer from Prague airport. They also arranged a spa appointment for me across the street–which is more my style–soaking in thermal waters rather than drinking them. I'd recommend a spa treatment there even if the language barrier was a bit problematic at times. I wasn't sure what was happening when I disrobed and minutes later my masseuse stifled a gasp and left the room. She brought back reinforcements–to remove a tick that I must've brought back from the forest. The natural rocks felt good to walk on in the wading pool, and soaking in the curative mineral pool was soooo relaxing, and fun too with a little audiovisual surprise that I won't ruin for you.


This church, located between Market Colonnade and the Hot Geyser Spring buildings, scheduled musical concerts in the evenings. Musicians attempted to lure visitors into buying tickets for upcoming performances by strolling outside with their violins in the late afternoon. Seemed fitting entertainment in this spa city that catered to mellow people on the mend.
Karlovy Vary was indeed mellow–which was appealing to me–an excellent introduction to the Czech Republic, another new country to explore…