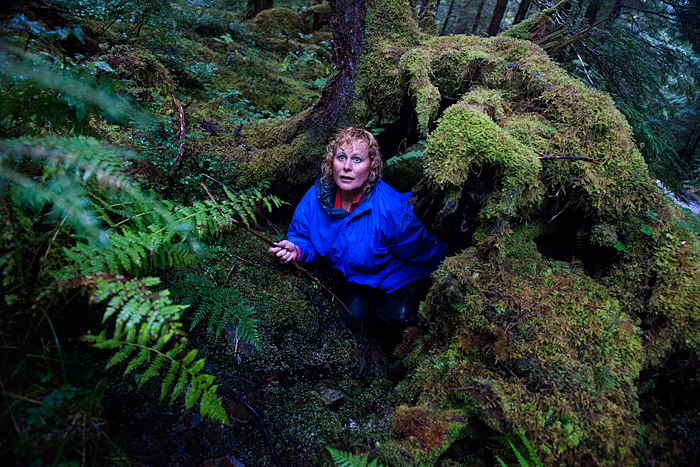 There's something truly scary about hiking in a dense rainforest where there could be bears. Juneau's Auk Nu trail was described in guidebooks as an easy 3.4 mile trek to John Muir's cabin that was "heavily used." So my sister and I figured we'd likely be sharing the trail with many people–locals and tourists alike–either on day hikes or making their way to the cabin to spend the night. We shouldn't need bear spray. We didn't expect to be alone.
So my sister, Michelle, and I geared up for rain with knee-high rubber boots and waterproof jackets and drove to the Spaulding trailhead at mile marker 12.3 on paved Glacial Highway ("Out the Road") west of Juneau. A moderately heavy rain greeted us as we left the car walked up to the Tongass National park entrance. Signage reminded us that we were in bear country. We reviewed the bear safety practices–make noise, don't surprise a bear, and keep odors contained. No food in our pockets or backpack–check!
To reach the Auk Nu trail, you first hike .8 mile along the Spaulding trail which gently curves along through a canopy of tall trees. The trail here was wide, flat and very easy to walk.
We followed the trail for about 20 minutes and noticed the trees were closing in as the trail narrowed and began an ascent up a hill. Joking around, we wondered aloud where the other hikers were. And with more alarm began wondering where the bears were. Those dark forms in the brush beyond those dense leaves could be–something. Your imagination tends to get the better of you in an unfamiliar setting, and we were in high alert mode.
Suddenly we heard noises–squealing voices and fast movement–and soon saw three kids racing down the trail toward us, and past us, carrying plastic buckets filled to the brim with blueberries. My immediate response was relief–oh, good–kids were having fun not running from bears. Then instantly switched to concerned mother mode. Hey, what are you doing running in bear country?! What are you doing carrying food that bears love to eat? And where is your mother?!
The kids continued running toward the parking lot and were out of view before we saw their mother strolling toward us carrying buckets piled high with fresh blueberries. She laughed, dismissing our wide-eyed concerns. "You're not from here, are you?" she asked, casually waving a hand in the air. "No worries. I've lived here my entire life and have never seen a bear in the woods." She told us where to find the biggest patch of blueberries–up at the top of Spaulding hill–before she continued down the hill, but we were intent on turning off on the Auk Nu trail instead.


Whew! My sister and I relaxed a little. If locals let their kids run alone through the woods, with food that attracts bears, then we should be perfectly fine. Right? The local lady had assured us that no known bear attack had ever occurred on this trail. Still…why would guidebooks mention that brown bear, black bear, deer, and porcupine frequent the area? Just as a precaution?
The rain was relentless and never let up the entire day. At least we were prepared. We'd read that the trail was extremely muddy and rain boots were recommended over hiking boots. Before we arrived in Alaska it seemed odd to consider wearing rubber boots on the hiking trails–no arch support, no ankle support–but after our first hike it made perfect sense. We ended up wearing our rain boots most every day (except on the glacier). Rain gear is a must if traveling to Juneau!


Hiking in rain boots on the Auk Nu trail was downright essential in that soggy mess. The trail winds through swampy muskeg, a bog of water and deteriorating vegetation. Thankfully someone has meticulously laid wooden planks over the boggy bits. What a lot of work that must've been to haul heavy planks through the forest–much appreciated, whoever you are!


The planks did become quite slick in the rain, especially the ones angled up an incline. Which were most of them–as the trail ascended up a gradual hill, rising 1,500 feet above Mendenhall Valley. On a clear day, you can reportedly see Juneau 12 miles away, Auke Bay, Gastineau Channel, Admiralty Island, and icy glaciers. But today we couldn't see beyond the foliage and foggy skies.
Walking across the planks was a great workout for our core muscles as we tensed to brace our every step to keep our balance on the slippery wood. "Hey bear!" we called out as we walked. Often. Our eyes were so focused on our feet and the planks that we couldn't be vigilant about watching our surroundings. And we really didn't want to meet a bear in the bog.
If we did come face to face with a bear, where would we go? Slosh knee-deep through the bog? Try to retreat backward down the planks? The foliage was lush, thick and green. The planks were becoming trickier to traverse–you never knew which ones were wobbly till you struggled to stay on. We were becoming more anxious. Where were the other hikers on this heavily used trail? We saw absolutely no one.


And the cabin was nowhere in sight. How much farther was John Muir's cabin? I really wanted to reach it and see the two-story chalet log cabin built to commemorate his 100th year anniversary. It has bunks to sleep 12 people, a stove and vault toilet but no electricity, water or firewood. I would've like to have stayed there overnight ($45) and hiked back out in the morning. What an adventure!!
But we didn't want to buy gear for one night when we had another cabin waiting for us in Indian Cove. So even if and when we reached Muir's cabin, we still had to hike back to our car before darkness turned into night. Already the shadows were deepening around us.
Michelle informed me when we'd been hiking 50 minutes on the planks alone. Normally our hiking pace is 15 min per mile, so I was bummed that we were still so far away since there was no cabin in sight. It had to be close! But we agreed to turn around and head back home. Descending was much easier and faster. In no time we'd made it out of the bog and back into the forest.


Rounding a bend in the thick bush, we heard rustling in the leaves. We froze, and stared at each other wide-eyed. Then we spotted him. A boy. He was barely visible, dwarfed by giant bushes. "What are you doing?! Jeez! You scared us!!" Michelle said, her voice elevated a couple octaves in excitement.
"Picking blueberries," the young boy said, expertly using a red berry picker to pluck the juicy fruit from the branches. He ignored us and carried on with his chore. So nonchalant!


"Are you alone? Aren't you afraid of bears?" we both wanted to know. Another rustling alerted us to another boy, deeper in the bushes. The older brother came out, shrugging his shoulders and shaking his head no.
Again we heard, "You're not from around here are you?" Chatting with them we learned that the only bear they'd seen was up in a tree, years ago from a car. And it was nowhere around here. They commonly came out to pick blueberries which they took home to can into jam or fresh cobblers. We joined them for a bit, picking berries. Delicious!


It was then that we relaxed and could just enjoy the rest of the hike. We were on the downward stretch, within a mile from our car. Took time to appreciate the views, examine plants and mushrooms in the forest, photograph a waterfall, and snack on more berries.


Michelle couldn't resist the opportunity to explore–I'd look away and she'd disappear. She loved to go near the water, always on the lookout for "interesting rocks." It probably wasn't the safest idea to jump down by a creek alone–goodness, girl! Any salmon in there??


Or climb into hollowed out trees…


But we made it safely to our car as it was getting dark. The hike took a lot longer than anticipated. The distance from the car park to John Muir's cabin in the Tongass National Forest is 3.4 miles one way. We hiked 3 hours but never made it to the cabin. I still wonder how close we were…
For those of you thinking about hiking this Auk Nu trail, I would advise starting earlier in the day to allow for plenty of time to reach the cabin and return. Or stay the night by reserving a bunk space with the Tongass National Forest park service. And even if sunny wear rain boots, bring a rain jacket, plastic bag for your camera and drinking water. It's a beautiful trail, best not rushed.