My daughter and I spent 4 days in the lovely Cinque Terre in northern Italy…
If you're not familiar with this region, this destination is fast becoming a tourist hot spot, and it can be pretty crowded in the summer months when people flock to the coast, visiting the five pastel-faded medieval villages clinging to the cliffs overlooking the Mediterranean Sea. Each village has its own personality and all are worth visiting. Tourists travel between them by train (very short rides from 4-6 minutes between villages) or by foot, walking up and down strenuous hills past terraced vineyards along the rocky coast.
We spent one very full and exhausting day hiking between five coastal villages (more about that later), another day-tripping by train to the different villages (sightseeing the unusual Oratory and monastery in Monterosso to savoring a sunset in Rio Maggiore), and another leisurely day simply hanging out — enjoying yummy pesto pizza, the Corpus Domini festival and even an opera in Vernazza– our home base where our pension was situated near the train station.
Which left one full day… Our options included taking a boat tour, visiting vineyards, or exploring another region further away by train. We decided to take a day trip to Levanto and Sestri Levante, two towns north of the Cinque Terre situated on the picturesque Ligurian Italian Riviera.
Our only set plan for the day was an 11am cooking class in Levanto. We were going to learn how to make pesto in the place where it was invented! Pick up any cookbook today and you're bound to see variations of pesto made with all kinds of nuts and herbs but the original Pesto alla genovese which was created in Genoa, the capital of Liguria, back in the Middle Ages consists of baby leaves of Genovese basil, coarse salt, garlic, Ligurian extra virgin olive oil, European pine nuts (sometimes toasted) and a grated cheese like Parmigiano Reggiano or pecorino romano. Being huge pesto fans, this class was for us!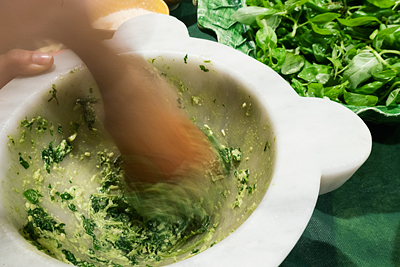 We caught the 9:44am train from Vernazza to Levanto (a short 11 minute ride), and walked to the center of town to find the Pesto Factory where we had reservations for the 11am pesto class. The shop was a little tricky to find, and the name Il Laboratorio dei Pesto on our reservation was not posted anywhere on the exterior of the shop. After walking around for close to 30 minutes, we luckily happened to step inside the cute shop La Nicchia Pest…ifera selling lemon soaps, limonchello and brightly painted ceramic tableware to ask directions, only to find out we had arrived!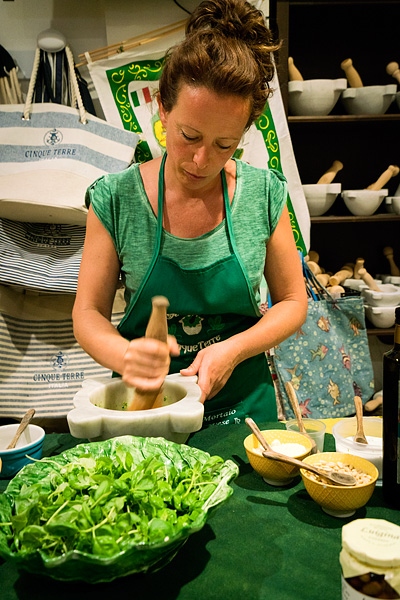 The owner led us to the back of shop where she had bowls of basil, pine nuts, garlic and grated Parmesan cheese sitting beside bottles of olive oil, and a large mortar and pestle ready for her class. She poured us some wine and left us to roam about the store until class started. Another couple soon joined us. We put on aprons and watched our instructor grind the baby basil leaves with pine nuts using a mortar and pestle. She made it look very easy–but when it became our turn it was surprisingly difficult to crush the leaves into a creamy consistency. "Pretend you are mad at someone and mash it!" she said.


The oil from the pine nuts give it the creamy texture, not the oil which is added along with a clove of garlic, pinch of salt and cheese. It tasted sooo fresh and delicious. The four of us ate our fill of pesto on crustinis along with local anchovies and glasses of white wine (well, except for my teenage daughter).


We'd initially planned to wander around Levanto, check out the fish mercato and maybe hike a tiny portion of the coastal trail leading to Monterosso after our class, but decided to head straight north to Sestri Levanti instead. It was hot, and we were still tired from our long hike the day before. So we bought our train tickets and headed north along the coast for the 24 minute ride.


Sestri Levante was larger than I expected with wide avenues lined by trees, tall buildings with trompe l'oeil painted embellishments, modern shops and traffic. But this was the new town. We wanted to find the old town. Once an island, it's  now connected to shore by a skinny peninsula squeezed between two gorgeous beaches—the Bay of Fairy Tales & Bay of Silence. It took us a little while to find this peninsula, even with a map. (We do get easily lost though…)
We walked along the Bay of Fairy Tales first, noticing the perfect rows of beach chairs and umbrellas for rent (that were mostly empty). Expensive yachts bobbed in the water at the far end where the water extended and disappeared into the horizon. Not that many people were swimming here, and it felt a little too pristine for our taste. So we kept walking.
Then we found the Bay of Silence, a beautiful crescent beach with soft sand and tall faded buildings curving around the water's edge in a cozy protected bay. Merman statue apparently a tribute to Hans Christian Anderson who once lived here.


Italians have voted this Baia di Silenzio (Bay of Silence) as their favorite beach in the country, and I could see why. Talk about inviting!


Loved the laid-back vibe, happy sounds, colorful striped boat covers, outdoor cafes, and the busy beachfront. Families, couples, and kids were on the beach in mismatched umbrellas, blankets or chairs or swimming, playing and kayaking in this pretty protected bay on this sunny day.


We ate lunch at an outdoor cafe overlooking the bay that served excellent fish with tomatoes, pinenuts and olives, then walked up the hill (beyond the beach toward the tip of the peninsula) to check out some ancient ruins that once belonged to the Oratory of Santa Caterina, an interesting monument to the war that destroyed the church. Mere fragments remain. And a locked chain fence enclosed them.


Walking back down the hill, we continued into the little shopping district behind the beach. Near the Sky Bar Hotel was a sign pointing the way along a narrow alley to the Punta Manara promontory overlooking the peninsula. We followed the trail for about an hour and came to these views.


The hiking trail was easy to follow (we jogged most of it), but the views were different than expected based on photos I'd seen elsewhere.  Returning to the shopping district, we found an amazing gelato shop called Angels that we highly recommend. Best in Italy in our opinion. They served my favorite — lemon meringue pie, and my daughter's favorite — hazelnut topped with nutella. YUM.


Returning back to the Bay of Silence, we found a place to sit in the sand and just chill. Sounds of laughter came from our left where 3 little boys and a cute little girl were playing in the shallow water. Pretty soon we were laughing as much as the toddlers. Grandpa, who was babysitting the animated toddlers, kept awfully busy chasing beach balls that the boys kicked into the water, or intercepting rubber balls darting through sand aimed at sunning girls and guys. Or washing the sand off the girl who proceeded to go right back into the messy sand as her mother came to take her home.  The whole scene was quite amusing to watch. When Gpa shook a small container of mints the boys circled him like fish. But when Gpa placed a mint in each mouth their eager happy faces quickly grimaced in contorted expressions of disgust. One began jumping around with an open mouth. So Gpa gestured for him to spit out, and placed it in his own mouth to extract the peppermint essence, then returned it to the boy to eat. Meanwhile, another little boy aimed a powerful squirt gun at a high-school girl lying in the sand and soaked her bikini clad body. She leapt up in anger, letting her words fly as she shook her towel and stormed off to find another spot far away from the boys. As she crossed in front of us, Gpa threw his hands on his hips, made crazy eyes and stuck out his tongue at her. Then turned to us laughing and talking to us. Of course it was all in Italian and we had no idea what he or she said, but there was no doubt what their body language said! Quite an entertaining afternoon.


We didn't see any tourists all day in Sestri Levante. It was fun to just hang out and be surrounded by local Italians enjoying a typical summer day. A perfect day trip from Vernazza via a mellow train ride 42 minutes away.
Train travel
It is very easy, fast and inexpensive to travel between the tiny villages in the Cinque Terre by train. There's a dedicated regional train that runs up and down the coast from Levanto (north of the Cinque Terre) to Monterosso, Vernazza, Corniglia, Manarola, Riomaggiore and La Spezia (south of the Cinque Terre). Fares are around 4 euros per destination in one direction, and take anywhere from 4-6 minutes travel time between villages. Knowing the train schedule and printing it out in advance can really help when it comes to planning. It also comes in handy when you're visiting another village–as you can decide on a whim to stay longer or to hurry to the station to buy and validate your tickets before the whistle blows. Otherwise it gets a bit crowded at the station where people are congregated around the small printed schedule on the wall. I used this website to download a current train schedule and kept a copy of it with me at all times.
Traveling beyond Levanto required tickets on another regional train which we purchased online at Trenitalia. You can buy tickets at the station, just beware of long lines. We saw many people miss their train waiting in line! Cash is best as credit cards tended to cause the line delays and jam up the ticket vending machines.