I'm a picky traveler.  These days with all of the TSA and security hassles, I find my curmudgeonistic tendencies growing geometrically.
Standing in long lines
Undressing
Suffering the indignities of  scanners that don't touch, but certainly show your junk to someone somewhere
Worrying about the threat of theft of your checked baggage
Worrying about the threat of theft while you're in security trying to catch up to your laptop, iPad, and other belongings
have all motivated me to continuously hone my carry-on luggage strategies.
I have purchased many photography bags over the years and still have a couple that I use for different strategic necessities (like carrying my 200-400mm lens to Africa), but for the overwhelming majority of my travel needs I have found a killer system that gets lots of expensive stuff safely from Point A to Point B.
I can't sing the praises of Think Tank's line of products enough.  They are thoughtfully conceived and manufactured with rigorous standards that enable the bags to withstand a lot of abuse.
This is important to me because I don't mollycoddle my equipment.  I take it to use it and I expect it to work.  I expect it to hold up or I vote with my pocketbook by moving on to a better brand.
Until I discovered Think Tank, I didn't really think I would ever stop the endless bag buying addiction to which I had succumbed.  But the system I have now is so good that I can't imagine changing it until my worse nightmare – the Mall Cops with a badge  A.K.A. TSA agents start making us travel naked.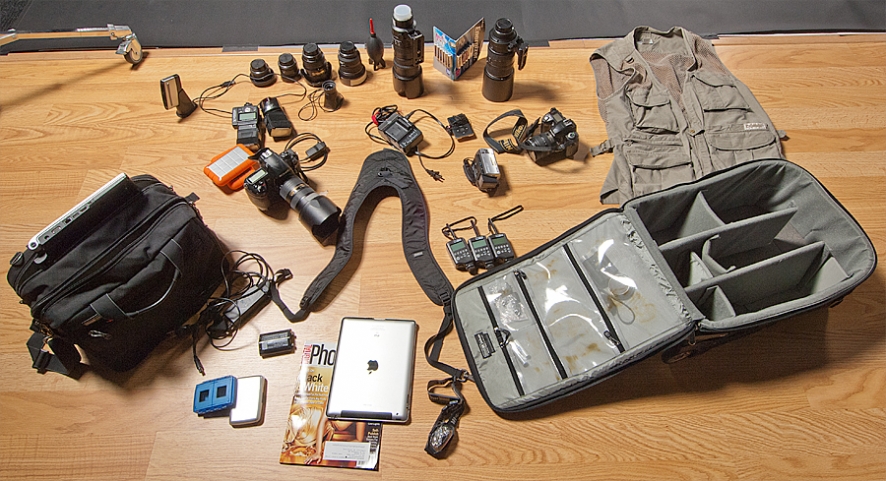 ** (2) camera bodies, 24-70mm, 35mm, 50mm, 16-35mm, 85mm, 70-200mm, 80-400mm, (2) speedlights, (3) pocket wizards, small video camera, iPod, chargers, extra batteries, lithium ion batteries, (2) external hard drives, 13″ laptop, extra memory cards, card reader, Hoodman loop, Giotto Rocket Blower, Digital Photo Pro Magazine, Apple iPad 2, Domke Photog Vest, Think Tank International V2.0, Think Tank Urban Disguise 5.0 and the Urban Disguise "back pack" strap (allows you to carry the Urban Disguise on your back. **
Let's begin with my overall theory and then break it down.
I use a (3)-part baggage system consisting of:
1). The Think Tank International V2.0 camera bag. (Use this link to ThinkTank to receive a free gift with orders of $50 or more!)
2). The Think Tank Urban Disguise 5.0.  (Use this link to ThinkTank to receive a free gift with orders of $50 or more!)
3. The Domke Photog Travel Vest
The Think Tank International V2.0 camera bag is a very sturdy and protective bag.  It fits most domestic and international travel requirements, however, you may run into a bit of trouble with regional jets which force you to surrender and retrieve it from the the tarmac valet checking service.
Since the International V2.0 has a built in TSA lock and has very sturdy sides, I've never had a problem  letting it be checked in this manner.  The main thing to remember is that any Lithium Ion batteries you may have brought with you must travel with you personally in the cabin.
LITHIUM BATTERIES may not be placed in checked luggage.  Lithium, once ignited, creates an intense and very difficult to extinguish flame.  Make sure your batteries are in their original containers, in the equipment they were designed for, or packed in such a way that the ends of each individual battery are insulated.
Also, now that the airlines have begun to charge for checked luggage, everyone is bringing the maximum amount of carry-on luggage.    — RANT: Airlines – Please charge for carry-on so that those who truly need to carry-on equipment will have room! —
This means that in many cases, once you get to your seat on the plane, there may not be any more overhead storage for one of your bags.
Remember – you're technically allowed (1) carry-on bag, and (1) personal item (like a purse, a camera, or a Think Tank Urban-Disguise 5.0 bag).
If you get to your seat and there is no where to put one of your bags (the Urban-Disguise can go under your seat), you may need to surrender it to the stewardess/steward for valet checking again.
Also, once in another country, you must be extremely diligent in researching what they will allow you to carry on Their domestic flights.  These restrictions can be surprisingly severe.
Oh, and for some reason I can't imagine, some of the US airlines support the seats in such a way that the passenger in the center of a row will have a large under-seat storage area, while the people on either side will have reduced under-seat storage.
If you're lucky enough to get an aisle seat, on some airplane models you likely won't be able to stow a full size bag under the seat in front of you.  Why the seat supports aren't equally spaced is a conundrum — just another in a long list of irritants that continue to make air travel a less and less enjoyable experience.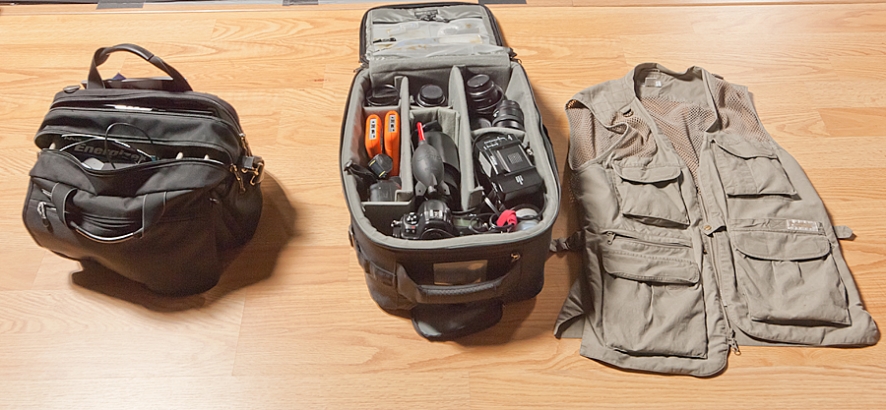 ** Everything shown in the first photo is now packed up and ready to go. (You'll have to trust me – it's all in there. )  The Urban Disguise can get a little "poochy" if you load it up with as much as it can take, but if you pull out the laptop, you'll find it can usually crunch down to fit under your seat with very little effort.  BTW, a 13.5″ laptop is great for travel.  It has the power to help you sort and keyword your images, but takes up little travel space.  The things I can live without are checked – like my tripod – but all chargers, memory cards, hard drives travel as carry-on items.**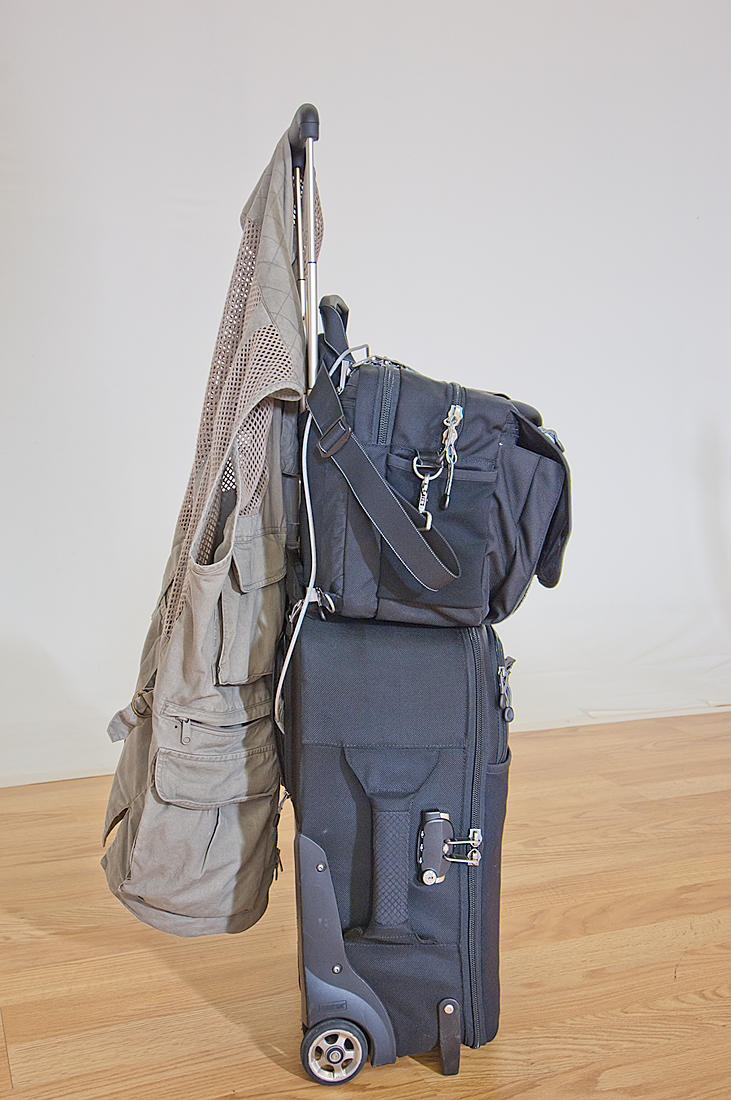 ** Here's what it looks like when everything is ready to roll.  You can make quick time through the airport with this set up.  The International V2.0 has a long looping cable with a TSA lock on the end.  You can loop this through the Urban disguies bag and around a pole to offer a little security.  Also, notice that the zippers to the main compartment of the International V2.0 can lock into another side-mounted TSA lock.   One thing I always mean to do, but haven't yet, is to put a bit of black tape over the words "Think Tank" – I hate to not give Think Tank their due, but unfotunately the name Think Tank is recognized world-wide as a leading manufacturer of photography bags.  If you don't see the logo, the bags blend in with every other black rolling bag you see.**
THE  STRATEGY
So far all I've really told you is that my system utilizes a Think Tank International V2.0 bag, an Urban-Disguise 5.0 bag, and Domke Vest, but I haven't really given you the strategy of packing and traveling that this combo addresses.
I use the International V2.0 to do the heavy lifting and to carry the delicate stuff.  Here I put my cameras, lenses, external hard drives, pocket wizards, and the like.
In the Urban-Disguise 5.0 I put my laptop, iPad, and whatever items didn't seem to fit too well or safely in the International 2.0, and which I'll likely want to access during the flight.  Sometimes I end up with extra flashes, chargers, memory cards, etc.
One thing I always do when packing my carry-on is to take absolutely everything I need to continue to take photos on the trip.  I can live without fresh underwear, but I won't be able to continue photographing if my battery charger is in my checked luggage which was lost or stolen.
Absolutely EVERYTHING needed to do photography must go with you personally.
This means even your laptop and laptop charger must travel with you so you'll be able to backup your images once your batteries have died.  In the past, I've used Hyper Drives to backup images without a computer.  I really like the system, though I always take at least (2) because in my opinion, they've not proven to be as rugged as a Think Tank bag.
Now if you need to valet-check the larger International V2.0 bag on the tarmac, you'll still have your Urban-Disguise 5.0 with you so you can use your laptop or iPad on the flight.  The Urban-Disguise 5.0 is also where I put magazines, protein bars, and other small personal items.
But why the Domke Vest you ask?
I have two reasons.
The first has to do with carry-on bag weight limits.
The second has to do with going through security.  You'll want to read this part for sure, because it will give you a strategy for getting through security without having your belongings stolen before you can get to them.
First the carry-on weight limits.  If you travel enough, the time will come when someone notices that you seem to be having trouble schlepping your wee little carry-on bag.
If your carry-on bag weighs too much, some airlines will force you to check it.  In the past, I always made sure that I slung my bag like it was full of feathers even though it was a 65lb. shoulder breaking behemoth that would likely bring down all of the overhead bins.
(This, by the way, is one reason I purchased the International V2.0 over the older Addicted – it has wheels! It can be loaded down with gear and not draw the attention of the many people in the airline and security departments assigned with the task of making travel as difficult and unpleasant as possible.) 
Let's assume for a moment that an airline employee noticed when you rolled your bag over someone's foot and crushed their steel-toed boot.  They might be well within their rights to demand that you check your carry-on bag because of its excessive weight.
Well, what you do is open your bag and begin packing the pockets of your Domke vest with the heaviest items.  I would recommend camera bodies, heavy lenses and the like.  Once your bag is within acceptable weight limits, you smile and  inform them your bag won't need to be checked-in after-all since it is now within their published weight requirements.
They can protest all they want about the fact you stuffed your vest, but your vest – for now – is considered clothing and not subject to the weight rules.  You have one very uncomfortable flight ahead of you, but no one is going to steal or damage your camera gear.
The SECOND reason I wear the vest is for getting through security more easily and with less chance of theft.
When I approach the security line, I re-tie my shoes so that they are as loose as slip-ons.  I put my belt in my vest pocket along with everything in my pockets that would set off the metal detector.  This includes glasses, watches, pens, etc.
Then I take out my laptop.
When I reach the security tables, this is the order in which I put my belongings:
Shoes first.  No one on the other side is likely going to steal my smelly shoes before I get there.
Vest with belt, pens, glasses, etc.  If this is stolen at this point, I'll be upset, but still able to continue my trip.
Next I place the laptop bag.  Unless someone is willing to risk jail for an empty black bag with tape over the word "Think Tank", it's probably going to be there when I get through.
After that, I place my camera bag on the conveyor belt.  This bag is heavy and harder to steal than a laptop or iPad, so even though it has the most expensive equipment in it, I don't actually put it on the belt last.  It remains zipped and looks like a thousand other bags passing through.
I then put my laptop followed by my iPad (Yes, the cheery TSA agents now mandate that you take out your iPad as well as your laptop.  If you don't – as recently happened to me — all of your items get swabbed from stem to stern, because having an iPad almost certainly indicates that you are in-fact . . . a terrorist. )
When the laptop and iPad come out and if I'm not being personally violated by a frisky TSA agent, I will be there to quickly retrieve them before any potential thieves have the opportunity.
I slip on my loosely tied shoes, throw my vest on, put my laptop into my bag, grab my rolling camera bag, and move to a less chaotic area to reassemble everything.
Once I'm back together, I utter a few epithets at the TSA agents, stick out my tongue at them, and then go on to my gate.
I didn't mention it before, but the fact that the Urban-Disguise bag slides over the handle of the International V2.0 is extremely convenient when you're running through an airport trying to make a connection.  The whole assembly easily rides up and down escalators.
The Domke Photog Vest is durable and loaded with pockets.  I'm 5′-10 and find the Medium size to be a bit large on me, but I like it because it leaves plenty of room for loading the pockets.
This is the system I use.  Everyone has different traveling requirements.  My own wife for example has a different system, but I'm a gear-head – always over prepared – and I like to take take lots of stuff.
Perhaps if the whole system doesn't work for you, at least you'll be able to tweak your own system with some new ideas you glean here.
At the very least check out Domke and Think Tank.  These are two companies I highly recommend.  I have used and abused their products and they're still as good as the day I bought them.
Here's wishing you pleasant travels and great photography!
Dave